CULTURE
1 million people have said they're going to Area 51 to meet the aliens. Is this the result of a collective millennial/Gen-Z desire to die, to revolt, or a little bit of both?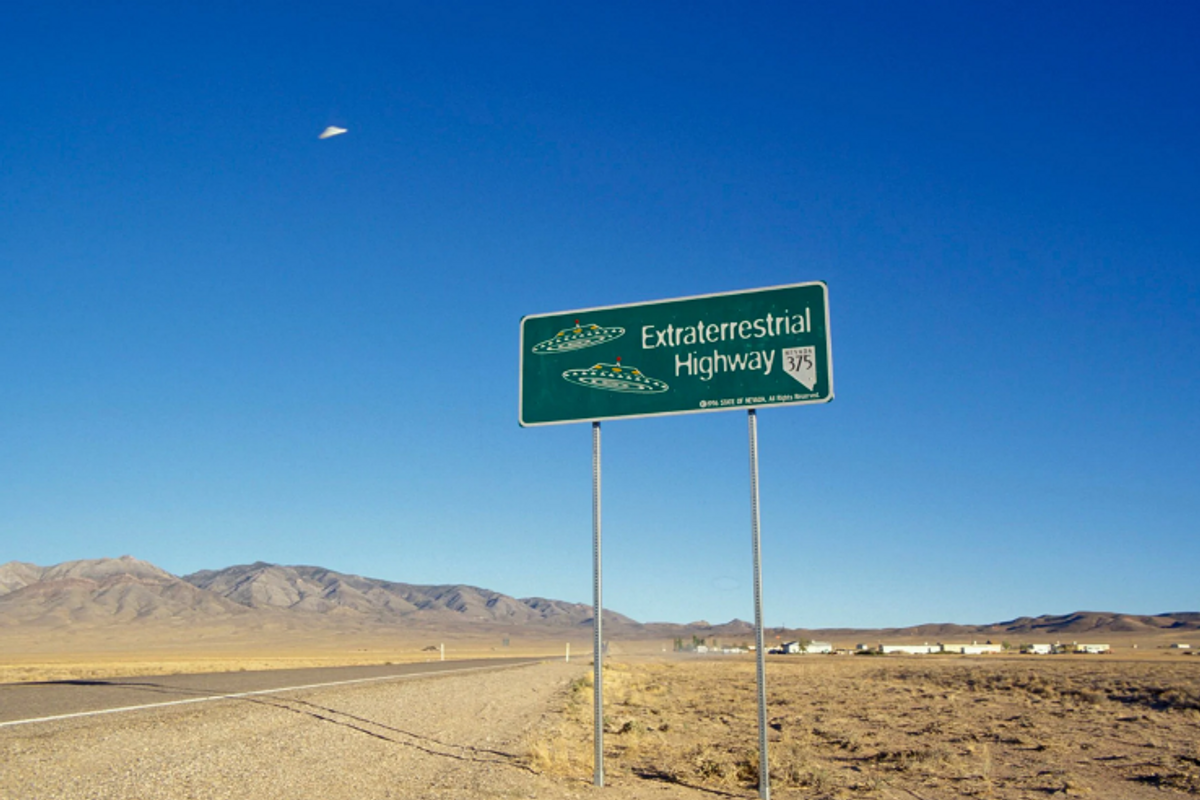 It started as most revolutions start: rather innocuously, the product of a half-hearted joke that managed to hit a nerve.
The first whispers of an Area 51 invasion began with a Facebook event called "Storm Area 51, They Can't Stop All of Us." Hosted by three primary parties—"Shitposting cause im in shambles," "Smyleekun," and "The Hidden Sound"—the page quickly amassed support, with a total of 1 million users committing to "going" as of Monday, July 15.
Several plans of attack have been proposed: "We will all meet up at the Area 51 Alien Center tourist attraction and coordinate our entry. If we Naruto run, we can move faster than their bullets. Let's see them aliens," posted one of the group's creators.
Other plans were more detailed, dividing raiders into ranks. Revolutionaries could identify themselves as "Karens," "Kyles," "Tylers," and "Daltons," among other things. Karens are, presumably, momager-types, aggressive and fast-talking women. One proposal suggested that we send a "Karen" with "no-nonsense hair" to the front gate to attempt peaceful negotiations; should that fail, the Kyles, pumped up on energy drinks, would be unleashed.

According to Know Your Meme, "Kyle is an online caricature of a white boy referenced as an antagonistic character in memes. Similar to how Karen is used online, 'Kyle' jokes parody of a certain kind of person with a set of characteristics one associates with the name; in 'Kyle's' case, these are characteristics of an angry white male teenager. 'Kyle' is generally presented as rage-filled and aggressive, and he is a fan of Monster Energy Drinks and Axe body spray, which has been documented in the Kyle Punches Drywall meme." In essence, Kyle is the heart and soul of the Area 51 attack. Perhaps Kyle is the heart and soul of the fragile, toxic masculinity at the core of America, or more likely, Kyle is the wreckage left behind when this fragile masculinity reveals itself for the hollow shell that it is.
From there, the memes blossomed like fireworks on the Fourth of July, filling the web with increasingly outlandish theories about what it might be like to actually "see them aliens."
the aliens at #Area51 waiting for the we outside text https://t.co/3ZVywYKtg7

— Sabrina👽🖖🏽 (@Sabrina👽🖖🏽) 1562954132.0
The aliens throwing me off their ship after I keep telling them my life problems #Area51 https://t.co/wJzIn2B2IC

— Ken 🌻 (@Ken 🌻) 1563145232.0
Me & @selenagomez on our way to Area 51 👽 https://t.co/P5ui7X5keU

— Miley Ray Cyrus (@Miley Ray Cyrus) 1563292725.0
The Call of Area 51

While the Area 51 invasion might be more based in absurdity and conspiracy theory than anything else, the amount of support it's has amassed is not a joke. The U.S. Air Force is scared, as they should be, because the popularity of this event is proof that the people have the capability to organize and take down the government, should they so desire. "[Area 51] is an open training range for the U.S. Air Force, and we would discourage anyone from trying to come into the area where we train American armed forces...The U.S. Air Force always stands ready to protect America and its assets," stated the Air Force, confirming that it knows about the planned raid, and that it's prepared to defend whatever it's hiding inside the base, even at the cost of citizens' lives. That's right: a Facebook meme has the U.S. Military on alert.
Why Area 51? The super-secret military base in the Nevada desert has long been at the center of conspiracy theories that which propose the US government is hiding aliens inside. Other theories include the belief that the government is conducting experiments on teleportation and time travel inside the base.
There's a definitive allure to the prospect of discovering alien life, and that certainly plays a role in the interest. More likely, Area 51 is so alluring because of what it symbolizes. In some ways, it's the perfect representation of the distrust that American people feel in their government and in the state of the world.
In its surreal, almost mystical absurdity, Area 51 just might be the perfect symbolic portrayal of our postmodern hellscape, which seems to be entirely run by the Koch Brothers, juul companies, and tech bros who have achieved god-like status, like Mark Zuckerberg and Elon Musk. Area 51 feels like it could be the source of whatever oozing, radioactive substance has made the world the way it is today. In a way, it's represents the Truth in a world beyond truth.
In light of this, planning to storm Area 51 via memes feels like a way of meeting our world's absurdity—be it the government's, the Internet's, or any of life's many other oddities—on its own terms.
Even more fascinating than the causes of the proposed Area 51 raid, though, is the rapidity with which the event gained traction. Its success reveals that a full-on political revolution is really just one meme page away. The success of the Area 51 venture shows that it's not hard to amass the kind of support needed to make the government take notice—and that's at least a start.
So grab your Monster drinks, Karens and Kyles of the world, and channel that rage into some hefty Photoshopping. You just might be our best hope at a revolution yet.
The most accurate of all the Area 51 memes https://t.co/nZKw2fp6hN

— Caleb B. Gwaltney (@Caleb B. Gwaltney) 1562936016.0
Everyone can see the Area 51 thing is sublimated liberatory desire to storm the concentration camps at the border r… https://t.co/aD5AH9zKds

— Not the Mama (@Not the Mama) 1563114137.0