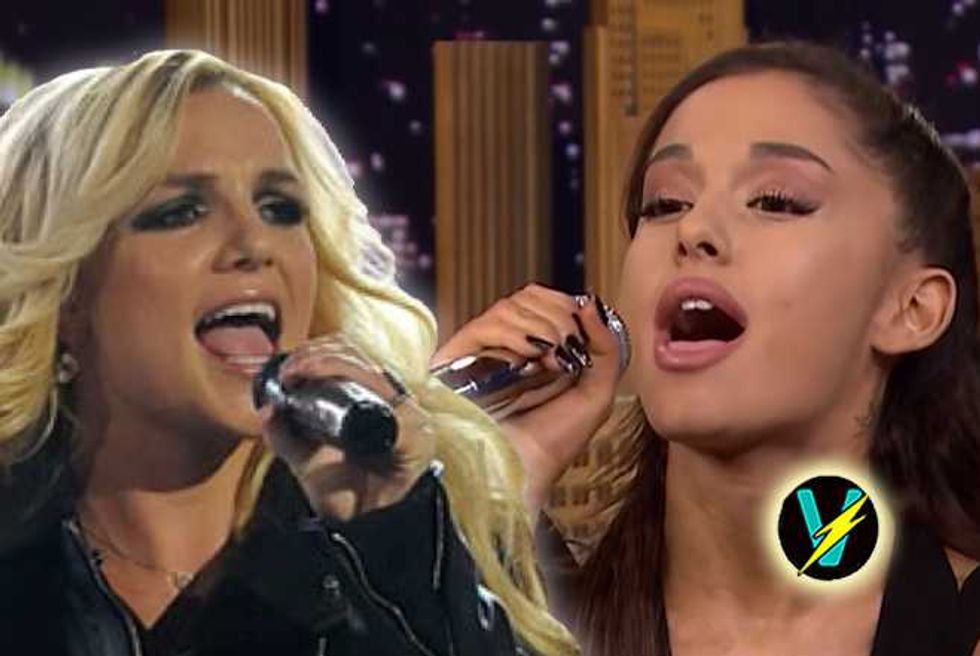 Ariana Grande may, or may not, be worthy of that reputation as one of the newly emerging biggest divas in the music biz—but there's no question at all when it comes to her talent for impersonating the old school ones that came before her.
The 22-year-old busted out with impressions of Britney Spears, Christina Aguilera and Celine Dion on The Tonight Show Tuesday night, and she NAILED it—you can watch the video right here on Popdust.
Watch Kickass Ariana Grande School Two Dumb DJs In Misogyny And Sexism
Host, Jimmy Fallon, cued up the  "Wheel Of Musical Impressions," for Grande, and when it landed on Brit Brit, Ariana brought it.
Her Spears inspired moaning was so spot on that the audience was eating out of her hand before she had belted out even the first word of Mary Had A Little Lamb.
Turns Out Britney Spears' Baby One More Time Isn't Some S&M Homage
But her impression of Xtina singing The Wheels On The Bus really brought the house down.
"We should just stop the show there," Fallon gushed, giving Ariana a standing ovation. "I don't know how we can continue. That is unbelievable ... wow, I want that recording!"
Ariana Grande Caught On Video Licking Other People's Donuts
Not to be outdone, Fallon stepped into the limelight himself, giving a spot-on impression of Sting singing Can't Feel My Face by The Weeknd, before closing out the segment with Ariana's Celine Dion homage.
Diva or no diva, there's no doubting girlfriend's got talent.....
Ariana Grande Falls Over During Concert Thanks To Knee-High Stripper Boots
Britney Spears Rocks Ballet Moves To Adele's 'Hello'