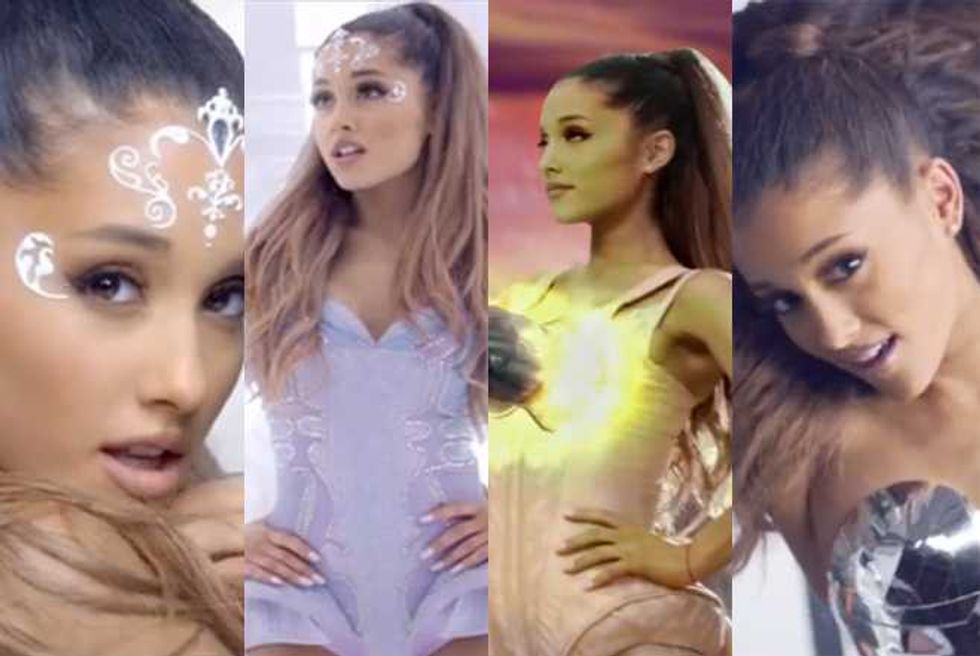 This is the part where we freak out. Ariana Grande, who is currently slaying with her latest album countdown track "Best Mistake," is here with a little surprise...her "Break Free" music video! Taking cues from Star Wars and Lost In Space (or any other outer space odyssey), Grande commands the cinematic screen with her plush looks and calculated confidence, steering the space ship across galaxies of infinite pleasure "What you are about to witness is scientifically authentic," rolls the opening, fading up into the sky (much like the Star Wars intro). "It is just one step ahead of present day reality and two steps ahead of present day sexiness."
It continues, with a dominate male voiceover, "Prepare yourself to conceive an inconceivable outer space adventure. Prepare yourself for something so fantastically fantastical you'll soil yourself from intergalactic excitement. Get ready to..." Pump the music and let's go!
Directed by Chris Marrs Piliero (Britney Spears' "I Wanna Go" & "Criminal," Kesha's "Blow"), the clip is a sexy escapade into the extraterrestrial, complete with dancing aliens, laser guns and every sci-fi trope in the book! But it's oh so fun and by far Grande's most daring piece she's ever accomplished. Throughout the video, Grande plays the pint-sized heroine, taking down grisly-faced aliens along the way by karate-chopping, high-kicking and everything she can muster. At one point, the powerhouse ninja takes a cue from Katy Perry's flame-baring bosom and shoots rockets from her chest, finally defeating a giant robot. But alas, her efforts are all in vain, as he becomes chained as a roaring fire laps up around her. It doesn't look like she's going to escape, until the very last moment, when she tricks her captor and slays him. Ultimately, she makes her way back to the mothership, on which a rave has broken out and product placements happen (because, duh, someone's gotta fund this thing). Party time!
"Break Free" serves as the second official single from her forthcoming sophomore effort My Everything, bolstered by the No. 2 peaking Hot 100 smash "Problem" (with Iggy Azalea). Earlier on Tues. (Aug 12), Grande dished out a searing ballad track, featuring the stylings of Big Sean (her new rumored beau), titled "Best Mistake." It remains at the summit on the iTunes singles chart, ultimately becoming another hot commodity in the pop world.
Grab a copy of "Break Free" on iTunes now!
Enjoy:
Stay tuned for updates. Feel free to follow @Popdust and JasonTheScott on Twitter!