MUSIC
The Icon For Hire Singer On The Perils of Performing Live: "The entire song I was just fighting my gag reflex"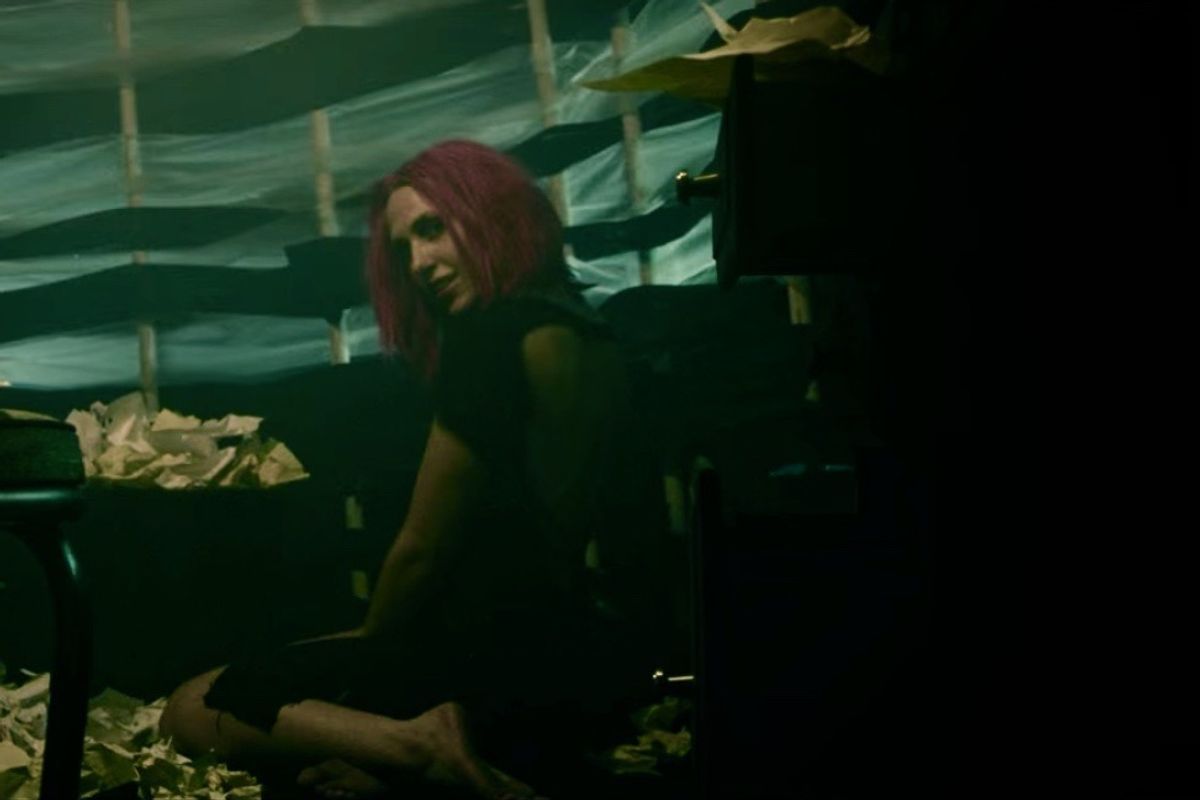 The first words that Ariel Bloomer utters, on her band's debut album, Scripted, are "My life is musical." Her band, Icon For Hire, may be your favorite band ever, discovered in between sets at one of their two appearances on the Warped Tour lineup, sandwiched between names like I Killed The Prom Queen and Lost In Society. Or you might have watched their development, instead, from the tinny sound pouring out of Skullcandy headphones, behind pink hair as the lockers opened. They were hyperkinetic synths drowning in pop-metal riffs, handclap ready anthems that clap across the locker room. And like a number of bands raised on the UMH-owned Christian rock behemoth, Tooth & Nail, Icon For Hire is fronted by a charismatic and incredbily prolific singer-songwirter. But unlike the label's post-hardcore heroes MeWithoutYou or Starflyer 89, Icon For Hire's Ariel wants her fans moving.
"We want to get them moving so they're creating this memorable moment for themselves," she told me shortly before the release of the band's third album. And they've made some movements too. Bass drops appear in the cubicles that punkier drum sets once occupied and her writing betrays a newfound angular confidence. Lyrics like "I meant it when I said I want to get well" from Scripted's "Get Well" have become ""Yeah I'm alright' for tonight/can we let the pain and the happy mix?," rolled off the tongue like its nothing and followed by a calculated pine: "Can the two coexist?," on "Happy Hurts." The record is also their first to be released independently and is titled You Can't Kill Us.
I had the chance to chat with Ms. Bloomer, who goes mononymously as Ariel among the faithful. And they are a growing crowd, her YouTube program, The Rel Show where Ariel testifies on the manufacture of DIY bandage leggings and gives hair tutorials, has upward of twenty thousand followers. But writing still remains important to Ariel. In the music video for You Can't Kill Us' lead single, "Supposed to Be," Ariel sits behind a desk, pen in hand, convulsively belting the track's lyrics in between putting them down. Our conversation, naturally, began with the many creative issues the band had with their former label:
POPDUST: Let's talk about some of the issues you and Shawn [Jump, Icon For Hire's guitarist] had.
ARIEL: They...wanted to tone down my lyrics and, so we would see these emails on our producer's computer screen...and they would be talking about "hey, Ariel's getting too much sass on this song and make sure that she doesn't, like, overstep her boundaries on this or they would make us co-write with other people...there was a minimum requirement that half the songs on our first record had to be co-written with strangers in Nashville, [a] completely different vision from us, so there was just a lot of feeling that they didn't get us...at one point, when I asked to change the album artwork for one of our albums, they emailed me back and said I was behaving like a diva and they were losing excitement for our project.
You didn't feel like you or your band could succeed creatively in the label system?
[Basically], the A&R guy who we [talked to] before we signed, he quit the day we started recording our first album [...] we discovered very quickly how record labels work, which I'm sure every young artist finds out first hand, which is, you know, they're there to sell a product and push a product in the way that they want to and then, as an artist, you get screwed, you get screwed in creative control, you get screwed in vision and, often, you get screwed financially and so many of our friends on that label had to disband and couldn't continue and had to get real jobs and that was going to be our state as well, if we continued going down that road with them.
How did that make you feel as an artist, to have to leave that system and turn, instead, to your fanbase for support?
[Mainly] feeling a sense of everything is over, our life's work has come to an end, we're not going to be able to survive and continue making the music that we love, being the artists that we want to be...[then] turning that corner and feeling that... maybe there is another way to do this, maybe we can do this without a record label, maybe we can survive this. So kind of a feeling of, like, defiance and screw-the-man and a sense that we're in this together, we will survive this, we will come out stronger on the other side.
Did this affect how you approached writing You Can't Kill Us?
A lot of the songs talk about us, and [the title] You Can't Kill Us feels so plural and just it, to me, feels like, we're all in this as one and, I know this can be cliché for our band to say but we really feel like our fans very literally had our backs with this album, through the Kickstater and through just all their emotional support of the past couple years, so we just wrote the album with them in mind and like they were listening to it, they were in the room with us while we were writing it.
What influenced the album musically?
Shawn does a lot of our production work and so he was just listening to, you know, Top 40 stuff...Chainsmokers, Twenty One Pilots, stuff like that. And then, I, kinda go the opposite [direction], I like to connect with, like, my childhood bands like Linkin Park, Breaking Benjamin, Rage Against the Machine...and that kinda puts me in a good head space to write.
Talk about that. The rock of your childhood.
Oh, god yes. Linkin Park, for sure. They were the band that made me want to do this. And, then, I totally was a big Amy Lee fan when I was like 15. She just did such a great job of embodying that glorious, belting feminine power onstage...she does a great job with that. So yeah, I wanted to be Mike Shinoda and Amy Lee. For sure.
What other icons influenced you? In an interview you did with Girl Talk HQ, you talked about feminism being a "loaded" term. Who helps you unpack it?
Liz Gilbert, Brene Brown...they're all powerful bad-ass women who make a living being creative and they really inspire me to not really hold back [and] a lot of times I will get inspiration from that community of strong empowered females because they have a big platform, they have a lot of followers, and they say bold things that, to me, just shows this fearlessness and, the fact that they're being vulnerable inspires me to be vulnerable too. And then, you know there's musicians like, I love Lauryn Hill, I love Dessa, you put these records on and its just so inspiring.
And you've become an inspirational figure in your own right and on You Can't Kill Us you speak directly to elements of that fanbase. On "Under the Knife," for example, you target self-harm in the emo community and at one point go "I see you at my shows, scarred up from head to toe..."
We did Warped Tour two years in a row and [its] the summertime so everyone's wearing, you know, exposed clothes and booty-shorts and when they're doing that, you're seeing cuts all up and down, [and we're] talking to fans of ours that look like burn victims because they're so scarred up and, that made a really big impression on me, seeing that in city after city two summers in a row. Just, like, hugging and interacting with so many of these precious people that were so scarred up and it was, it got to the point that I felt like I couldn't ignore this topic, like obviously self-harm is a big part of the scene, unfortunately.
How did approaching issues like mental health and self-harm affect you as a songwriter?
I feel like that issue is so sticky and multifaceted that's its difficult to address it in a productive way and I generally feel that a lot of times when people talk about it, it's not in a helpful or constructive way...and I don't know if we did it correctly with ["Under the Knife"] ...but it's really hard to talk about that, without making it really weird and without giving people the wrong idea and I, remember, being 14 and you're hearing [older] people talk about it and being like, "God, you don't even know what you're saying, shut up."
How would you characterize how fans feel toward you and toward your music?
[It's] not the numbers of people, more the intensity of the response. You know we have quite a few people coming up to the merch table crying after a show or with a pretty dramatic story about, for example, they were in the psych ward and how listening to our songs helped them or, you know, a dad came up to us, just a couple weeks ago, saying how his daughter had been in and out of treatment and counseling and therapy for her whole life and how our music was able to get through to her in a way that none of that stuff could. And he, you know, was balling his eyes out and that was a really precious moment. So, yeah. When you feel like your life's work is somehow mattering to other people, that is really powerful and really humbling.

Any awkward fan stories?
Yeah, we've got these awesome fans and then we've got these fans that are, just, you know, any band has just those socially awkward fans that don't know quite what to say at the merch table, don't interact, and will just stand there and look at you and you'll be like, Hi! can I sign something for you and they're just like nothing is coming out of their mouths. I think the most recent dramatic story [was when] we invited these girls to jump on stage and...before I know it, I'm feeling something on my arm and I look over and she's thrown up all over the stage and it got on me and [Shawn] and you know how awful vomit smells and so, I mean, the entire song I was just fighting my gag reflex because I thought for sure I was going to throw up as well and, you know, we grabbed some towels after the song and tried to wipe the vomit off the stage but there was a pile of puke in the middle of the stage for the rest of the show.
This interview has been edited and condensed for clarity.
You Can't Kill Us is out now!