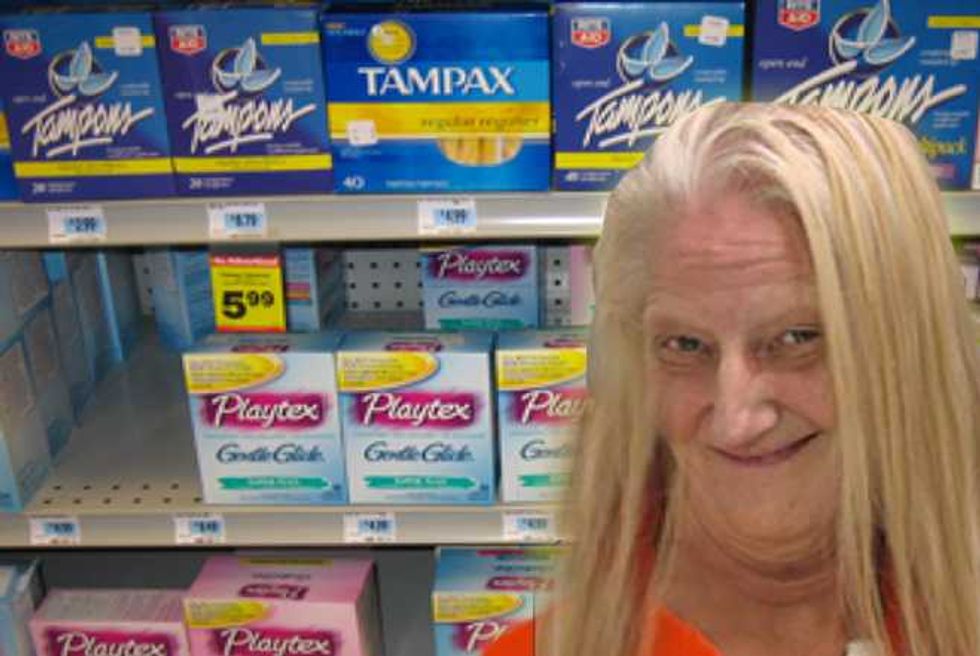 arkansas woman tampons walmart
So, here's one of those stories that is so outlandish and fabulously ludicrous that you just can't believe it's true even though you want it to be.
According to Now8News, an Arkansas woman was arrested after she was discovered by a Walmart employee, trying on tampons and sanitary pads in the feminine care aisle of the superstore.
Now, we all know by now that the People of Walmart are a breed entirely to themselves—they even have an entire website dedicated to them, in honor of all their redneck glory— and, well, Arkansas….
BUT, is it actually true?
The story goes:
44-year-old Cheryl Woolery from Springdale was led out of her local Walmart in handcuffs and taken into custody by cops Monday after resisting arrest.
Now8News claims Woolery attempted to return a box of tampons to the store, complaining that the Tampax 'Lites' she had purchased were causing her to "leak" and that the cardboard applicator was just too "rough" for her "woowoo."
And, when the store refused to allow her to make an exchange for an alternative brand, well, that's when things turned into a right "bloody mess."
Here's a quote from alleged Walmart employee, Rena Rice:
I was stocking the deodorants which is right next to the isle where the feminine hygiene products are kept. When I walked past the aisle this crazy out of her mind lady was in, I couldn't believe what I saw. I mean really, there were five used bloody tampons on the ground that she had already tried on! I caught her trying to stick a sanitary pad on her underwear. That's when I radioed for security.
According to Now8News, when the security officer confronted Woolery, she attempted to flee the store—leading to a jostling match between the two, resulting in even more of a "bloody mess."
Here's a quote from alleged Head Security officer, Randy McWilliams:
When I asked her what she was doing, she turned around to take off. That's when I grabbed her arm and pulled her towards me but I slipped on one of the bloody tampons and we both hit the ground. That was probably the most disgusting thing that's ever happened to me.
Police were quick to arrive at the scene, and Woolly is alleged to have told the arresting officers that she refused to waste any more money of her hard earned cash on products that don't work properly for her, and that customers should be able to "try on tampons just like you try on clothes in the dressing room, to make sure they fit."
Not surprisingly however, Walmart is purported to see things rather differently, allegedly releasing a statement to clear up the matter once and for all:
It is against our policy to allow customers to try on tampons in the aisles, bathrooms, or dressing rooms. Anyone attempting to will be arrested and never allowed back into our stores.
Meanwhile, Woolery is reportedly being held on a $500 bond, after being charged with resisting arrest, indecent exposure, and shoplifting.
Such an awesome story…but, come on now, how are we supposed to believe a single word of it when the alleged perp isn't even from Florida?!!
And, sure enough, it's just all one big bloody hoax.
Those fine folks at Snopes break it down:
[Now8News] has been the source of a number of outlandish, falsified claims. In July 2015 alone the site spread a fabricated tale about a man purportedly arrested for having sex with a pig in a Walmart bathroom, another claiming aborted fetuses were used in making Chicken McNuggets, and a third falsely reporting that bananas from Walmart were infested with parasitic worms. Moreover, the mug shot used by the site (purportedly taken following a 12 October 2015 arrest) appeared on a gallery of humorous arrest photos on The Smoking Gun. The individual depicted wasn't named, but the photo dated back to at least August 2010.

Sigh!
Well, as we always say, NEVER let the truth get in the way of a good story….
For more entertainment, music and pop culture updates and news, follow Max Page on Twitter