Today's commute just got a lot more interesting.
I didn't expect to get off the L Train from Brooklyn today, on my way to my usual transfer downtown, and see a row of women draped in colonial wear. Paired together in an endless, silent row, they donned uniform white bonnets, small side bags, and striking red dresses. Passerby stopped moving around to take pictures of these mysterious women, most wondering where exactly they came from, why they stared with such emotionless silence, and why, when they finally moved, they did so in a ghostly procession to the Uptown 6.
Had I not run into Hulu's visibly jarring promotion of their TV adaptation of Margaret Atwood's The Handmaid's Tale during my trip to Austin for SXSW, I probably would have had the same reaction.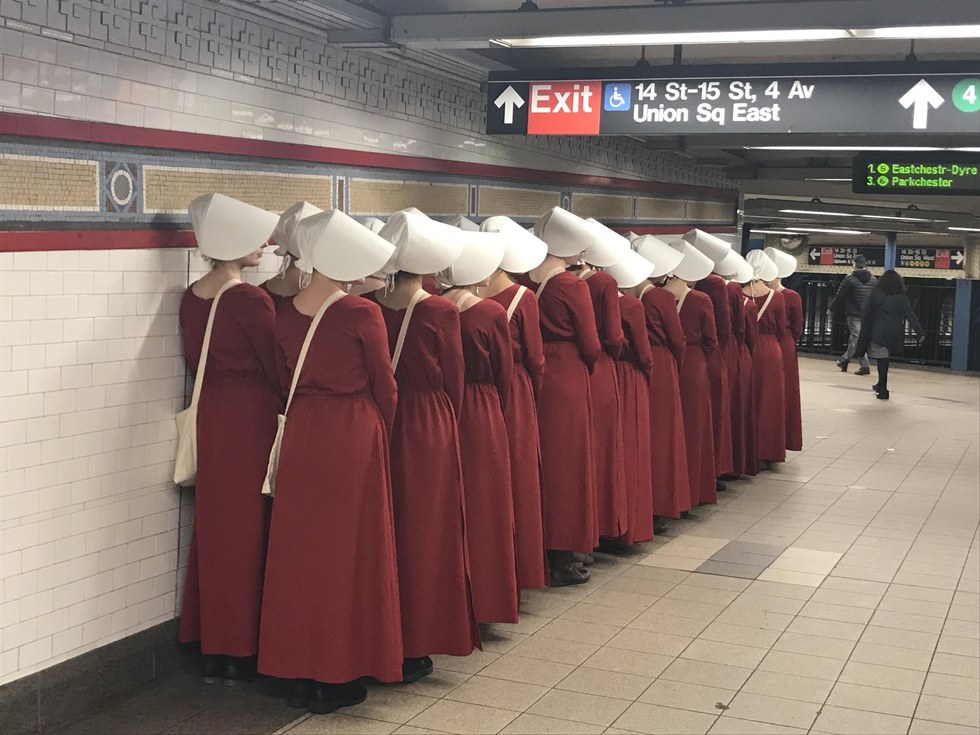 E.R. Pulgar
The creepy and compelling promotion of Hulu's latest series, set to air today, is part of several promotional attempts going on in the city today, including an art installation in Chelsea created by Paula Scher and Abbott Miller where visitors can take free copies of the Atwood's celebrated dystopian novel. Needless to say, today's commute was kind of unforgettable (and slightly unnerving).
Despite Hulu's statement about the Handmaid's IRL appearance at SXSW (and now, New York City) not making a political statement, I must admit to feeling chills upon seeing the row upon row of silent women, paired together to monitor one another just like the book, passing by me in sync as I walked to the N Train. The fact the show is coming out in the current climate, with Atwood herself just profiled by The New Yorker as a kind of buoyant doomsayer, only drives home the point that America may indeed be on its way to becoming Gilead, the novel's horrific dystopia. It's a jarring reminder, but one that couldn't have come at a better time (or possible be marketed in a better way).
Hulu's original series The Handmaid's Tale will premiere tonight.