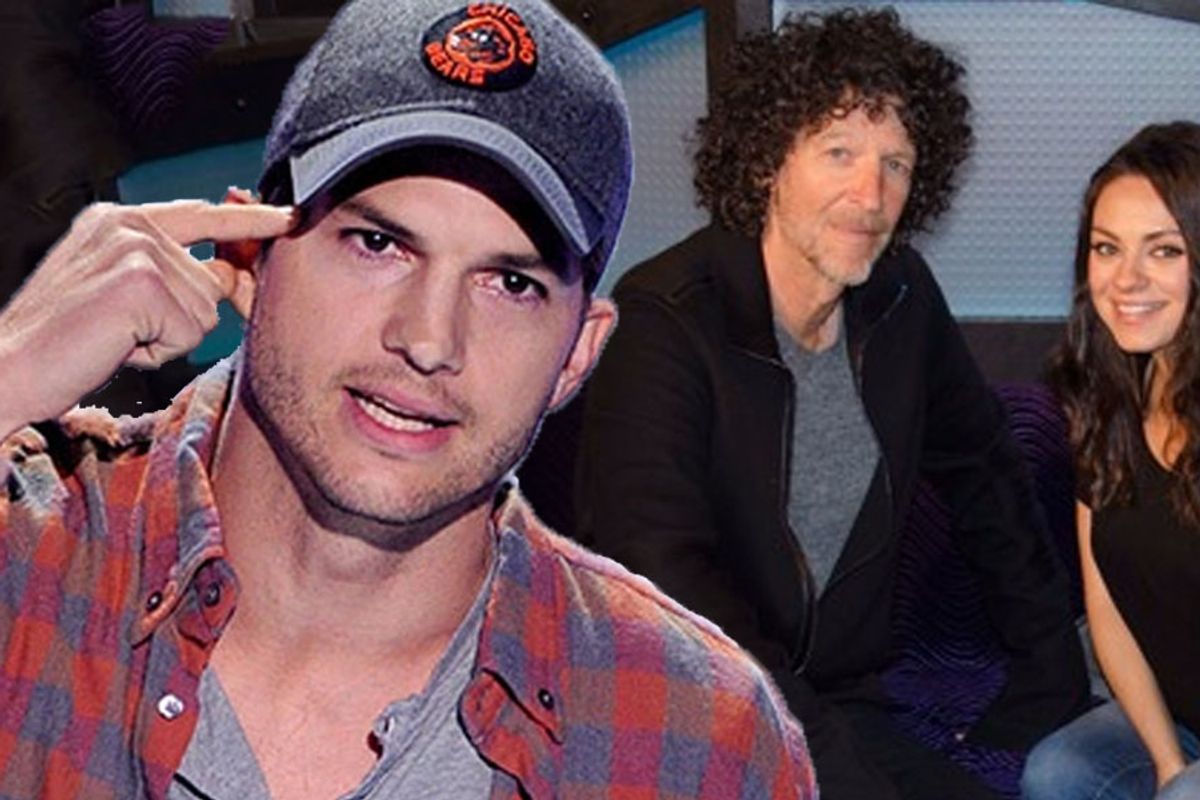 Famous last words.
Before spilling the beans on the deets on her marriage to Ashton Kutcher, Mila Kunis uttered these prophetic words to radio shock jock Howard Stern:
"I Might Get in Trouble for This."
Well, Mila obviously knows her hubby well, because the Punk'd star HIT THE ROOF when he heard her candid interview. An exclusive source tells Popdust:
"Ashton was livid. He has been so hell bent on regaining his privacy, he's been going out of his way to stay out of the public eye. Then in one stupid interview, Mila airs out all their business for the world to hear."
The 32-year-old mom of one, who is pregnant with her second baby, told Howard she hopes her husband is "fat and bald and ugly," when her daughter becomes a teenager and her friends come over to gawk at him. Then, when he asked if Ashton was "her first real kiss," she blurted out:
"I don't know who it's weirder for: the 19-year-old kissing the 14-year-old or the 14-year-old kissing the 19-year-old."
Then they got on the topic of marriage:
"We started dating with the idea we both were never going to get married."
After That 70s Show wrapped, Mila and Ashton kept in touch as friends, but then, years later, when she bumped into him at an Awards Show, something changed.
"I see this guy and I see his back and he's really tall. Then he just turns around and it was literally like if we were in a movie, the music would start playing and the violins would go...I think for the first time ever he took my breath away...I was like f—k, he's good looking."
---
READ MORE....
Ashton Kutcher Set To Testify Against Murdered Girlfriend's Alleged Killer
Ashton Kutcher Is Furious Over Baby Photos
Dude Pretends To Be Ashton Kutcher To Avoid Drug Arrest
---
But still, there were no benefits, only friendship. In fact, when Ashton invited Mila to his house warming party, he was planning to set her up with one of his friends! But it was that night that the benefits began:
"Long story short, I didn't leave until the next morning," she candidly revealed, though she said she had wanted to call an Uber and take off before daybreak. "[It was the] the first time I ever slept over while I was single."
After that, they agreed to "live out" their 2011 movies Friends With Benefits and No Strings Attached. Needless to say, their "super private" casual fling turned into "'til death do us part."
"We would never be together based on the people that we used to be."
Naturally, Ashton saw these comments as major infractions to his obsession with keeping their private life private. Considering he previously told the Huffington Post:
"You know, I've learned the hard way how valuable privacy is. And I've learned that there are a lot of things in your life that really benefit from being private. And relationships are one of them. And I am going to do everything in my power to have this relationship be private."
Oops...
While obviously Mila knows the score when it comes to talking about her marriage, she took her frankness with Howard a step too far for Ashton's liking, our source continued;
"Mila didn't go crazy and talk about sexual positions or anything, but she knew how important privacy is to Ashton and he is really pissed that she revealed so much. They had a huge fight and things are still a bit fragile between them.

The thing is, she doesn't see what the big deal is and that of course is making him even angrier! He didn't even want her to do the interview in the first place!"