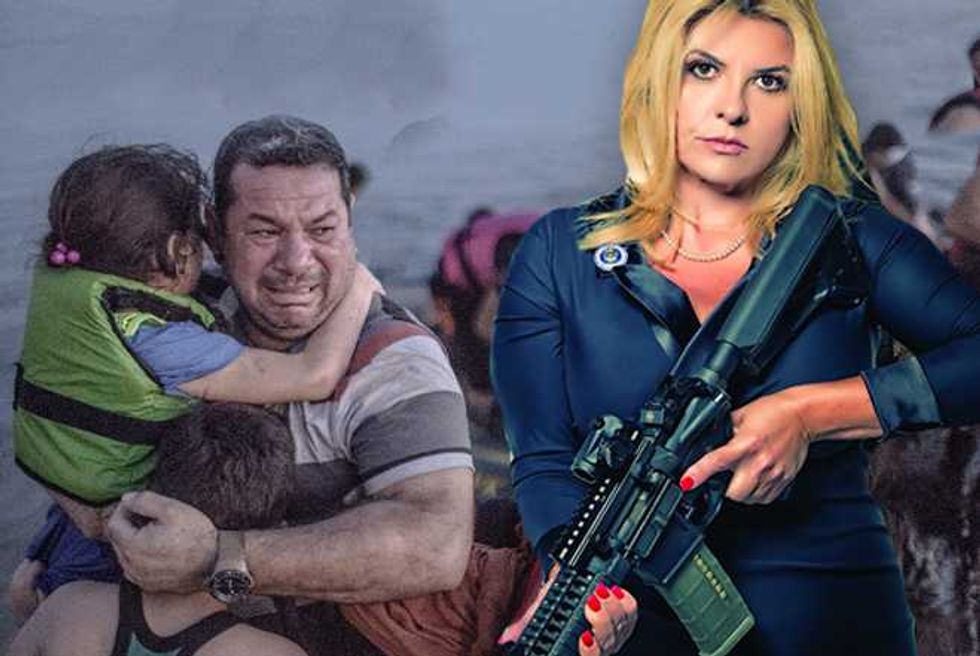 Not to be outdone by Donald Trump in the despicable piece of shit stakes, Tea Party asshole Michele Fiore is mouthing off about how she would like to shoot Syrian refugees "in the head."
Actually, sorry, let's get this straight—Tea Party asshole Michele Fiore apparently only wants to shoot SOME Syrian refugees in the head, well, through the eye, to be more specific.
Heartbreaking Story Behind That Photo Of A Dead Syrian Boy On A Turkish Beach
The 45-year-old Nevada-based Republican Assemblywoman spoke to local radio station KSNV this morning to clarify her shooting Syrian refugees in the head stance, following some truly despicable comments she made last month.
During an interview with KWDN on November 21 about why she was against the resettlement of Syrian refugees in Nevada, the self-professed "Catholic" mom-of-two, said:
The Syrian Refugees. I'm like, What–are you kidding me? I'm about to fly to Paris and shoot 'em in the head myself! I am not OK with Syrian refugees. I'm not OK with terrorists. I'm OK with putting them down, blacking them out, just put a piece of brass in their ocular cavity and end their miserable life. I'm good with that.
Donald Trump Wants To Kill Families Too When He 'Bombs The Shit' Out Of Syria
Hmmm…. seems pretty clear to us….. she's not OK with Syrian refugees, whom, she obviously equates with all being terrorists, and she wants to end their "miserable" lives by shooting them all in the head.
But not so, according to the shining example of humanity and Christian love—she's now claiming that she was NOT talking about the refugees at all—all while insisting she is NOT "backing down" from her original comments…. God forbid!
Marco Rubio Really Wants A Beer With Malala Yousafzai (A Muslim Teenager)
"I'm not going to back down," she told KSNV. "I never said I would shoot a Syrian refugee, period. What I said if it came down to a terrorist or myself I would not hesitate to kill a terrorist…period."
Well, that clears that up then.
This Ben Carson Rap Ad Is Some Of The Craziest Shit You'll Ever Hear
When it comes to shooting whoever the hell it is she actually wants to shoot in the head (which given her track record seems to be pretty much everyone and anyone she finds to be unsavory) Fiore has a particularly fine arsenal of weapons to chose from—as evidenced in her truly delightful family Christmas card: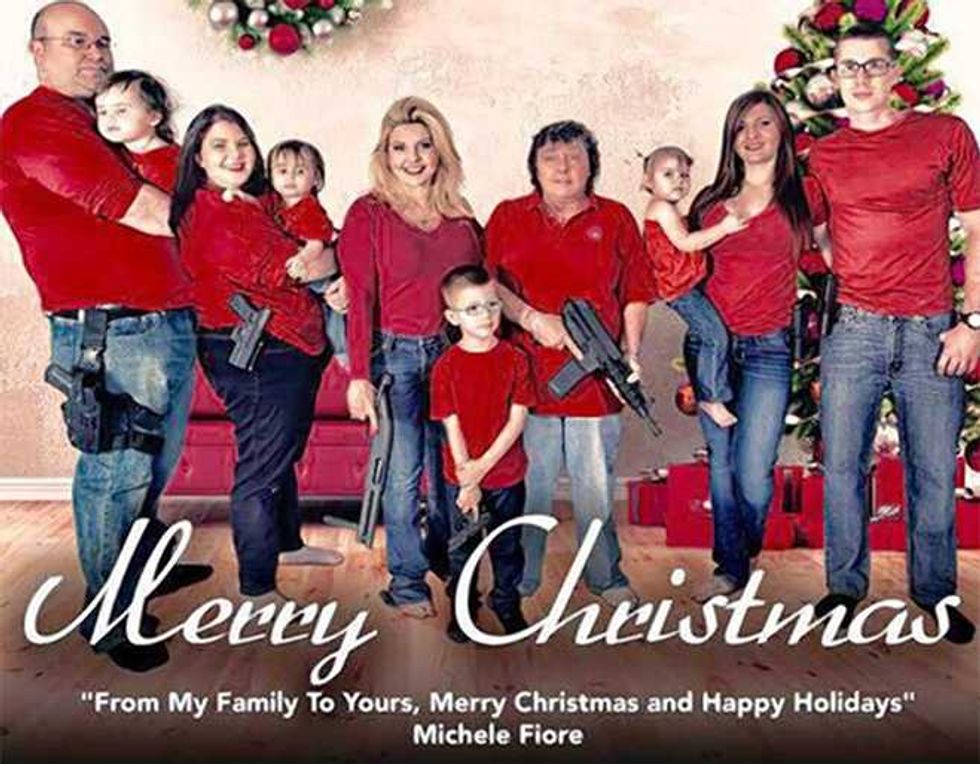 Thankfully, for those of us who are less versed in the world of deadly firearms, Fiore captioned the photo, to help us all fully appreciate the might of her family firearms stockpile.
"From Left to Right, David: Beretta 92FS, Sheena: Glock 30 45 acp, Michele: Serbu Super Shorty 12ga, Lill: Extar EXP556, Savanah: Glock 19 9 mm, Kyle: Glock 30 45asp"
Donald Trump Is Truly The Most Amazing Troll Of Our Times
Meanwhile, Fiore appears to spend a lot of time thinking about people having their brains blown out—which is pretty much a given really for such a NRA loving, second amendment supporting fanatic.
She previously sponsored a bill pushing for guns to be carried on college campuses, in grade schools, and in day care facilities, so "hot little girls" can defend themselves against the recent spate of sexual assaults that have been occurring.
If Dr. Ben Carson Had A Hammer
"If these young, hot little girls on campus have a firearm, I wonder how many men will want to assault them," she told The New York Times back in February.
"The sexual assaults that are occurring would go down once these sexual predators get a bullet in their head."
Oh, that's genius Ms. Fiore!
A Bunch Of Things UK Politicians Consider Less 'Luxurious' Than Tampons
Or, here's a really novel idea, how about instead, we work harder to educate young men so that they realize that sexual assault is never OK, and work to eradicate misogyny and so-called "rape culture" instead of just blowing their brains out?
Nah, that's just crazy talk.
For more entertainment, world, music and pop culture updates and news, follow Max Page on Twitter