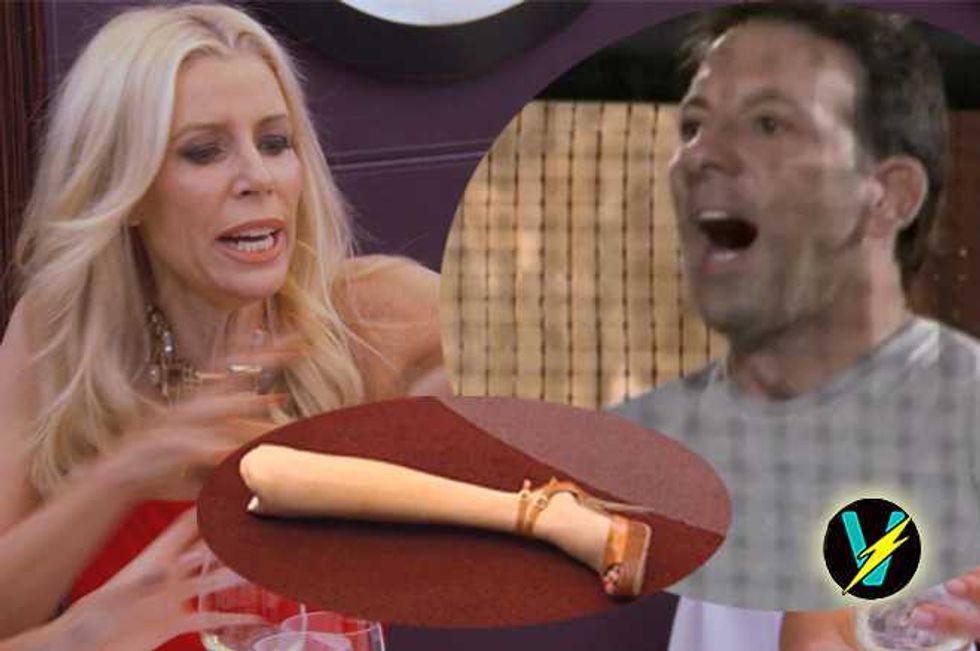 Aviva Drescher may have unceremoniously been dropped from The Real Housewives of New York City but fear not - the crazy train keeps chugging away!
The one-legged nutcase and her Stockholm Syndrome-suffering husband Reid are taking part in Marriage Boot Camp: Reality Stars along with other A-listers like Heidi Montag and Spencer Pratt.You may remember Aviva's infamous fake leg throw at the finale of RHONY, but now Reid is the one doing the throwing.
During a bonding exercise in the Shocktagon the couple had to roleplay as each other, and it got real cray-cray real quick:
"Aviva, you didn't need to throw your leg on national television," Aviva said (as Reid).

Reid then REMOVED THE FAKE LEG AND TOSSED IT AT HER saying "I'm sick of this shit, OK?"
"You didn't need to, like, make fun of me for doing a job…it was low. It wasn't funny," Aviva told him afterwards.
The best of this whole ridiculous thing?  They managed to shock Heidi and Spencer!NO ONE OUT-CRAZIES HEIDI AND SPENCER DAMMIT!
Marriage Boot Camp: Reality Stars airs Fridays, 9 p.m. on WEtv. Don't even pretend you're not going to watch...