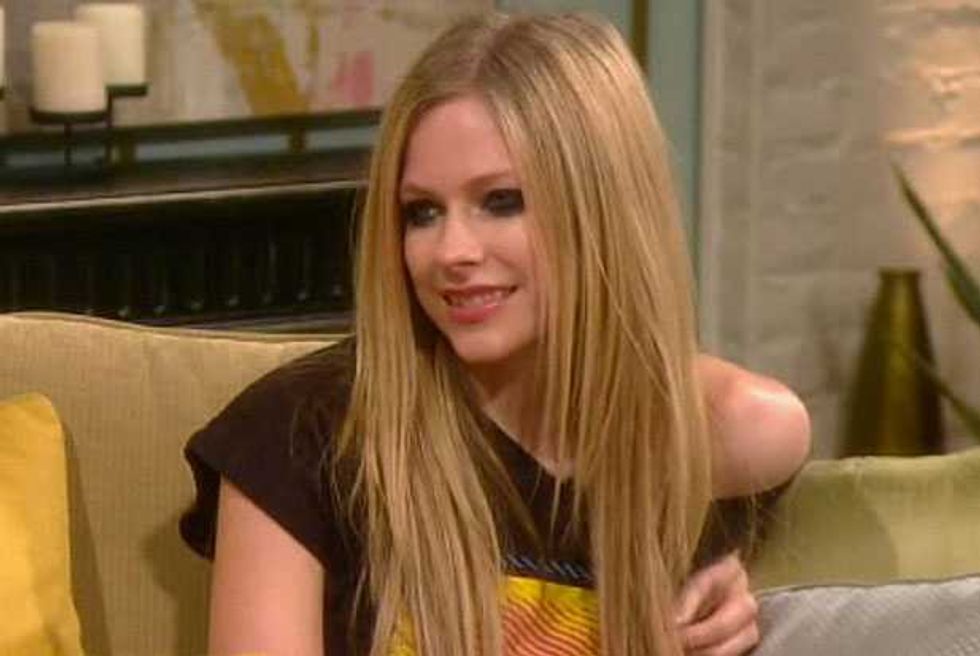 Avril Lavigne sat down with Access Hollywood to address the rumor that she was carrying the next piece in the Kardashian-Jenner blended family puzzle. Contrary to what the Abbey Dawn designer's recent fashion choices may suggest, she is not expecting a child. "How insulting!" said the 27-year-old, who really shouldn't be judged for enjoying the comfort of a cozy poncho while getting a manicure. But instead of crying, she opted for straight forward denial. "No, I'm not. Obviously not. Not anytime soon." Somewhere, Brody Jenner lets out a huge sigh of relief." But leave it to Access co-host Kit Hoover to remind us what's most important in this discussion of bringing new life into the world. "I thought, oh, Khloe and Kim are going to be furious! The Kardashians, because they want to get pregnant." Let's get through the Kim and Kris wedding special first.
Surfing the Net with kids
The Boston Globe (Boston, MA) April 15, 2011 With the advent of the Internet, reinforcing reading skills does not have to be all about having your nose in a book. These educational game sites run the gamut from introducing phonics to preschoolers to fun online activities for middle school readers. website planets for kids
Earobics: GameGoo www.earobics.com/gamegoo/gooey.html Earobics is a K-3 "reading intervention" product from Houghton Mifflin Harcourt. GameGoo is the free, online educational practice game component. For a list of educational standards addressed in each game (such as identifying the letters in words), follow the Home button to the Teachers & Parents link. The games (arranged on the menu from advanced to beginner) are colorful, noisy, fun, and just plain wonderful.
Scholastic.com: Flashlight Readers www.teacher.scholastic.com/activities/flashlightreaders/ T_landingPage.asp "Go inside your favorite reads" with online games from Scholastic, along with author notes, photos, and audio interviews. Ten popular young adult books are featured, including "Because of Winn-Dixie" by Kate DiCamillo, "Holes" by Louis Sachar, and "Hoot" by Carl Hiassen. The site includes teacher and parent guides with ideas on how to reinforce "reading skills in fun and meaningful ways." Kabongo www.kabongo.com Reading is Fundamental: Leading to Reading www.rif.org/kids/leadingtoreading/en/leadingtoreading.htm Reading is Fundamental divides its online activity center into two age groups: Reading Planet for ages 6 to 15, and Leading to Reading for zero (zero?) to 5 years old. With great graphics and fun game play, these colorful online reading activities and interactive books are sure to please. To access Reading Planet (for kids over 5), look for the link in the horizontal menu at the bottom of any page.
Starfall www.starfall.com Starfall offers four levels of interactive reading resources for pre-K through second-grade from ABCs and phonics to read-along plays and short stories. "Every word on the site is clickable and will read aloud. In this way, your child's speaking, reading, and writing vocabulary can grow alongside his curiosity." Although the interactive stories are the star of the show at Starfall, don't overlook the printable downloads which include a Reading and Writing Journal, Reading Awards, Phonics Puzzles, and printouts to accompany many of the stories. They can be accessed from the Download Center link at the very bottom of the home page. planetsforkidsnow.net planets for kids
15surfing.ART