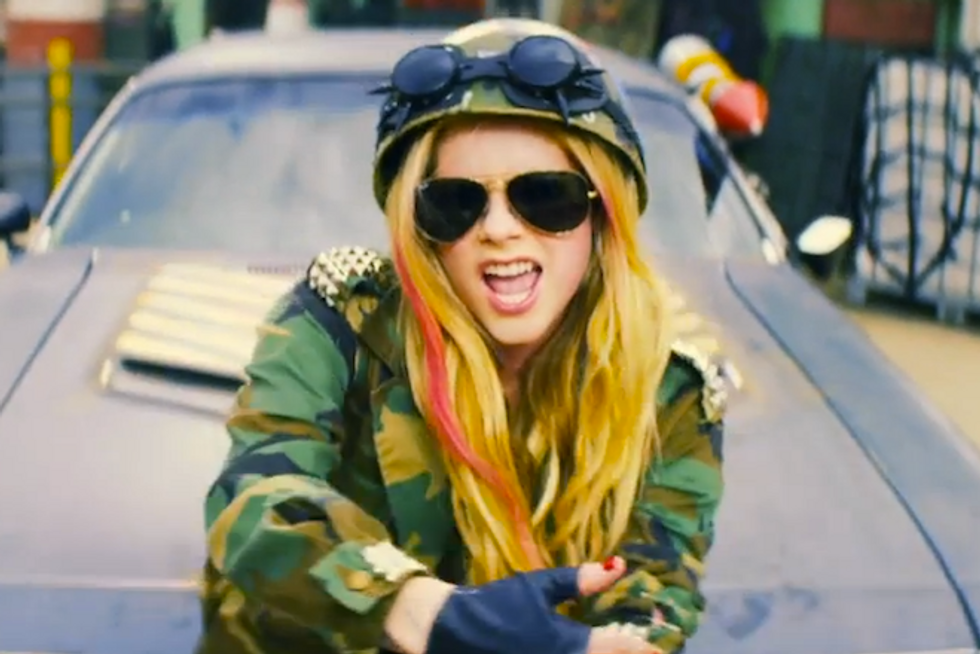 Turns out when Avril Lavigne makes things more complicated, she ends up with a masterpiece.
Mrs. Chad Kroeger has just released the music video for "Rock N Roll," the second single off of her self-titled album due a week from today. And if you never thought you'd see Avril Lavigne fight a bearshark, think again buddy.
Sure, the vid delivers your basic Avrilian images.
Those middle fingers better be insured.
Yawn, been there done that, and so forth...
K, we don't know what "FWRRRRRRRRRPP" means, but things just got real. Wait, is that...
ANIMATED AVRIL LAVIGNE?!
BILLY ZANE, THE BAD GUY FROM TITANIC?!?!
SOME SCARY DUDE WEARING A GAS MASK?!?!?!
AVRIL LAVIGNE FIGHTING A LOBSTER?!?!?!?!
AVRIL LAVIGNE FIGHT A BEARSHARK?!?!?!?!?!?!
WINNIE COOPER?!?!?!?!?!?!?!?!
AVRIL LAVIGNE MAKING OUT WITH WINNIE COOPER?!?!?!?!?!?!?!?!?!?!
DID THAT REALLY JUST HAPPEN?!?!?!?!?!?!?!?!?!?!?!?!
I LOVE ROCK N ROLL.