CULTURE
The Guns N' Roses singer proved himself to be more than a match for the Secretary of the Treasury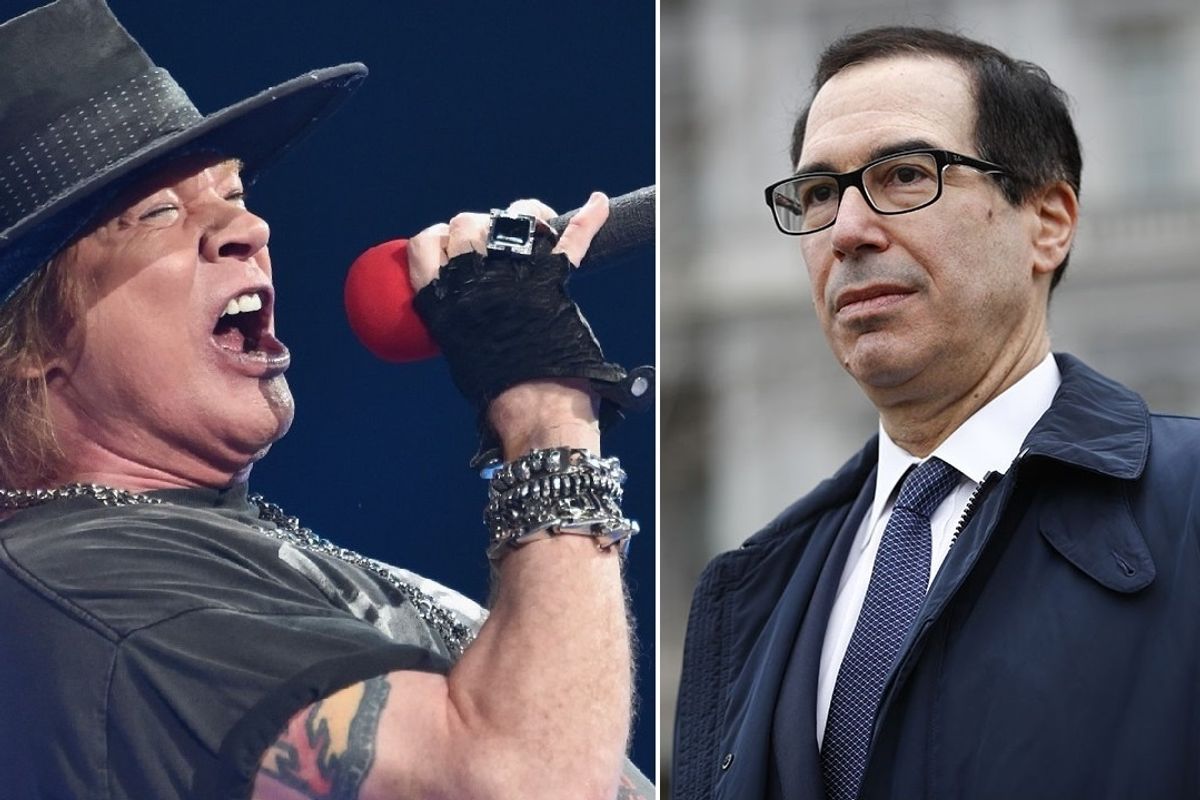 On Wednesday U.S. Treasury Secretary Steven Mnuchin got into a dispute on Twitter with Guns N' Roses lead vocalist Axl Rose and found himself intellectually outmatched.
The feud kicked off after Rose tweeted that Mnuchin is "officially an a**hole," in response to a Fox Business interview in which Mnuchin said "this is a great time for people to explore America." While Mnuchin acknowledged that the coronavirus pandemic may necessitate a hold on international travel extending into 2021, he felt it was important to express optimism for people to travel domestically and "explore America," even though America has by far the most cases of COVID-19 of any nation on Earth.
---
While Rose has previously clashed with Donald Trump's administration over the unauthorized use of Guns N' Roses music at rallies, this may mark the first occasion that an administration official has engaged with him directly.
@axlrose What have you done for the country lately? 🇺🇸

— Steven Mnuchin (@Steven Mnuchin) 1588810932.0
Mnuchin, whose role as the head of the department of treasury puts him in charge of the IRS and the production of new currency, not to mention a key position advising the executive and legislative branches on matters of fiscal policy, apparently had nothing better to do than respond to the "Sweet Child o' Mine" singer, tweeting, "What have you done for the country lately?" Unfortunately, Mnuchin had to send that tweet twice, as his first attempt included the emoji for the flag of Liberia rather than the United States and had to be deleted.

Liberia, whose flag resembles that of the U.S. but with eleven stripes and a single star, is among the poorest countries on Earth, and Mnuchin's error did not escape the notice of Axl Rose's who responded, "My bad I didn't get we're hoping 2 emulate Liberia's economic model."
If that weren't bad enough, Rose—who believes in past life regression and kept a psychic on staff for years to review potential employees' auras—took up the thrust of Mnuchin's argument and proved himself to be much smarter than the former hedge fund manager and movie producer. Because while Mnuchin might want to make some dubious claim about his contribution to America—beyond signing our money and posing with his much younger and objectively much more attractive wife—his role as Secretary of the Treasury entails a duty to serve the country. As Rose put it, Mnuchin holds "a fed gov position of responsibility 2 the American people," a position which he uses to "go on TV tellin them 2 travel the US during a pandemic."
@stevenmnuchin1 My bad I didn't get we're hoping 2 emulate Liberia's economic model but on the real unlike this adm… https://t.co/8cZmG7uTua

— Axl Rose (@Axl Rose) 1588828824.0
Rose, on the other hand, as a veteran of hair metal (the dumbest era of American rock music) only has a duty to rock to be vaguely ridiculous—duties which he has steadfastly upheld. If the two were arguing simply as the singer of "Paradise City" and the executive producer of Hollywood hits such as Suicide Squad and King Arthur: Legend of the Sword, then they might be on fairly equal footing. But as a high-ranking federal official, Mnuchin must be held accountable for his actions—and should probably be smart enough not to be so thoroughly owned by someone like Axl Rose.

Whether or not Mnuchin can be held responsible for the thousands who have died as a result of the Trump administration's delayed response to the coronavirus pandemic, he is certainly accountable for encouraging people to engage in such dangerous behavior while this crisis is still at its height. In a sense, Axl Rose is performing a public service by calling him out—doing more for the country than Mnuchin himself. Of course, Mnuchin should also probably be held responsible for making much of his massive wealth off of foreclosures in the wake of the 2009 housing crisis, and for making the CHiPs movie, but so far no one has been jailed in connection with either of those travesties.
Mnuchin has yet to respond to Axl Rose's takedown—presumably because he's licking his wounds and coming up with new ways to insult teenage girls.