Frontpage Popular News
The Rose Reckoner is bringing brutal competition to this brutal competition.
If you're like me, then you probably never expected yourself to be this invested in The Bachelor (and the entire Bachelor family of media products). I'm not crazy about Nick Viall as The Bachelor; in fact, I think he's a lukewarm, overly reserved response to his own outdated personalities on earlier seasons of the show. But if there's one thing you learn loving The Bachelor, it's that people can make major changes in their lives for the sake of a TV show and still have it count.
Not sold yet? Here's another way to sweeten the deal of watching The Bachelor/ette: your very own fantasy Bachelor league. The Rose Reckoner is a fan-made site that facilitates a Bachelor fantasy game featuring drafting and scoring a la fantasy sports. Following the rules laid out by 30 under 30 media luminary, Griffin McElroy, and his lovely wife and co-host Rachel on their superb Bachelor fancast, Rose Buddies.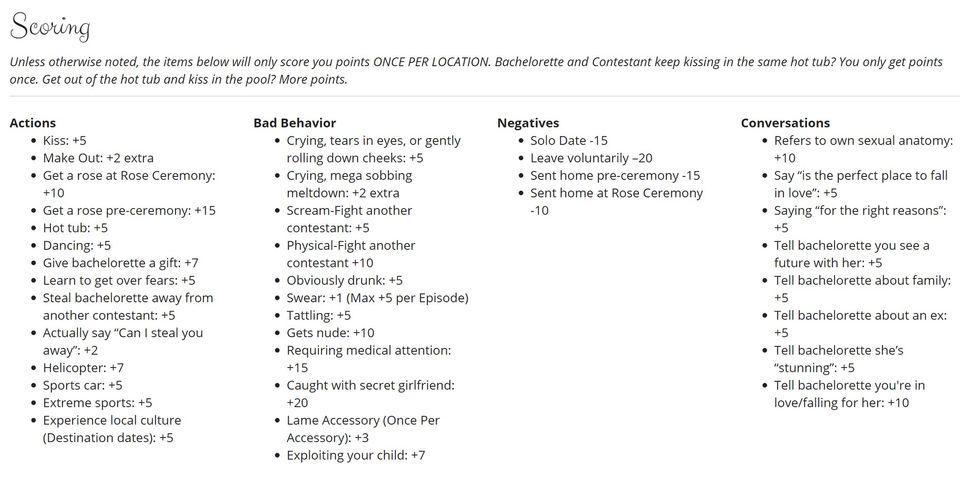 via The Rose Reckoner
As you can see, winning the game isn't the only way to win the game; "bad behavior" can also score you points. That means getting naked (*cough* Corinne *cough*), crying (Corinne), and referring to your own anatomy ("platinum vagine") can all score you major points. That makes villains just as important as the heroines of Nick's season. It also makes rooting for Corinne all the more possible and profitable.
Players are shared by teams until after the third draft and if your contestant is eliminated after the final draft, tough luck for you.
I'm already killing it this season with Corinne, Danielle L, and Liz (RIP) on my team but I've got stiff competition from the other teams that also have Corinne.
Get out there and claim your destiny on the fantasy-semi-reality-love-dating-show battlefield with Rose Reckoner! And if you're taking podcast recommendations, be sure to check out the sweet and hilarious Rose Buddies cast on the Maximum Fun network.