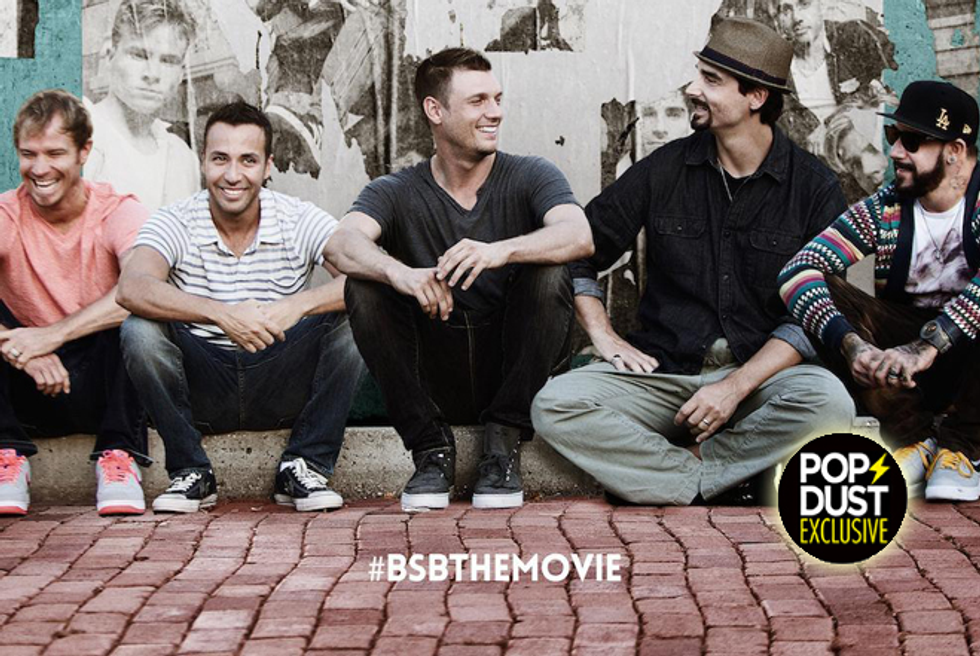 "When sun light is fading, the world will be waiting for you. Just show 'em what you're made of..."
The Backstreet Boys have been together for over 20 years, and they've been through it all. They've witnessed the dizzying heights of boy-band fame and become one of the best-selling groups of all time. They've also plummeted to rock bottom, only to rise again, forever solidifying themselves in pop music history. For their new Show 'Em What You're Made Of documentary—hitting theaters, iTunes and Video on Demand on Friday (Jan. 30)—Brian Littrell, Nick Carter, AJ McLean, Howie Dorough and Kevin Richardson peel back the layers of their career in a surprisingly moving piece of cinema. Not only will hardcore fans be able to see their early days from laying down tracks in a Florida warehouse (clip below), but the viewer is taken on a harrowing journey of the aftereffects of superstardom and how BSB managed to land on their feet.
Popdust recently caught up with McLean to chat about the full-length feature, which turned out to be far more serious than originally planned. "When we first decided to make a film, the idea was strictly to show us making the brand new record," he shares. "We never had any real intention of going the direction it went until we were about six months into filming. Most of the musical documentaries as of late, like One Direction, Katy Perry, Jonas Brothers, were these 3-D live performance style documentaries. Somebody recently reached out about ours and compared it to [Metallica's] 'Some Kind of Monster' and the Foo Fighters documentary. That is so beyond flattering. Both of those are amazing."
He continues, noting that he hopes even non-fans learn a thing or two, "The fact that we went the way that we did is a testament to the last 20+ years we've been together. We decided to really show all of our hardcore fans (as well as people that may be closet fans and even non-fans) that we aren't just a picture-perfect boy band that sing and dance. Things just didn't happen overnight."
"We all came from lower- to middle-class families and homes," he says honestly about their impressive career that spans two decades. "This has not been the easiest ride. We paved the road for other groups to have maybe a little bit of an easier way. We're coming from a generation of no laptops, no social media. Everything was done grassroots." And he's exactly right, the '90s were about sharing your favorite CDs with your friends and jamming out in the backyard during the summertime. There wasn't a thing called Twitter or Facebook on wich to post your daily adoration. It all came down to word-of-mouth.
McLean and his band mates were a product of a simpler time, but things weren't what they seemed on the surface. In their early days, they took bus tours to middle and high schools all across the country, with the hope of gaining attention. In fact, fans will be exposed to an early clip, in which they are actually booed by the crowd (after a technical malfunction). Their blood, sweat and tears went into every moment of their careers. "I hope fans have a new-found respect for us," the singer says. "I'm hoping they understand that we are trailblazers. We've been doing this so long. This is also a testament to the music business. It's not as easy as people think it is. It's a very fickle business. We've made it through. I hope people leave excited for the next 20 years and bring tissues. I'm sure people will laugh, cry, scream [when they see the film]. It's a roller coaster, and that's what our lives have been."
Ultimately, one of the first edits "was over three hours long," McLean says. "So, thank God we made it shorter. It was really hard to decipher what was going to be perfect for it. Our only real struggle with making the film was finding a good story arc. For documentaries, especially, you need that. We didn't have one, but then found out the Lou [Pearlman] situation and Brian's vocal situation became the arc. [We show] the highs and lows and then leave you with hope that we're gonna be around for a very long time."
Lou Pearlman is a particularly difficult saga to relive. After jump starting their careers, their manager—who was later arrested in 2007 for fraud, among other charges—famously created N'SYNC only a few years after Backstreet Boys saw success. In the documentary, the band visits Pearlman's now-abandoned, once-lavish mansion. "That was one of the biggest healing moments," McLean admits. "Initially, we had talked with both our producer and director about reaching out to the actual penitentiary that has Lou. They spoke to the warden there, and we were really close to being able to go into the prison and interview him and literally ask him 'Why?' That got turned out. Then we tried to make a phone call; that got turned down. Then they said, 'we'll let one of you come.' We said, 'if it's not all five, it's not worth it.'"
He then details the moment he walked into that house:
"Seeing the empire that he built with us was awesome. I had never been to that house. For me, it was all new. To walk through it was so ostentatious. I looked at every fixture, thinking 'I'm sure I paid for that.' It was just like...wow. It was like having your parents married for 20 years and your dad come home one day after work and sit the family down and say, 'by the way, I've been cheating on your mom with hookers for the last 20 years.' To know you've been living a lie that long and been in the dark, it just hit you in the face like a truck. It's hard to swallow. That's why Brian couldn't even stay in the house for more than a couple minutes. He still can't stomach it and makes him have nightmares. It's like, 'how can someone so close to us, be so deceiving?' But it was very therapeutic for us to be there."
For McLean, digging into his own personal vulnerability for the documentary was the hardest part of filming. "It's always hard for most guys to exercise vulnerability. Reality TV has a certain element of that but it doesn't really go there because it's obviously very scripted," he says. "Documentaries really allow you to be vulnerable, and you know that you're safe because you have complete control of what you're going to say or do or allow the cameras to film. We had a lot to say. [I wanted] to just be as open and honest as I could possible be. I've always tried to do that about living in recovery with my demons. After doing that, it's much easier for me to be vulnerable now."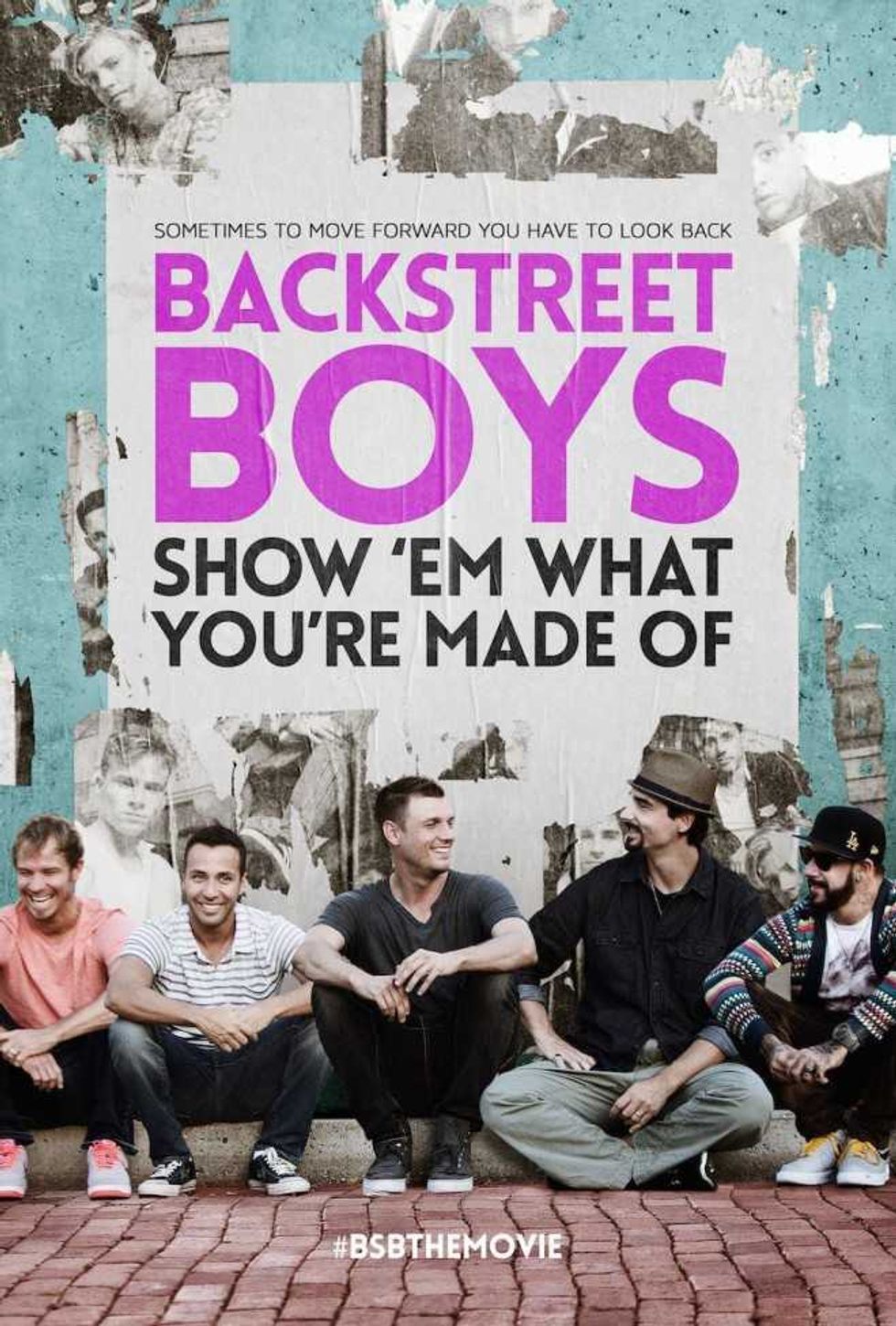 Another integral component of the film is the inclusion of hometown visits for each band member, a realization that came pretty deep into the editing process. "We were going through edits at that point, and we thought we were done. I think it was Brian and Nick [Carter] that were actually on the forefront of saying 'what if we took a week or two and went to each of our hometowns?' Even though we've been together for 20 years, we've never really hung out in each others' hometowns, expect when we're on tour. None of us, except maybe Brian, had ever been to Kevin's old house and the campgrounds he grew up on. I had never seen Nick's house or his school, and no one had seen mine. We've all been to Howie's but never seen Brian's house he grew up in."
He adds:
"It was a good exercise in humility to be able to share those things with each other, as well as the audience. It was crucial. That is one of my favorite highlights of the entire film. Even our die hard core fans don't know anything about that. Of course, they know where we're from but that's it. They have no idea about our families and our teachers and the people that were a huge influence on each of us."
But the most-drawn out process of the entire project? Selecting the throwback footage. McLean explains, "Amongst the five of us, there must be hundreds and hundreds of hours of film, VHS, DVD that each of our parents have in a vault. We compiled everything together and sent it all to our production company. They sifted through it and picked the best of the best that really coincided with the direction and vibe of the film. A lot of it didn't make it but what did is the highlights of the best and worst of us."
Speak of which, the boardroom scene, which comes in the second-half of the documentary, is one of the film's most intense moments. While discussing their new album, Carter and Littrell explode into an F-bomb-strewn, blood-boiling fight. McLean says of the experience: "It was a little uncomfortable, not gonna lie. That is the short version. That fight went on for about 35 minutes. We actually told the cameras to turn off. We were like, 'we have enough.' We, as a collective, tend to go in circles when fights ensue. Everybody chimes in. Kevin was trying to be the peacemaker and say, 'listen, we're all here for the same reason. Let's all calm down. Nick, sit down.' Nick was like, 'I don't wanna sit.'"
He admits that "we're family. We know the buttons to push. Whenever Nick gets heated about something or passionate and getting into it with one of us, if we stay too calm, it's almost a smack in the face to him. Brian kept his cool and didn't raise his voice. I think that infuriated Nick even more." It's understandable, being together for 21 years, there's bound to be some down 'n out brawls. "Over the past 21 years, there's been a lot of resentment built up. Sometimes, if we don't pull each other aside and talk about it, shit comes to its ugly head and blows up."
But there's also a magical, heartwarming rekindling of the band's chemistry, which manifests itself onscreen. "Nick had really pressured for us to MTV Real World-it and live in a house together and bond again. It was a great idea," McLean says. "We cooked breakfast together every morning. We'd sit and reconvene after the studio and watch movies and talk about the day and play catch up. It set the standard now. When we go back into the studio now for our tenth album this year, I think we'd like to do the same thing. Maybe post up somewhere else and fly in writers and producers and get out of our element."
Following the documentary's run in theaters, the band has plans of releasing a DVD-Bluray boxed set, perhaps this summer. "There is quite a lot that was cut that we are going to have on a boxed set that we're talking about releasing after the film has done its run. It'll have a lot of cut scenes (around six or seven) and bonus footage. There is an exclusive interview with John 'Q' Elgani: he was the head of our security. He passed away [in 2013]. He's actually in the film, briefly, with the scene of me trying on a jacket. That will be on there. We dedicated the film to him and his family."
And don't worry, it won't all be seriousness. "There is also going to be a four and a half minute hilarious blooper reel that will be at the end of the film when it premieres and be bonus on the DVD. I forgot half the shit that we did that was really funny, all these outtakes."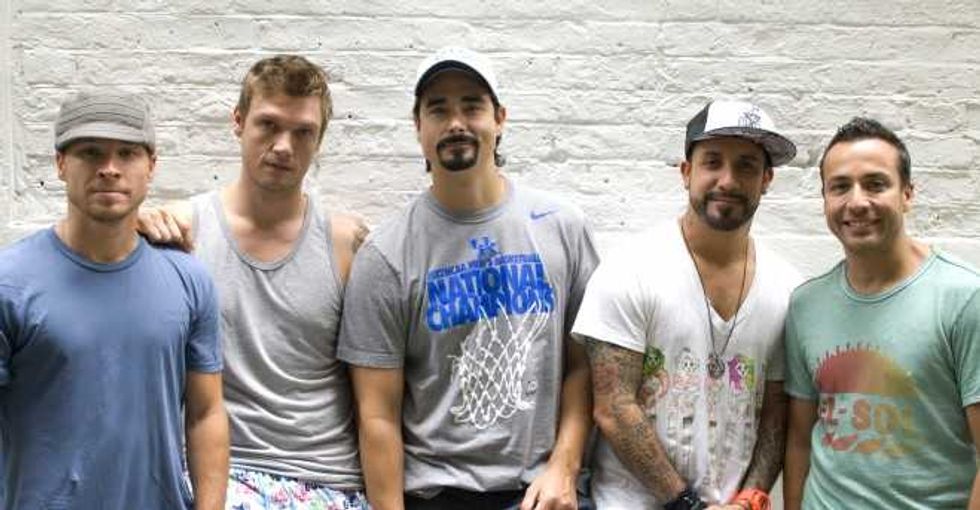 Stay tuned for Backstreet Boys updates. Be sure to follow @Popdust and @JasonTheScott on Twitter!