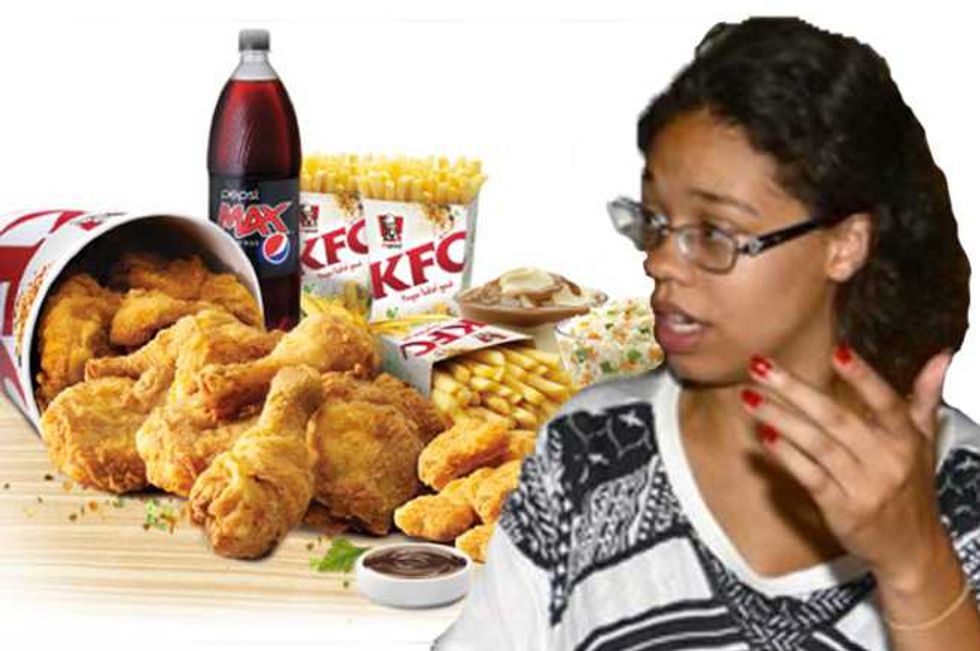 You would think that after police in Bali found the body of her dead mother in a suitcase in a taxi, the last thing on the mind of Heather Lois Mack would be what she's being given to eat right now
,But the imprisoned, pregnant 19-year-old from the wealthy suburb of Oak Park near Chicago has been complaining about how bad the food is behind bars.
"Heather complains about the food and that she is not being well-treated in jail, nevertheless police treat the prisoners all the same," said Djoko Hari Utomo, chief of police for the Balinese capital Denpasar, according to NBC News.
Mack became outraged when guards fed her American fast food staple, KFC, claiming it was racist to assume she liked fried chicken just because she's black—they've since switched to a, presumably less offensive, alternative in order to cater to her whims.
"She told me today she had been given McDonald's," said her Chicago attorney Michael Elkin. "She said she has also been given rice and water, but I am also concerned that she has not had sufficient water."
Police say they are surprised by the allegations, explaining that KFC is considered expensive to most Indonesians.
"We have already given treatment that is more than normal," Mr Utomo confirmed, adding, "We give the same food for all suspects. We also give special attention to her as she is still young. This is a transition period for her."
As PopDust previously reported, Mack and boyfriend Tommy Schaefer were arrested last week after the body of her mom, Sheila von Wiese-Mack, was found stuffed inside a suitcase in the trunk of a taxi parked in front of the St. Regis Bali Resort.
The pair was tied to the grisly death by eye-witnesses and crime scene evidence, said Bali deputy police chief Brig. Gen. Gusti Ngurah Raharja Subyakta.
According to local police, the couple hired the taxi and then placed the suitcase inside the trunk. They then told the taxi driver that they were going to check out of the hotel and would return—which they never did.
Police suspect that von Wiese-Mack was bludgeoned to death with an ashtray or vase, before being folded up and shoved in the case. Her body is due to travel back to the U.S. on Tuesday for a full medical examination.
Authorities in the upscale Chicago suburb where the mother-daughter duo are from examined records of 86 incidents in which police were called to the family's house in Oak Park where von Wiese-Mack lived with her daughter, according to USAToday.
Von Wiese-Mack was well known in the wealthy neighborhood, having been married to the late jazz and classical composer James L. Mack, who died in 2006.