H&M stores around the globe opened on Thursday morning to chaotic throngs of frenzied shoppers, all looking to score something from the long-awaited Balmain collection, a brand favored by Kardashians and young taste-challenged It-Girls everywhere.
Balmain's regular line of clothing is priced at $3,000 to $6,000, while the H&M collection is more affordable at just $30 to $500.
The brand's creative director Olivier Rousteing is a social media wunderkind and pal to personalities like Kanye West and Kim Kardashian, not to mention Gigi Hadid and Kendall Jenner.
The collection was heavily touted on social media and fashion websites, ensuring that it would sell out in a matter of minutes.
At H&M stores in London, shoppers waited in line for hours, forced to wear wristbands for a ten-minute chance to dash around the store and find what they came for. In the end, those able to find anything in their size felt triumphant, if somewhat shaken by the experience. Police were called to one store where gangs of men jumped the line, planning to buy up the clothes to sell on eBay for huge profits.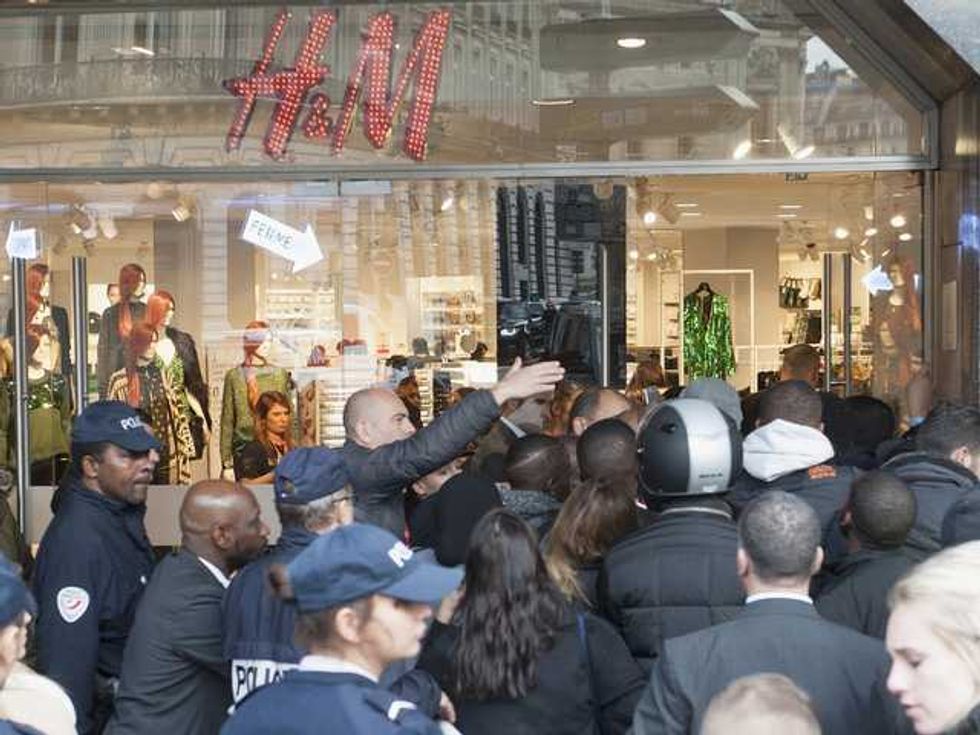 Videos taken at stores in Istanbul, Croatia, and Sydney Australia showed crowds pushing and grabbing at merchandise, often at random. Naturally the store's website crashed when desperate shoppers tried their luck online.
Withing hours, pieces from the collection were listed on eBay. A jacket that sold for $499 had climbed to $1,300 with fives days left on the auction.
Why all this fuss?
Because Balmain has become shorthand for cool among young would-be it-girls and their male counterparts. The clothes themselves...that's another story. To many, the collection looks like cheap versions of the brand's inherently trashy aesthetic: Padded shoulders, sequins, beads, gold cord piping and whatever embellishments can be fastened to the tight black pieces that would not look out of place on an 80s era hooker.
But let's not quibble about taste! Balmain of 2015 is a scene more than a style. It says you belong to a racy set of wealthy celebutants, whose selfies have inspired dreams of fame and maybe even one's own flock of Instagram followers.
Watch scenes of chaos at H&M stores around the world and marvel at all the hysteria, below. You may need a sedative afterward, just a friendly warning!