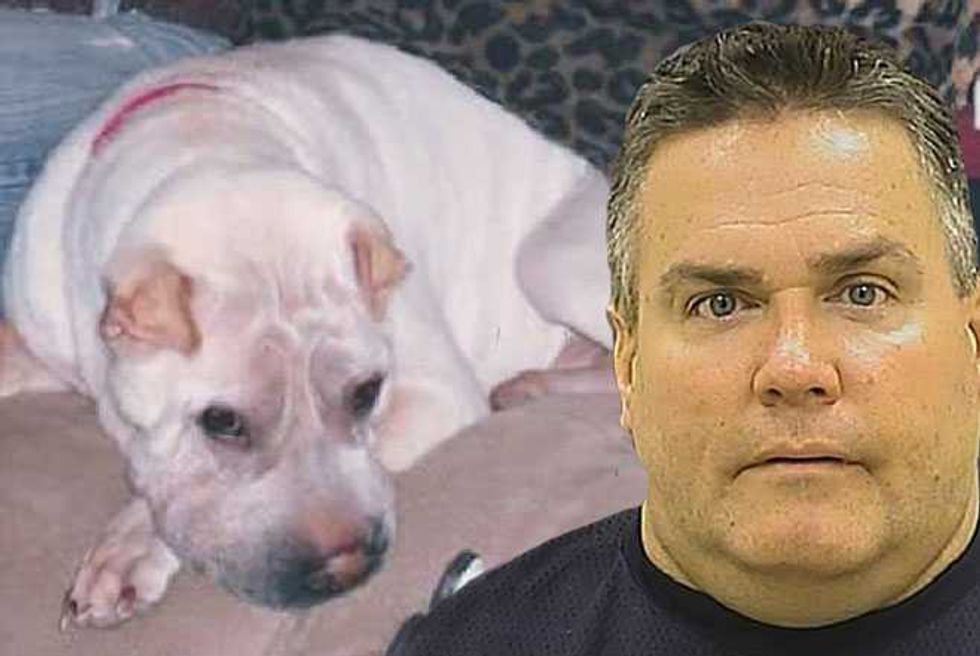 baltimore cop slit throat dog Baltimore Cop Who Slit Throat Of Tethered Dog Awarded $45k
A Baltimore cop who decided to mix things up by killing a dog—instead of the usual defenseless black kid—has been awarded $45,000 for his efforts.
Because, Baltimore.
411 On Baltimore City PD Corruption, Racism, Witness Coercion And Coaching
Tethered to control pole 
baltimore cop slit throat dog
Back in June 2014, Officer Jeffrey G. Bolger, slit the throat of 7-year-old Shar-Pei, Nala, while she was tethered to a "dog-control pole" —and presumably not presenting a danger to anyone.
The Baltimore Sun reports, the incident occurred after Bolger and Officer Thomas Schmidt, responded to a 911 call from a woman claiming she had been bitten by a dog.
Undisclosed: State Vs Adnan Syed—Murder Case Fabrication, Baltimore Style
Superficial wound
baltimore cop slit throat dog
According to the Sun, Nala caused a "superficial wound" to the woman's hand, after escaping from her owners' yard.
Charging documents claim the two cops tethered Nala to a control pole, then Schmidt held the dog down while Bolger slit her throat.
Ex-Baltimore Ravens Cheerleader, 47, Charged With Raping 15-Year-Old Boy
Gut this thing
baltimore cop slit throat dog
Witnesses reported hearing Bolger vow, "I'm going to fucking gut this thing" prior to killing her.
The 50-year-old was placed on un-paid leave for 10 months while he was investigated on charges of mutilating an animal, animal cruelty and misconduct in office.
Despite police commanders branding the killing "outrageous and unacceptable" Bolger was found not guilty on all charges, last November.
Making A Murderer—The Movie—Who Should Play Steven Avery?
Not criminally responsible
baltimore cop slit throat dog
Baltimore Circuit Judge Melissa M. Phinn determined prosecutors had failed to prove Bolger was criminally responsible for the dog's death.
Judge Phinn ruled that she believed Bolger's claim he was acting in the interest of safety, and that he thought he was putting the dog out of its misery.
Company Makes Bulletproof Blankets For School Children
$45,000 pay day
baltimore cop slit throat dog
And, yesterday in court, he was awarded $45,000 from city government, to cover the months of non-payment during his suspension.
Bolger has since left the BPD, after, his attorney claims, he was forced to retire early.
For more entertainment, world, music and pop culture updates and news, follow Max Page on Twitter