Frontpage Popular News
Broadway's Bandstand is an imperfect show... but it's so enjoyable it's difficult to mind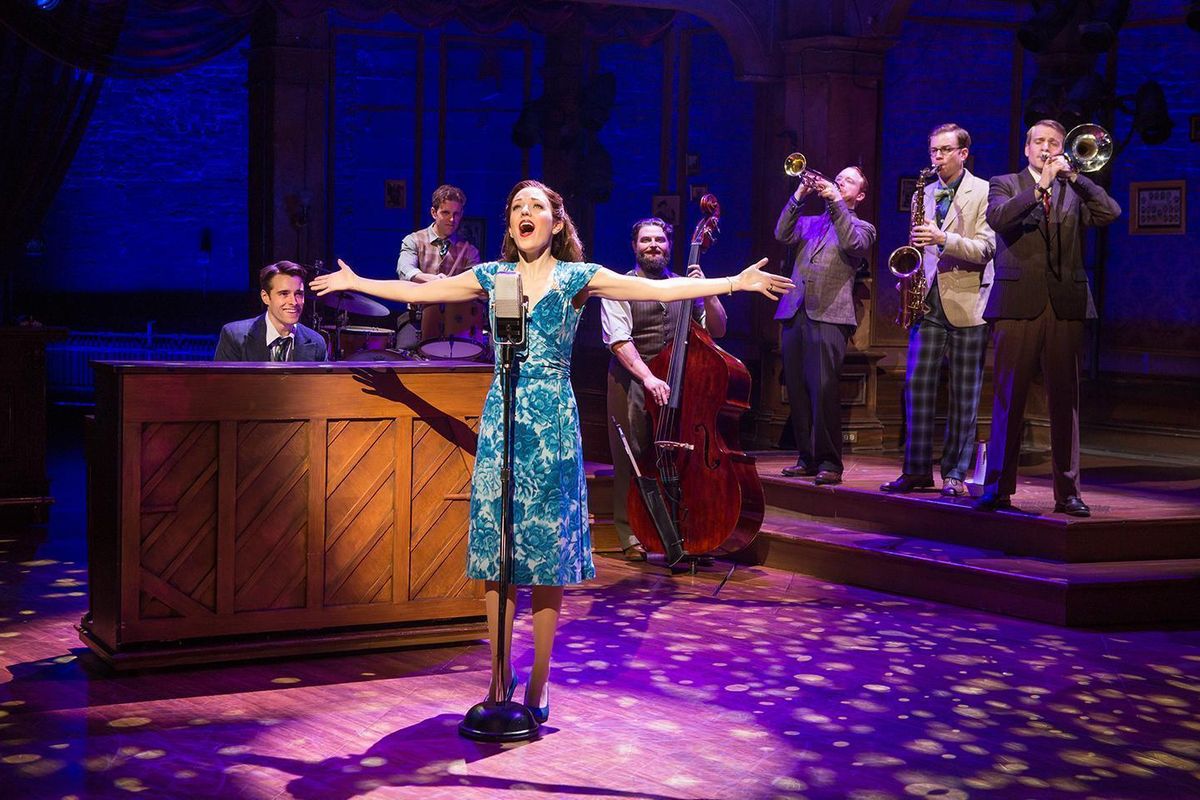 Photos by Jeremy Daniel
Bandstand is an interesting animal. Watching this show, it's impossible to overlook its obvious conventionalisms, and the fringing paraphernalia that signal the influence of a design committee. However, as much as this risks undermining the themes of the material, it somehow never does. While it flirts with cliche almost to the point of marriage, Bandstand manages to stay on message and deliver a genuinely heartfelt and affecting story about the greatest generation's return home from World War II. The music of the era is channelled wonderfully, made to feel vibrant and alive. The stories and characters from the time, as much as they seem to have been borne of a cookie-cutter, are by turns joyous, harrowing, and melancholically endearing. What lives on stage at the Jacobs Theatre is a show that gets toes tapping, hands clapping, and tugs ever so gently on the heartstrings.
Donny Novitski (Corey Cott) is just home from the war, having served in Manilla. Before joining up he was a piano prodigy. Now back in the USA, he finds it difficult getting work as a musician. Despite the country's apparent open arms and gratitude, no one seems willing to give a veteran a job. Having heard on the radio about a national contest to write a song for the troops, he decides to assemble a band of veterans to play a song not just for the troops, but by the troops as well. Thus is born the Donny Nova Band. Whilst checking in on his army buddy's gold-star widow, Julia Trojan (Laura Osnes), he discovers that she has the voice of an angel and swiftly enlists her as his singing and writing partner. Suddenly he has an act that just might win the contest… if they can get to it. They have to overcome both financial hurdles, and the demons that have followed them home.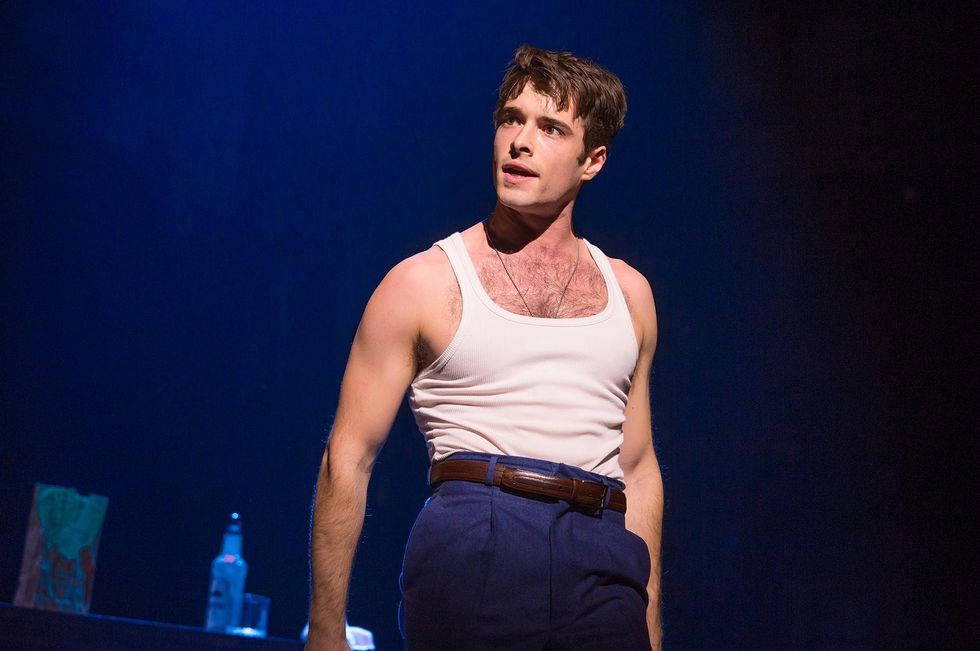 Photos by Jeremy Daniel
Corey Cott is a formidable leading man, that much is obvious. Not only is his acting performance the keystone of the show, he plays piano, dances and sings at a pace that must be exhausting. This brings me to perhaps one of the most exciting things about this show, an aspect that has been underrepresented in its marketing: the actor musicianship on display. Alex Bender, Joe Carroll, Brandon J. Ellis, James Nathan Hopkins and Geoff Packard (the members of the Donny Nova Band) all play their own instruments, and they are excellent. Yes, the pit musicians (Orchestrated by Bill Elliott and Greg Anthony Rassen) are playing hard and taking names, but the actor-musician moniker here is non-tokenistic. These guys are the real deal.
Laura Osnes is a delight as Julia, hitting the high notes and playing the prototypic gold-star wife. Her relationship with Donny is nuanced, if not thematically complex, and her chemistry with Cott and the band is undeniable. Beth Leavel as Julia's mother is a nice addition, even if her character brings little to the show beyond snappy one liners and the song that marks the third act transition. The supporting ensemble are all wonderful, dancing their way through Director Andy Blankenbuehler's exhaustive, and occasionally acrobatic, forties-era choreography. Together this cast keep the energy high and the story blasting forward.
Where Bandstand succeeds to its fullest is in the music. Whether it's played by the orchestra or the cast, it's nothing short of perfect. Richard Oberacker and Rob Taylor's score captures the forties bandstand milieu so well, you'd swear the songs were written at the time. As you bask in David Korins' equally appropriate scenic design, Bandstand becomes a joyous experience. What's most impressive is the balancing of the onstage musicians with the pit musicians. Between Nevin Steinberg, Howard Joines, Fred Lassen and Greg Anthony Rassen (Sound designer, music coordinator, music director and music supervisor/arranger, respectively) the transitions are seamless, and worthy of an award on their own. Throw in David Kreppel's vocal arrangements and you have the icing on this layered and thoroughly delicious cake.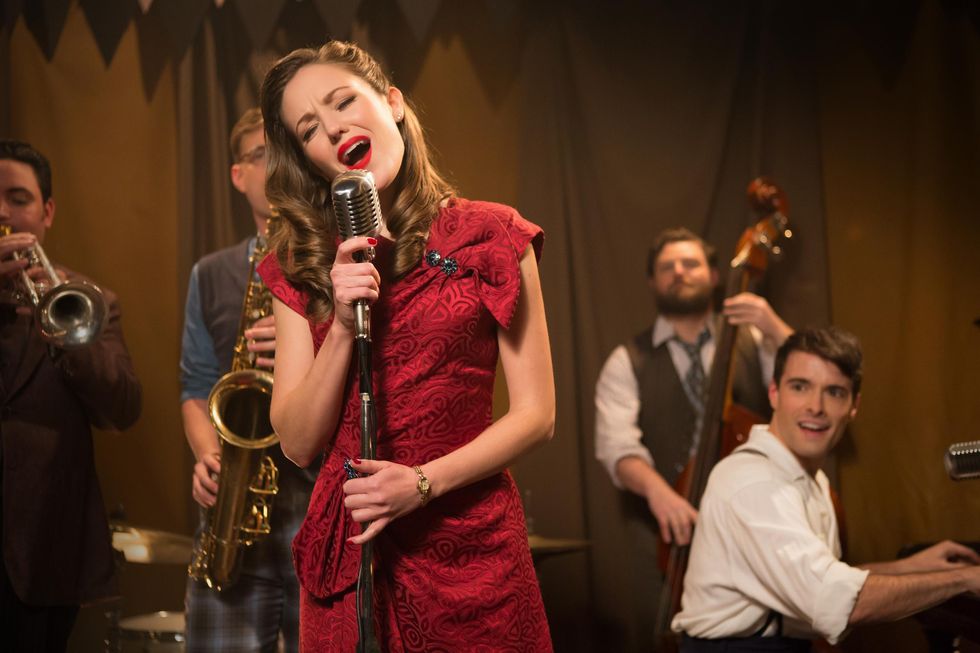 Photos by Jeremy Daniel
Now, it's impossible to ignore the clickbait qualities of this show. They hit you slap bang in the face. The dripped on Americana, the greatest generation nostalgia, the overt national pride… it's a lot. The issues surrounding this thematically would be glaring if the show wasn't so enjoyable. Bandstand is so good that you don't think about its blindspots. You don't think about the fact that there are no non-caucasian veterans depicted here (which might warrant some attention given that these people are playing swing jazz). You don't worry that, although PTSD is depicted gently, its lethal consequences aren't ever fully shown or explored. You never question that, whilst the hypocritical, idolatrous American attitude towards its veterans is given thankful stage-time, it is overcome simply through strength of will and a lot of hard-work (Which is not what happened for a lot of veterans, and persists as an issue to this day). Finally, you don't stop to think that a show which openly condemns using the stories of the troops for commercial gain… is a commercial theatre show using the stories of veterans to sell tickets.
This isn't a condemnation of Bandstand. The show is an incredibly enjoyable watch, tightly plotted, affecting, wonderfully performed, and with music to die for. They also have open displays in the theatre about art made by veterans, and we can assume there will be more giving back to the VA community as the show wears on. The show is definitely respectful, but it plays it safe when it comes to its core subject, opting for commercially viable optimism over the real emotional gut-punches it could deliver. The ultimate commendation for Bandstand is that you are not worried about any of this while you are watching it. Everyone in it is a talent, every song is a gem. It looks, sounds, and feels great. A welcome addition to the Broadway season.