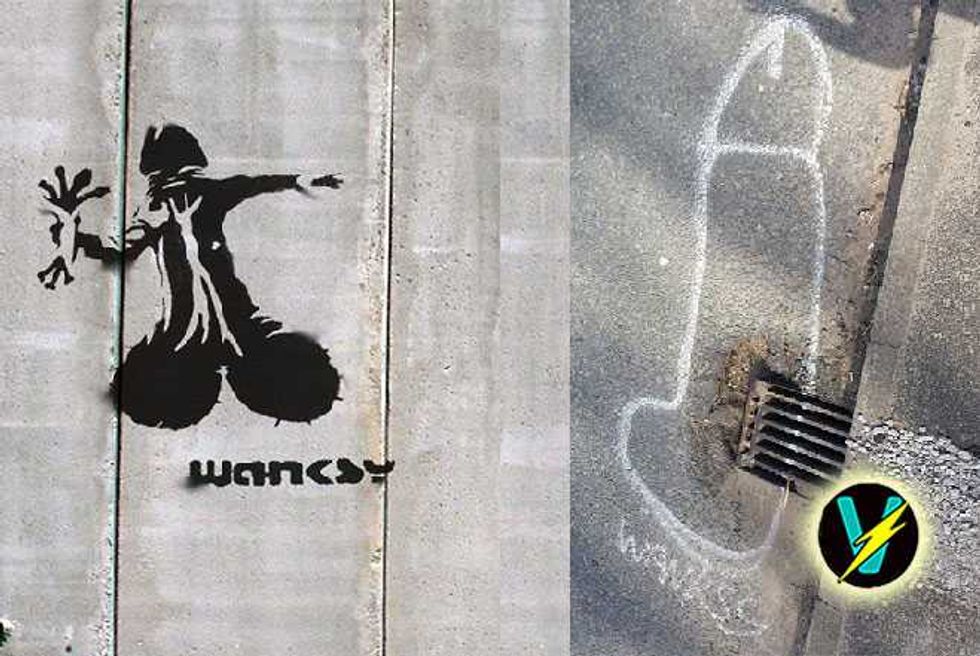 wanksy pothole penis artist
Move over Banksy, there's a hot new graffiti artist out there—and he's using his skills to help make roads safer.
Meet Wanksy, a masked crusader who's highlighting the state of Britain's roads by painting giant penises around the potholes that plague the nation's motorists and cyclists.
Giant Snow Penises Have Swedish Town In An Uproar
Ramsbottom penises
wanksy pothole penis artist
The professional artist—who also works in construction—first surfaced last year, leaving his mark on the potholes of Bury and Ramsbottom—near his hometown of Manchester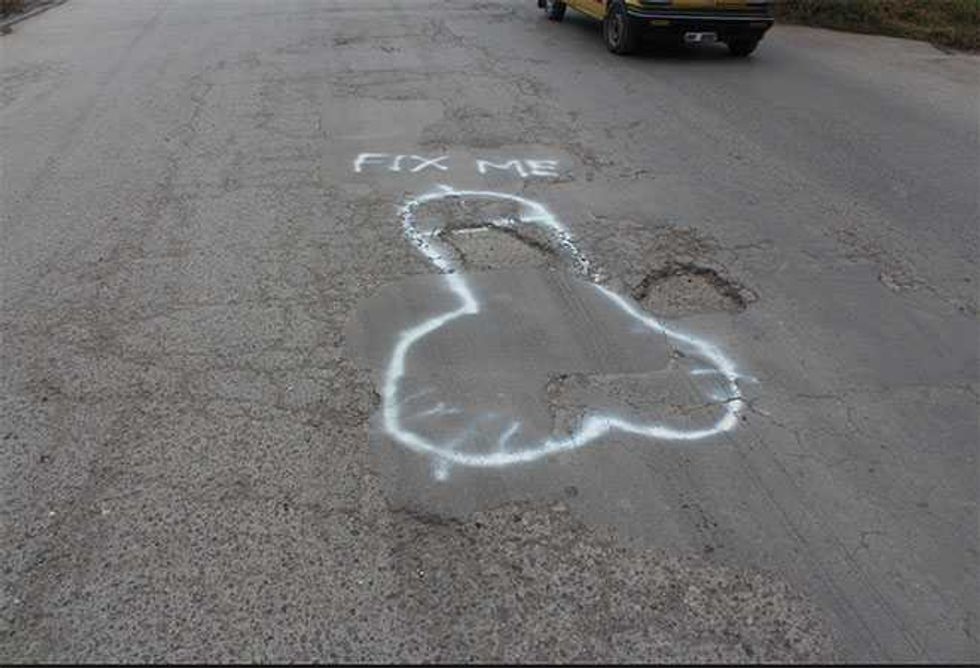 Wanksy uses a chalk based marker, which fades away within a two week period—but it's often removed quicker, as horrified officials rush to cover-up the giant penises.
Modern Art Installation Removed By Cleaners —They Thought It Was Trash!
48-hour fill-in
wanksy pothole penis artist
Wanksy's M.O. has proven pretty effective, with many of the potholes being filled within 48 hours of the penises springing up.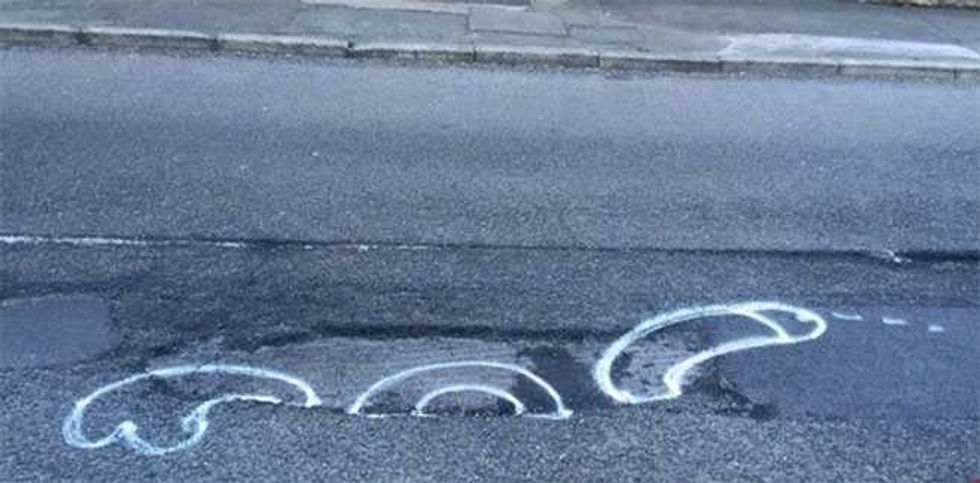 Donate Your Ex's Stupid Mixtapes To The Museum Of Broken Relationships
The road artist explains the motivation behind his unusual choice of canvas and subject matter, on his website:
Potholes are dangerous. Not only do they wreck vehicles, cause accidents they also injure cyclists and are a danger to pedestrians.

I highlight dangerous potholes by turning them into temporary works of art, making them more visible and prompting the council to repair them.

The council are not too happy, but all my work is created using non-permanent, chalk based line marker, the same type the council use when doing repairs.

The problem is that despite each and every vehicle owner in the land paying road tax, fuel tax and council tax, that money does not seem to be being spent on our roads, or at least not effectively.

I understand the council are stretched and may not have time to highlight big potholes with yellow paint, 
but luckily, I do :-)
Art Basel Crowd Mistakes Bloody Attack For Performance Art
Positive reaction
wanksy pothole penis artist
He goes on to explain how his work generally provokes a positive reaction from the public, and explains how his road art is helping people.
Do I think my art is offensive? No. I am a qualified artist, the naked body and its anatomy are commonplace in art.

The drawings themselves are cartoons, not photographs. Art should provoke a reaction and these pieces do that, generally a positive one.

Potholes are very hard to see you tend to forget about them until it's too late.

But draw a big yellow willy round it, you can't help but notice them and hopefully avoid it too, saving the vehicle from damage or the rider from injury.

Usually the council will either notice it, or it actually gets reported and then gets repaired. 
Happy days.

If there were no potholes I wouldn't draw on anything...
The road is my canvas.
Hooter's Waitress Reviews Art Basel
Wanksy explained his motivation further, in an interview with the Manchester Evening News—vowing to take his artistic crusade further afield as needs must.
The roads of Manchester are in an appalling state, especially around Bury. I have cyclist friends who have been hospitalized.

They damage vehicles. Sometimes it's hard to know which pothole caused the damage because there are so many.

When I've finished in Ramsbottom, I'll move on to the rest of Manchester.

I wanted to attract attention to the pothole and make it memorable. Nothing seemed to do this better than a giant comedy phallus.

It's also speedy, I don't want to be in the road for a long time. It seems to have become my signature.

I just want to make people smile and draw attention to the problem. It seems to be working, judging from the Facebook fan page.
Not surprisingly however, when it comes to local council members, the smiles are few and far between.
Welcome To Zaqistan! New Yorker Sets Up Sovereign Nation In Utah Desert
A spokesperson for Bury council bitched to the Daily Telegraph about the "stupid" and "incredibly insulting"  road artist, during an interview last April.
The actions of this individual are not only stupid but incredibly insulting to local residents.

Has this person, for just one second, considered how families with young children must feel when they are confronted with these obscene symbols as they walk to school?

Not only is this vandalism, but it's also counter-productive.

Every penny that we have to spend cleaning off this graffiti is a penny less that we have to spend on actually repairing the potholes.

We urge the perpetrator to stop defacing the roads immediately, and ask anyone who sees this sort of criminal damage being carried out to report it to the police and the council.
Yeah, whatever Councillor Buzzkill—how about you guys just do your job in the first fucking place, and repair the roads BEFORE they have to be adorned with giant penises?
George Zimmerman Talks About Latest Artistic Travesty—A Confederate Flag Painting
Meanwhile, after taking a brief penis painting sojourn, Wanksy is back in action once again—in pretty spectacular fashion.
Helping rid the road of pothole dangers one glorious graffiti cock at a time.
Check out Wanksy's Facebook page here and go to his website to learn more about the artist's mission and to see his work
For more entertainment, music and pop culture updates and news, follow Max Page on Twitter