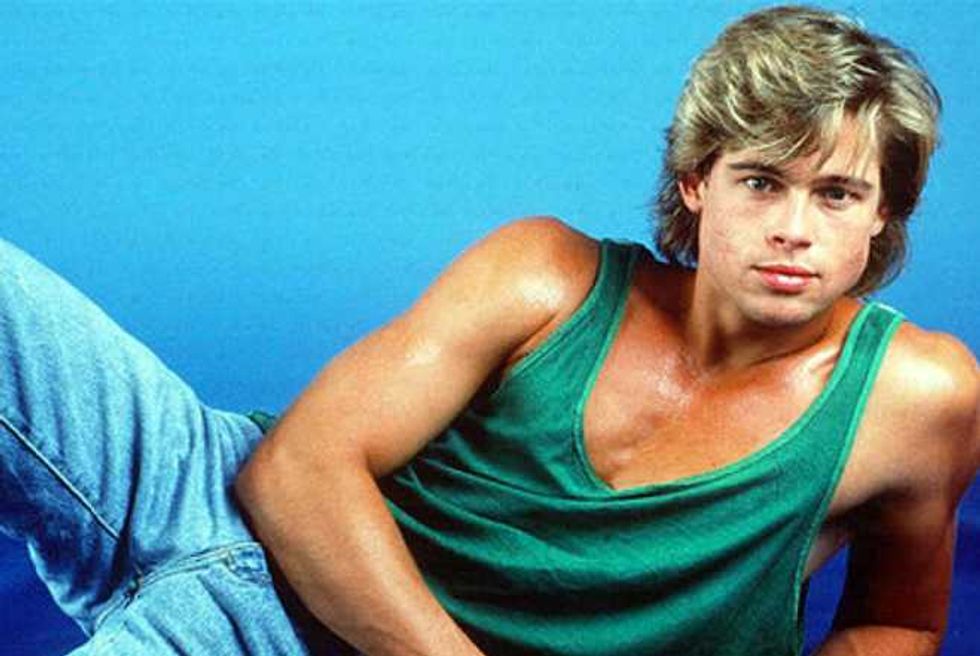 Brad Pitt pre fame jobs —delivering refrigerators, stripper driver, giant chicken, soap star... is there no end to Brad's talents?
Angelina, snatching away Brad Pitt from America's Sweetheart was cruel, but we really can't blame you.
The lust-worthy leading man is handsome, hunky, and has had our hearts racing since he first gained widespread attention in the classic chick flick, Thelma & Louise.
Sure, he acted some before that role, in fact, he did a lot of things before becoming the Hollywood hottie he is today.
Brad's a big star now, but there was a time before his fame and fortune.
In fact, Brad wasn't even called Brad!
Let's turn back the clock and dive into Brad's Pit(t) of past odd jobs and goings on before he was half of Mr. & Mrs. Smith and had more kids than a basketball team.
As mentioned, Brad Pitt was actually born William Bradly Pitt, in Oklahoma, according to IMDB.
Good move to Brad, Brad. 'Willy Pitt' takes your sex appeal down several notches.
Side note… he attended Kickapoo High School, which would not only stink up your sneaker, but makes you wonder what kinda freak show of a mascot the school kids would rally around.
Brad did go to college at the University of Missouri, as per LifeBuzz, but dropped out with just two credits left for his journalism degree to pursue stardom in L.A.
Two credits Brad? Didn't the Kickapoo staff instill a drive to complete your studies?
Surely his parents wanted to kick the poo out of him.
Good thing Brad's dreams of acting came to fruition… but not so fast.
Brad Pitt pre fame jobs show that with determination and luck you can make it
Like most young actors, roles are few and far between, and a college dropout must make ends meet.
So, why not deliver refrigerators?
With a stud so smoking coming to the doors of housewives waiting for kitchen appliances to be delivered, a cool fridge is just what they needed to shove their heads into to simmer down before their hubbies got home.
OMG Facts also tells us, aside from his fridge delivery gig, Brad dabbled in another kind of delivery—that of transporting strippers via limo.
You didn't think strippers drove themselves, did you? Talk about driving with the top down!
When the transport field started to get too risqué for Brad, he chickened out, literally.
As per NBC, Brad dressed as a giant chicken to attract customers to El Pollo Loco chicken restaurant.
Perhaps this was a segue into 'method acting' or just a means for getting free chicken.
Thankfully, soon after, roles on soaps and other TV shows started coming in, leading to the blockbuster movie actor we know and love today.
So just like the rest of us, Brad Pitt was once a regular dude too. OK, gotta go pick up my strippers and wings.
Angelina Jolie And Family— Privileged Gypsies Who Are Better Than You
Angelina Jolie On Druggie Wild Child To Mom Evolution
Yep…Indeed… It IS All About Angelina Jolie
How Real Is Brad Pitt—Plastic Fantastic Or Au Naturel?
Brad Pitt pre fame jobs show that with determination and luck you can make it
Did Brad Pitt Have A Facelift Or Is He Just Magic?
Brad Pitt And Angelina Jolie Get Custom Pistols From Neo-Nazi Pal Jesse James
Jennifer Aniston On Brad Pitt—No Hard Feelings, We Talk All the Time!
Brad Pitt pre fame jobs show that with determination and luck you can make it
Being Married To Brad Pitt Is A Bitch
Brad Pitt Stages Rihanna Intervention—'What the F**k Went Wrong?'
Zach Galifianakis Asks Brad Pitt If Brangelina Are Like Ross and Rachel—AWKWARD!
Brad Pitt Really LOVES Trees—And Himself—Is Better Than The Rest Of Us
Brad Pitt—Shia LaBeouf Is One Of the Best Actors I've Ever Worked With
End Of A Bromance—George Clooney and Brad Pitt's Break-up
Brad Pitt pre fame jobs show that with determination and luck you can make it
Before They Were Stars—Sarah Jessica Parker Pre-Fame Jobs