CULTURE
Bella Thorne continues to shock and delight.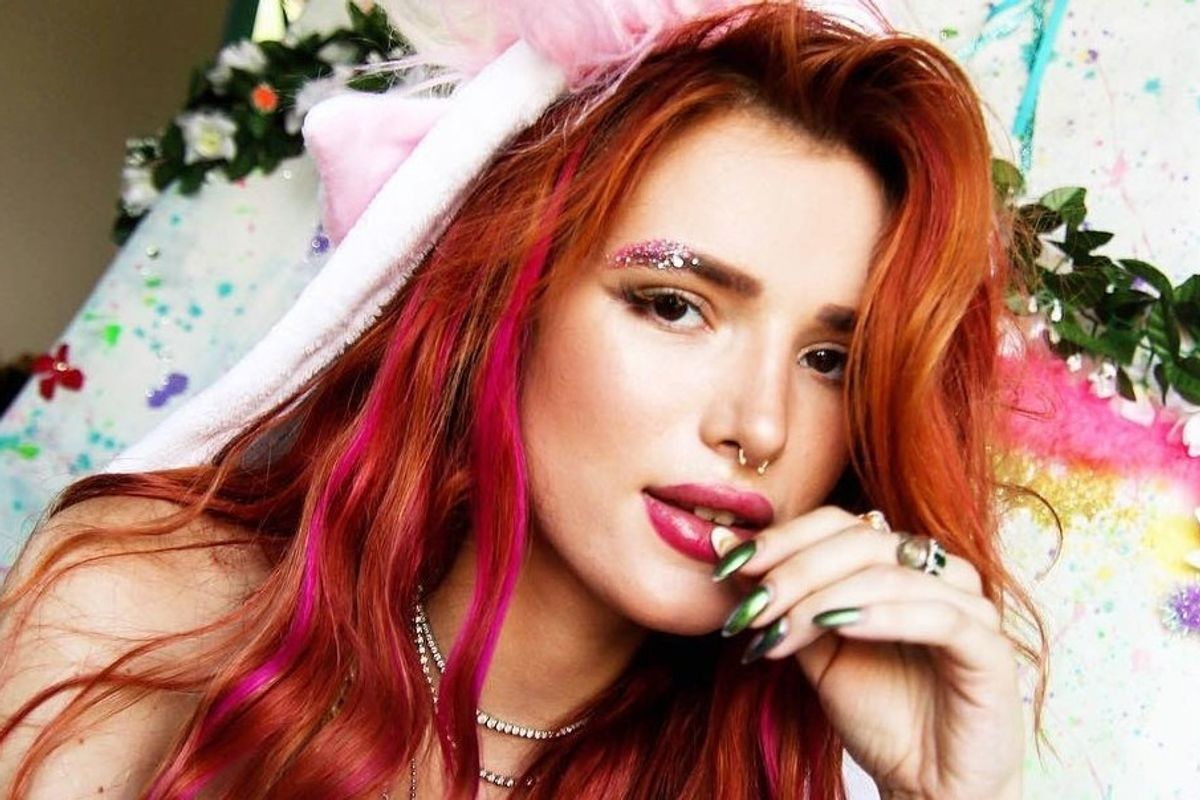 There's a particular kind of pleasure that comes from watching a former Disney star fall.
From Lindsay Lohan to Miley Cyrus, so many of our childhood icons have shocked us time and time again as they shirk off their guises of innocence.

Few have taken a choppier plummet than Bella Thorne. Since she starred on the Disney show Shake It Up with Zendaya, she's gone on to surprise us with her frank discussions of sexuality and chaotic relationships with women, men, and sometimes both at the same time. She's been embroiled in a number of controversies, most recently involving leaked nude photos that earned the ire of none other than Whoopi Goldberg.
Her latest project pushes things to a new level. At 21, Thorne can add "director" to her resume—director of a adult film, that is. She has now directed her first explicit film as part of Pornhub's Visionaries Director's series.
Entitled Her & Him, the film seems to have gone through many iterations before reaching its final form. In a behind-the-scenes video about the project, Thorne stated that the film began as a Christmas-themed horror movie, but instead turned into something "beautiful and ethereal."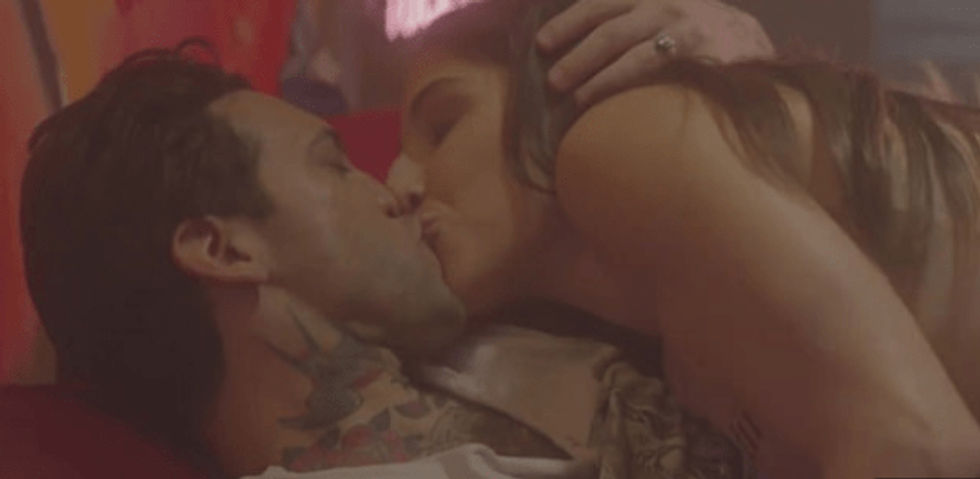 Still from 'Her and Him'Image via Metro
Wait, what? How does an explicit film go from a Christmas-themed horror movie to a story that "depicts an edgy twenty-something guy who stumbles upon a surprise text in his girlfriend's phone, interrupting their morning routine and spinning everything into an out-of-control sexually charged encounter," according to the film's press release?

It seems that the film has been brewing in Thorne's brain for a while, so it's had plenty of time to metamorphosize. "I'm really lucky that Pornhub wanted to come on and produce this with me because originally I was shopping it around a very long time ago and things were very different," she said. "People are kind of scared to make a movie like this one when it comes to dominance and submissive(ness) between a male and a female and how this relationship can turn quite sour." The film features a large knife, apparently, as well as a Romeo and Juliet-like relationship that "transcends time and space," according to Thorne.
This isn't the only creative project that she's been involved in recently. On July 23, she released her book, The Life of a Wannabe Mogul: Mental Disarray. The book features scraps of poetry, printed typewriter-style, detailing her struggles with sexual abuse, depression, dyslexia, and more; it quickly became an international bestseller. "I constantly wonder how I'm so OK because sometimes I get lost in my thoughts of all of the darkness that I've kind of been through, and I wonder where I would be if I wasn't me," she said at the time of the book's release. But she emphasized the importance of a pliable mindset, stating, "You change your mind, you change your opinion, you change your whole entire mindset, and that's OK because you live, you learn, you get older and you decide differently."
She has a multitude of new projects in the work. "I've got like two movies coming out, I'm about to film like four movies back-to-back, I have an album coming out with Sony, I want to start working on the second book, I'm writing a TV series I hope to direct, I'm doing a weed brand and I'm redoing my makeup line (Thorne by Bella), head to toe. I'm always out here hustling," she added.
While her endeavors might seem increasingly unexpected, and are indicative of an unstable sense of self, overall, Thorne is turning herself into quite the accomplished and subversive character. Unafraid to depict sexual topics with some nuance and vision, open about her sexuality and mental health, and unabashedly unashamed of who she is, Thorne's actions make her a refreshing contrast to stars who make shows out of their flashy lives, unattainable appearances, and opulent wealth. While her descent from Disney stardom might seem like a fall from grace, perhaps it's an ascension in its own way—a shift from the constraints of having to present as a "good girl" and a movement towards a wilder selfhood that's empowering in its own right.
Perhaps she's not a great role model for young girls, but perhaps the world isn't so kind to young girls as it is—and seeing a young woman so unafraid to turn the scars that the world has given her into art (even when it's Christmas horror-flick-turned-knifeplay) definitely can't be as harmful as some of the sponsored posts that float around Instagram today.