FILM
Celebrate the passing of the Equality act with these six films.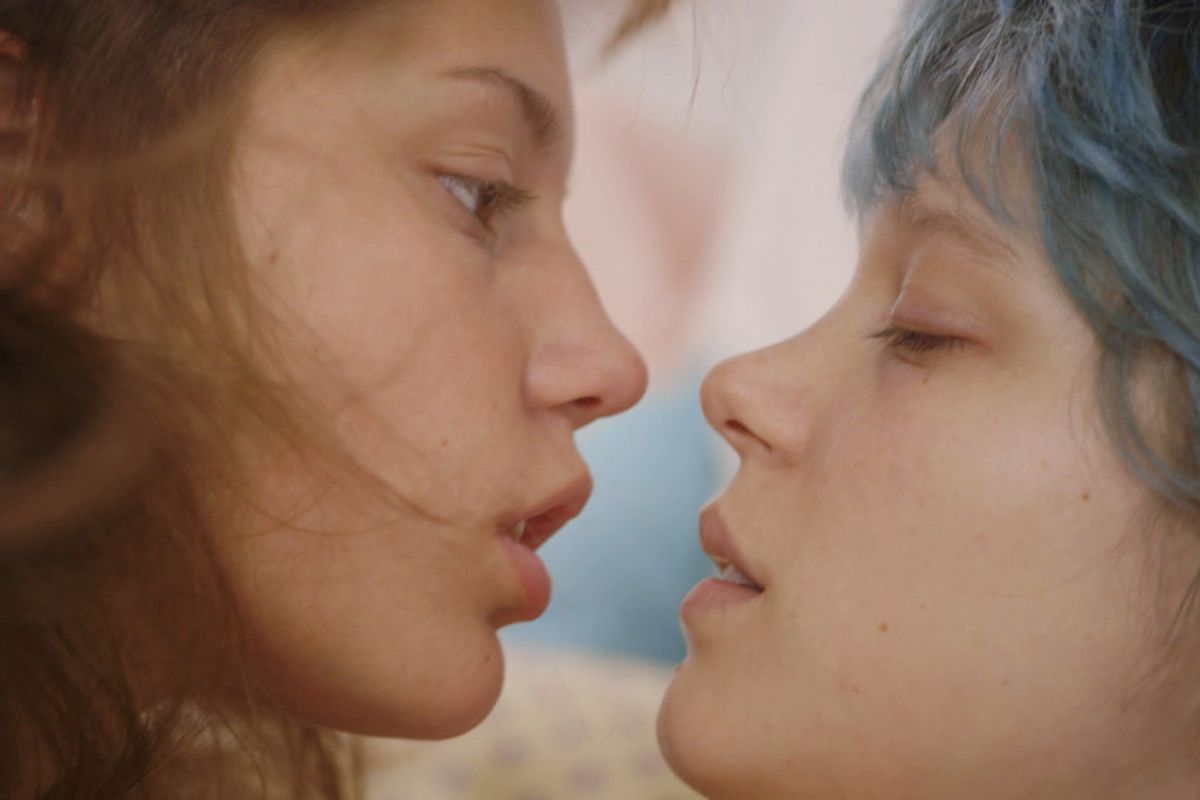 On Friday, the House of Representatives passed a historic civil rights bill protecting the LGBTQ community.
The Equality Act extends the Civil Rights Act of 1964 to ban discrimination based on sexual orientation, including employers, landlords, and public accommodations such as restaurants and hotels. House Speaker Nancy Pelosi said, "No one should lose their job because of who they are or who they love." While it's yet to be seen if the bill will pass through the Republican-controlled Senate, The Equality Act is the first step Congress has made to elevate the rights of the LGBTQ community to equal importance as racial equality and religious freedom.
Celebrate the groundbreaking bill by watching the best LGBTQ films available to stream right now.
Blue Is the Warmest Color (Netflix)
Nominated for a Golden Globe, this 2014 French coming-of-age film follows two teenagers as they meet and fall in love. Adele (played by Adèle Exarchopoulos) is a dissatisfied teenager who meets an older art student, Emma (played by Léa Seydoux). The film is celebrated for its emotional intensity, as the two form a life-changing bond.
Blue Is The Warmest Color - Official Traileryoutu.be
The Handmaiden (Amazon)
Based on Sarah Waters' novel Fingersmith, Park Chan-wook's adaptation is set in Japanese-occupied Korea. Sook-hee is a young pickpocket who's hired to become a Japanese heiress' maid. They begin a dramatic affair that challenges their families' and society's expectations.
The Handmaiden - Official Traileryoutu.be
Kiki (Hulu)

This documentary explores New York's ballroom and voguing culture (a.k.a the "Kiki" scene). A worthy complement to 1991's celebrated documentary Paris Is Burning, Kiki features several LGBTQ youths of color expressing themselves in New York's drag scene in the midst of the Black Lives Matter movement.
Kiki (2016) - Traileryoutu.be
Carol (Netflix)

Set in 1950s Manhattan, Carol captures the torrid relationship between a young aspiring photographer, Therese (Rooney Mara), and an older woman in the midst of a divorce, Carol (Cate Blanchett). Based on the 1952 romance novel The Price of Salt by Patricia Highsmith, the film features some of the best performances of 2015.
Carol Official US Trailer #1 (2015) - Rooney Mara, Cate Blanchett Romance Movie HDyoutu.be
Appropriate Behavior (Amazon)

Desiree Akhavan (The Miseducation of Cameron Post, The Bisexual) debuted in 2015 when she wrote, directed, and starred in this feature about a closeted bisexual Brooklynite. The comedy follows Shirin (Akhavan) struggling to appease her traditional Persian family while trying to save her relationship with her girlfriend Maxine (Rebecca Henderson).
Appropriate Behavior Official Trailer 1 (2015) - Comedy HDyoutu.be
G. B. F. (Netflix)

Darren Stein's teen comedy stars Michael J Willett as Tanner, a gay teen who comes out of the closet and instantly becomes the most popular boy at his suburban New Jersey high school. Everybody wants to claim him as their "gay best friend." Natasha Lyonne plays an encouraging teacher while Megan Mullally plays an overbearing mother. The film satirizes the notion of objectifying gay people as a trendy symbol while depicting Tanner's genuine, enduring friendships.
G.B.F. Official Trailer 1 (2014) - Natasha Lyonne, Evanna Lynch Movie HDyoutu.be
---
Meg Hanson is a Brooklyn-based writer, teacher, and jaywalker. Find Meg at her website and on Twitter @megsoyung.