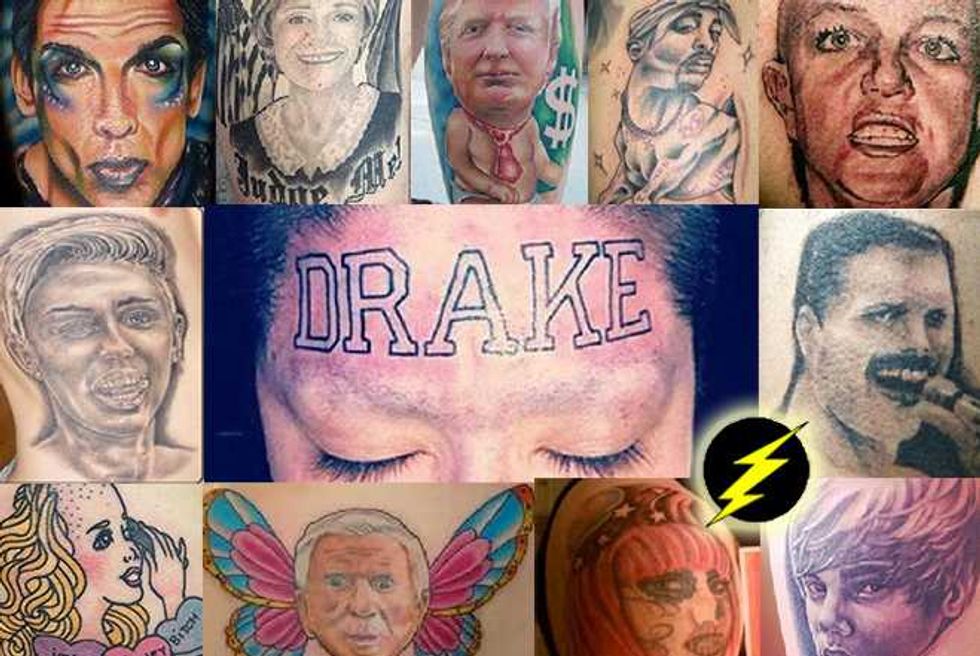 Worst terrible awful tragic fan tattoos ink disasters—these act as a reminder to always think before you ink...oh, and get a decent tattoo artist who can spell
Worst terrible awful tragic fan tattoos ink failures galore!
Some people are truly incapable of abiding by the motto: Think before you ink.
They remain seemingly oblivious to the reality that a spur of the moment tattoo will be there FOREVER.
Well, unless you want to go through the painful, expensive and time consuming process of tattoo removal.
So, before you go and spend your hard earned cash on a tattoo, it's always a good idea to think good and hard about what you want.
And, nine times out of ten:
It's an even better idea to think even harder and longer if you're a fan and considering inking your body with a tribute to your idol.
For example:
When you're a teen Spice Girls fan, it may seem like an amazing idea to get Posh, Sporty, Baby, Ginger and Scary tattooed over the whole of your back.
However, fast forward twenty years, and you're a father-of-four and, well, yeah, it's just plain scary…. without any of the spice….
Let's face it, often you grow out of, or move on from, your celeb idols—or, they do something terrible, and you find yourself with that giant Bill Cosby tattoo.
But look, if you really HAVE to get a celebrity inspired inking, please make sure you find a tattoo artist that isn't dyslexic.
Or, as one poor dude found out the hard way—you're going to have to live forever with Riahnna emblazoned across your chest.
And, that's likely more painful than having the tattoo done in the first place.
From grandma with the Twilight cast (really badly) inked all over her back, to truly creepy Michael Jackson tributes, to typos, to the just plain bizarre—these tattoos will truly make you think before you ink.
Or at least give you a really good laugh at others' expense.
Check out Popdust's gallery of the worst terrible awful tragic fan tattoos ink failures galore!
For more entertainment, music and pop culture updates and news, follow Max Page on Twitter
Basketball Body Art Blunders! The Most Disgusting Tattoos In NBA History
Worst terrible awful tragic fan tattoos ink failures:
Man Gets Huge Black Widow Tattooed On Face To Help Overcome Fear Of Spiders
40-Year-Old Miley Cyrus Fan has 22 Tattoos Of His Idol Inked All Over His Body
Adam Levine Vs Ben Affleck—Who Has The Most Tragic Back Tattoo?
5 Celebs with Way Too Many Tattoos
Worst terrible awful tragic fan tattoos ink failures
Nothing Says 'I Love You' Like Grandma's Face On Your Arm—Check Out Miley's Tattoo Tribute
This is What Niall Horan's Butt Looks Like When It's Being Tattooed
What Does Justin Bieber's New Roman Numeral Tattoo Actually Mean?
Hey Look, Lil Wayne Tattooed the Word "Baked" on His Face
Worst terrible awful tragic fan tattoos ink failures
From Your Site Articles
Related Articles Around the Web