Frontpage Popular News
Rihanna, Leon Bridges, Kesha, Zayn, Ariana Grande. Who else made the cut?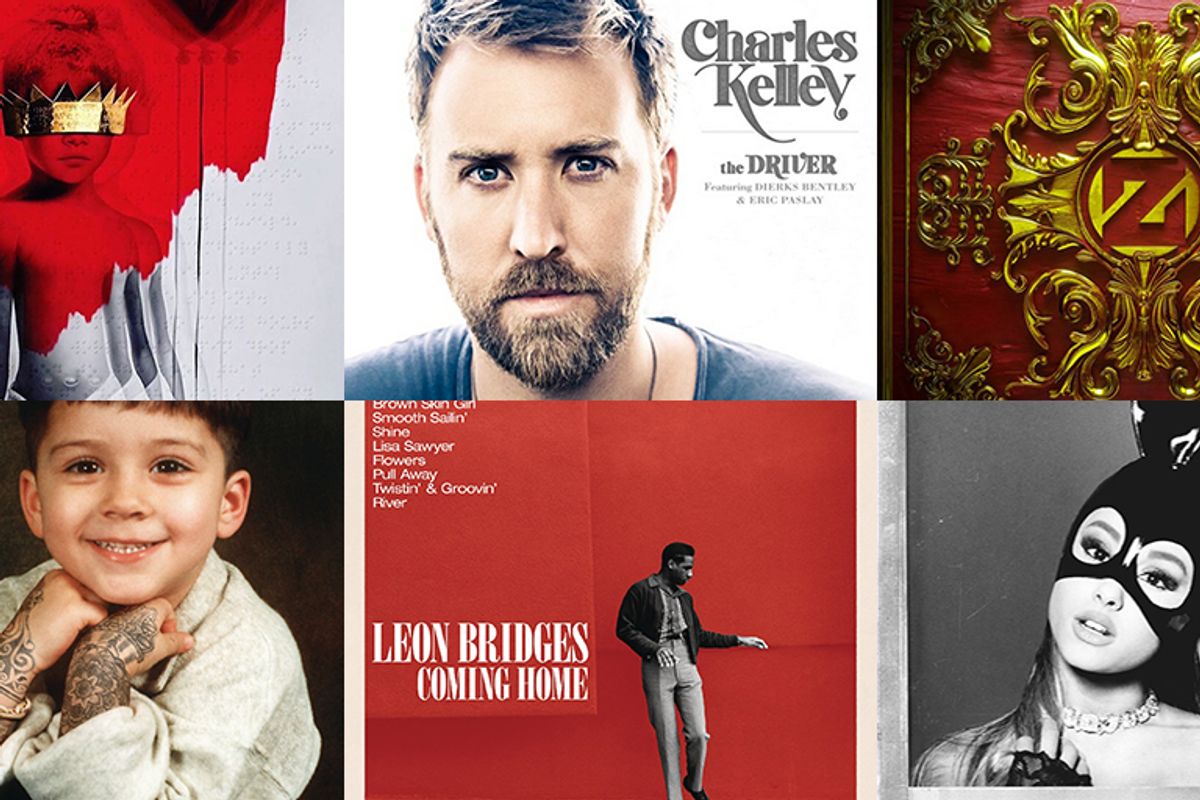 Popdust's reflection on the first half of a considerably rocky 2016 continues. While there have been some inspiring impact releases and roll outs this year regarding full-lengths, singles and deep cuts remain as important as ever. Framing music around a profound, socio-political statement piece or a high-energy synth-pop record takes some soul-searching, but we've come up with what we believe is the best of the best scorecard: you will find some infectious hard-rock, feathery pop-country and even some grittier club tracks. But regardless of your personal tastes, you'll certainly find something to chew on.
Dig in below:
Brandy Clark, Since You've Gone to Heaven

In a year when our world has lost so many innocent lives, this haunting tribute will stop you in your tracks -- in fact, Brandy's voice could halt 100 locomotives. If you don't cry your eyes out, you really do have a frozen heart. "Since you've gone to heaven, the whole world's gone to hell...and I hate you had to leave us, glad you didn't live to see this...the broken pieces of the family you made."
Rihanna, Love on the Brain
The ANTI era woulda, coulda, shoulda been ignited with this absolute stunner. Riri has never sounded so commanding, intense and vocally aggressive. Repeat forever.
Foxes, Cruel
The perfect pop song. It has that immediate kind-of-hook which defines all Song of the Year jams. Get ready to snatch those wigs.
Gonzalla, We Still Run
Inspired by a friend's unfortunate hospitalization, this plucky and quirky message-song is another significant offering into the zeitgeist of our 2016 culture. There's pain and there's loss but underneath our innately selfish nature, there is camaraderie, peace and a need to help -- borne out of utter tragedy. "If you dream of us dying, it's our right to be afraid."
Ariana Grande, Into You
Ari has always been a next-generational torchbearer of the sultry R&B/pop hybrid. Too, she's always worn her sex appeal in her hair and on her sleeve -- as the Dangerous Woman album art proves. When it comes to downright barn-burning, she lights up the summer sky with this mammoth of a track -- in which she attests a woman doesn't need to wait for a man to make the first move. "Oh baby, look what you started. The temperature's rising in here. Is this gonna happen? Been waiting and waiting for you to make a move...before I make a move."
Aubrey Peeples from ABC's Nashville, The Book
The saxophone undercurrent is as essential as Peeple's subdued and vulnerable lead vocal. It's not exactly traditional country, but its steeped influences into soul and jazz is compelling. "You're my darkest desperation, worst kind of creation. Even though I know the story don't end good, I could the book."
Andie Case, Coming Around

In the spirit of the synth-pop resurgence, Case's entry is equal parts undeniable, sexy and infectious. While the song stays authentic to bouncy bubble-gum pop and a hearty message of female independence, it features a heavy rock-soaked lead vocal (check out that bridge) and swift melody. "I don't believe you 'cause you wanted too much. I know it keeps you coming around. So, take it, if you want it. I'm not stupid; I know what keeps you coming around."
Jillian Jacqueline, Kids These Days

Pop/country songs with a message seem to be the common theme of this list. In a "teenage wasteland" dominated by computers, iPhones and millennial lingo, Jacqueline's brooding response to an older generation's misguided notions on youth, however deeply-rooted in tradition, is significant. "They shake their fists for what they think we've ruined, quick to forget they've done just what we're doing. Blame it on our generation. Never happy, tired of waiting. Driving our lives into the ground 'cause we're too busy chasing down ecstasy and expectations. That's what they say about kids these days...some things never change."
JoLivi, Do It
This pop upstart gives her boy an ultimatum: "you keep fucking with my head, I'm gonna leave." Wrapped tightly around a thumping R&B package and inescapable pop latch, the track leans back in the pocket and slowly builds. It's not until the bridge that the musical release explodes. "I think I'm through with that. Whatcha gonna do? Whatcha gonna do? Whatcha gonna say? Whatcha gonna say? Whatcha gonna play? Whatcha gonna play? Baby, not this way. Every time I take a sip of this, you keep fucking with my happiness. Gonna live my life without regret. So, don't make me do it."
Halo Circus, Band Aid

When tragedy strikes, artists are in a tough place. We expect them to make a statement, a donation or write a song as a way for us to heal. Sometimes it works, but mostly it does nothing to change the world. This revolutionary track is striking, as Iraheta's cutting lead vocal frames love songs around larger world issues and the electric guitars and drums act represent the very pulse inside our chests. "I couldn't save the world today. It's not that I don't care, but there's no time. There's no time."
Alex Newell, Nobody to Love
This former Glee star channels is divaliciousness into one helluva fun club track -- we wouldn't expect or want anything else. Donna Summer and Gloria Gaynor would be proud of his ferocious attack on living the single life and late-night hookups. "I know you're tired of loving, of loving with nobody to love. So, just grab somebody. No leaving this party with nobody to love."
Kygo, Fiction (featuring Tom Odell)
Featuring the incomparable Englishman Tom Odell, this electro-pop escape is his declaration of love. Long distance relationships are tough, but Odell says he "can't take just a fictional you." He's willing to do whatever it takes to make it work. The glossy, feel-good vibe makes this one of the year's finest pieces of earcandy. "It's making me sad. Can't take just a picture of you. It's making me mad. All I know, it's a weekend or two that I can't get past."
Kesha & Zedd, True Colors
With her personal life splashed across headlines all year, Kesha offers up one of her most honest, raw and completely overwhelming recordings. Reinventing Zedd's title track to his 2015 studio album, the pop star opens her heart to the world in a way she's never done before. Plus, she demonstrates her vocal oomph.
Leon Bridges, Coming Home
He's a modern-day Smokey Robinson. Not that soul ever went out of style, but Bridges brings the past into the future -- making us fall in love with one of America's most alluring musical forms all over again. It also helps that his vocal is like butter, leaving us in a puddle on the floor. "Baby, I would be grieving if you wanted to leave me all alone by myself. I don't want nobody else." (Oh, we'd never leave you...)
Randy Rogers Band, Look Out Yonder (with Alison Krauss and Dan Tyminski)
A gentle, kind-hearted wayfaring man is the central character to one of the more close-knit country songs of the year. He's a tumbleweed (with a guitar strapped to his back) who is as ever-changing as the tides, but when it comes down to it, his family is near and dear to him. "He wouldn't listen to a word, and he's broken every rule. But he had the good sense to turn around and come back home. Now, mama, look out yonder comin' down the road. He's a winner; he's loser. He's a picker; he's a chooser. He's a mover; he's a shaker. He's a giver; he's a taker."
Tegan & Sara, 100x
A stark piano ballad from two of pop's most fascinating sirens is what storytelling is really all about. The pain in their vocals pours down from the heavens like an unforgiving rainstorm, shattering the windows and ripping the floorboards out of the house the '80s built. "It was wrong of me to hurt such a big part of you. I swear I tried to leave you, at least 100 times a day. I swear I tried to tell you, a thousand times a different way. I need out. I don't wanna live this way."
Jennifer Nettles, Unlove You
Nettles is one of country's most undervalued and underutilized vocalists. Sure, her tone may not be everyone's cup of tea, but the restraint she showcases on this soft, yet sorrowful, ballad is astounding. "I can't unlove you. My heart can't unbreak. I can't unfeel how it felt to feel so much myself. My whole body ached. I can't unknow this. Lord, I wish I knew how."
Fifth Harmony, Write on Me
Who knew the now-defunct The X-Factor show would legitimately produce a superstar act?! The girls' sophomore effort 7/27 is (mostly) constructed on decidedly more urban influences -- you can't deny the charm of Worth It -- and this mid-tempo highlights the funky groove and confidence the group now possess. The track also contains a hint of the smooth balladry they do so well. "Pick up the pen, put it on the paper. Write on my skin, bring me to life. Can't start again, there ain't no eraser. All of my flaws, you got them so right. Everything is blank until you draw me. Touching on my body like you know me. Write on me. Color outside the lines. Love the way you tat me up. Baby take your time."
Charles Kelley, Leaving Nashville

Formerly of Lady Antebellum (they are currently on hiatus as each member mounts solo careers), Kelley reflects on his experience in the music industry -- specifically, Nashville, as a singer, songwriter and musician. The blood, sweat and tears he's poured into his career is never worth throwing it all away. He also considers how new-found success brings old friends and family out of the woodwork. "Pour out your heart in 3:20 -- the one you didn't write -- for the money. You turn it in, nobody's listening. But you got a cut, so the check's coming. If it ain't a single, it don't mean nothing. But every girl with a dream wants to be your friend."
Zayn, It's You

He may have gotten his start shilling out arena-sized boy-band anthems, but Zayn proves his R&B/pop worth on his debut studio album. This standout cut is a haunting crash-course on his ability to build a story, and his simmering vocal is one of the best of his career. His pain lingers in the air like a thick morning fog. "She got, she got, she got her own reasons for talking to me. She don't, she don't, she don't give a fuck about what I need. And I can't tell you why because my brain can't equate it. Tell me your lies because I just can't face it."
Honorable mentions
The Avett Brothers, Ain't No Man
Maggie Rogers, Alaska
Stay tuned for music updates. Be sure to follow @Popdust and @JasonTheScott on Twitter!