Bethenny Frankel Plastic Surgery Bethenny Frankel's New Face—Plastic Fantastic Or Au Natural?
Bethenny Frankel debuted a new hair color and a new face recently. The Skinny Girl mogul rocked a fuscia bob in honor of the launch of her Skinnygirl brand of sweets at Dylan's Candy in New York late last month.
The 45 year-old Real Housewives of New York alumni was barely recognizable and Popdust suspects a surgeon may have played a role in her dramatic new look.
How Real Are The Housewives? RHONY Plastic Surgery Exegesis
The lowdown...
Bethenny Frankel Plastic Surgery
Two prominent doctors seem to agree:
Santa Monica based dermatologist to the stars, Dr. Ben Behnam tells Popdust exclusively:
"Bethenny's face looks much fuller and she has much more prominent cheek bones. It looks like she's injected some filler into her face, most likely Radiesse or Sculptra. She also has no crows feet (wrinkles surrounding the eyes) or forehead lines. She has probably done some Botox as well. Overall she looks great."
How Real Are The Kardashians? Kris Jenner Plastic Surgery Exegesis
However New York based plastic surgeon Dr. Robert Tornambe wasn't quite so in favor of any work she may have had, he says:
"Here is the scoop on poor Bethenny, too bad, pretty lady. Judging from her before photos, and the after photos, she has what is called "The Joker's Smile" seen all too often with certain types of facelift technique where the underlying muscle is tightened in one direction and the excess skin pulled in another, more lateral direction. It causes that weird lateral pull of her smile, looking like 'The Joker.' I have seen it all too frequently and it is difficult to fix. She also appears to have had fairly large cheek implants placed as well."

How Real Are The Housewives? RHOM Plastic Surgery Exegesis
It's no joke
Bethenny Frankel Plastic Surgery
But, wait! There's more!
"Her jaw line looks awful! She either had a chin implant with liposuction of her jaw line or just lipo of jawline, and it's way overdone. The trend now with Facelifts is to add fat to face via fat grafting, not sucking it out! I realize that the movie camera lens makes you look fatter, but give me a break here! The photo of her smiling really demonstrates the Joker's Smile phenomenon! Horrible!"
Ouch!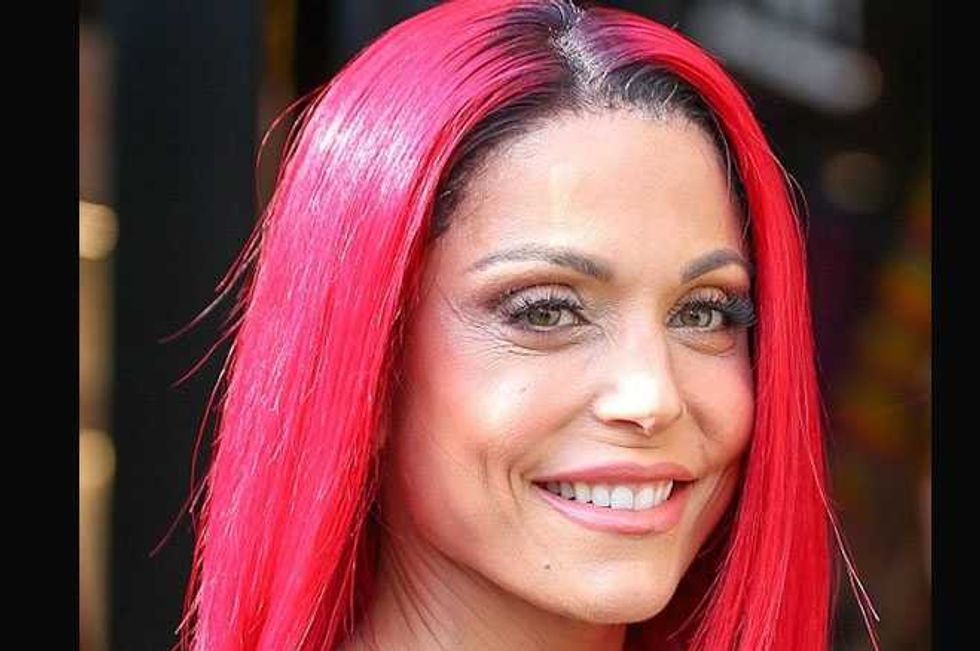 Bethenny! Are you in there?
But back to the candy. Skinnygirl offers chocolate truffles, chocolate bars, chocolate-covered almonds, and gummies — each coming in pre-portioned packages at 100 calories each. They even have mints, so you can disguise the Skinnygirl vodka on your breath.
"Portion control is huge," Frankel says. "I don't believe in fake." (Really, does you face know that?)
House Tour Tuesday—Bethenny Frankel's Swanky SoHo Digs
Talking to People, Frankel said;
"I think I saw a void [in the market]. Every woman I know has a sweet tooth and most women I know have PMS or they get emotional and they want chocolate […] It's low calorie and they're delicious; people are obsessed with them. And I don't think there's really anything else out there like that — especially with such quality. There's a lot of chocolate, but it feels like junk food."
Bethenny Frankel Plastic Surgery
Bethenny Frankel Plastic Surgery