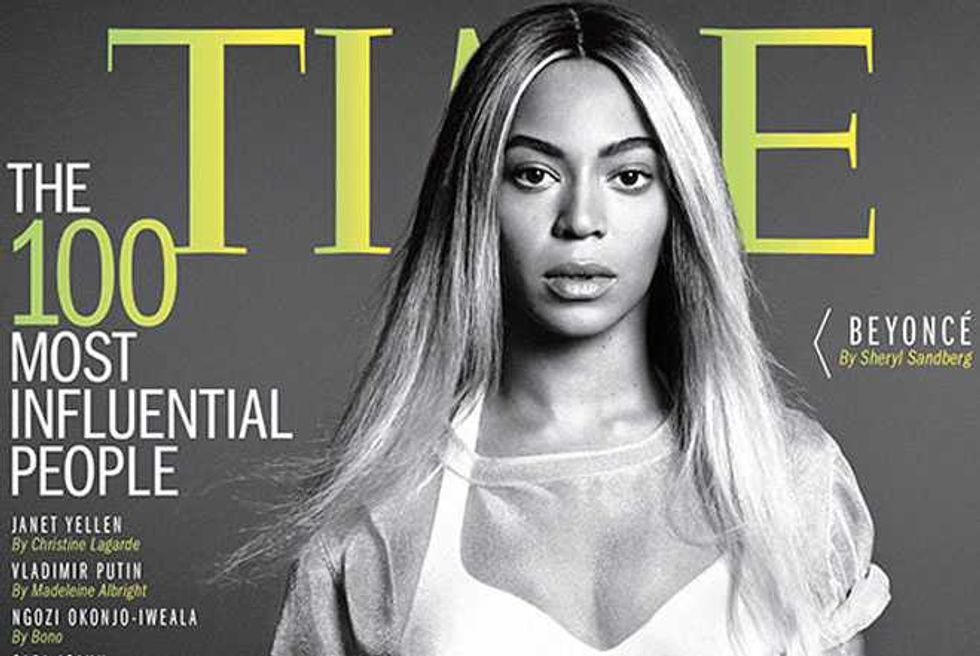 Who run the world? Girls. That's why there's a record-breaking 41 women charted on the newly-released Time 100 Most Influential People list. It says more that the names included on this year's class have not used their power (or even fame, really) to change the world. They've used their influence to make a difference and affect lives in a wholly positive way.
In the Arts category, Beyonce, Carrie Underwood, Miley Cyrus, Amy Adams, Pharrell Williams, Kerry Washington, director Steve McQueen, Matthew McConaughey and Seth Meyers, among so many others, have truly upheld their end of the bargain. When it comes to changing the nation and the world's perspective, they've challenged norms and dared to be the voice of those who couldn't.
For the upcoming April 29th Time 100 Gala event, Underwood and Williams are set to perform.
Queen B graces the issue's cover, which also features an essay on her written by Sheryl Sandberg, COO of Facebook and founder of LeanIn.org. "One song includes words by novelist Chimamanda Ngozi Adichie: 'We say to girls, 'You can have ambition, but not too much,'' Sandberg writes. "Beyoncé has insisted that girls 'run the world' and declared, 'I'm not bossy, I'm the boss.' She raises her voice both on- and offstage to urge women to be independent and lead."
And: "In the past year, Beyoncé has sold out the Mrs. Carter Show World Tour while being a full-time mother. Her secret: hard work, honesty and authenticity. And her answer to the question, What would you do if you weren't afraid? appears to be 'Watch me. I'm about to do it.' Then she adds, 'You can, too.''
Underwood, who sold out arenas across the globe on her Blown Away Tour and scored several No. 1 hits the past year, was also a champion for great causes. While her resume (including being a Grand Ole Opry member and breaking down themes in her music) is quite impressive, it's something else that is even more remarkable. In an essay by fellow country singer Brad Paisley, he pens, "It's her decency as a person that is so impressive. She's an advocate for causes like animal rights and the Red Cross. She has publicly challenged lawmakers when she's disagreed with them, and covered controversial issues in her music. She can sing the fire out of a song and tell a joke."
"So many young girls want to be just like her. In that sense, I see hope for the world. If I had a daughter, nothing would make me happier than to hear her say she wanted to grow up to be like Carrie Underwood," he concludes.
Cyrus might be one of the most controversial and talked-about names in music, but she did it her way. That's what her godmother and country legend Dolly Parton notes in her brief essay about the pop diva. "If I didn't know how smart and talented Miley is, I might worry about her," Parton says.
"She felt she had to do something completely drastic. And she did. She made her point, she made her mark, and more power to her. I did it my way, so why can't she do it her way?"
Head on over to Time to see the full 100 Most Influential People list!