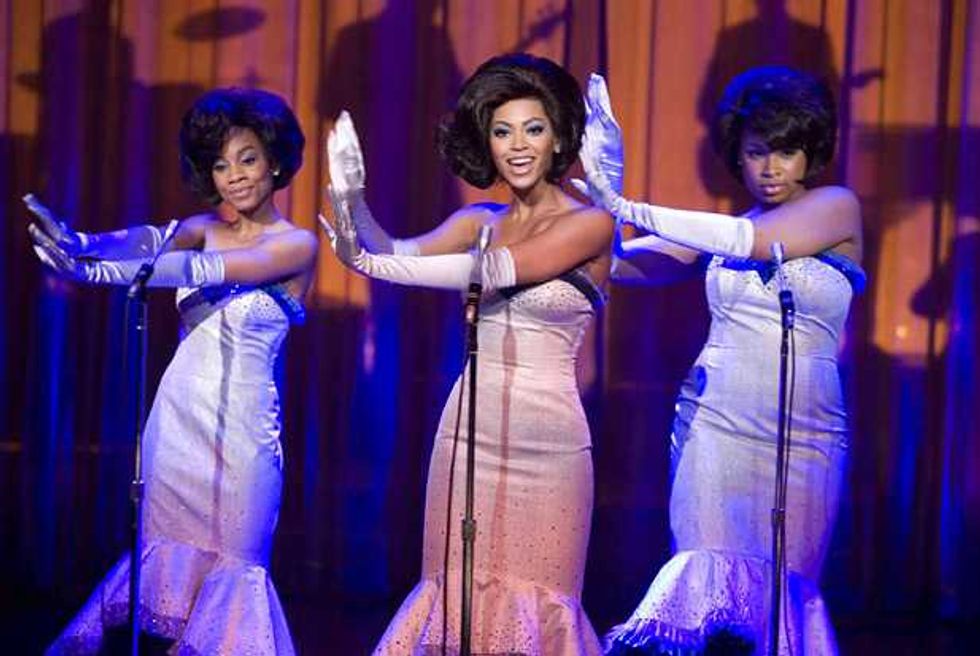 Since she currently has the number one album in the U.S., and the attention of just about anyone with a pulse, she might as well continue her Major Lazer-assisted march towards world domination. Beyoncé confirmed her starring role (rumored to be alongside Oscar nominee Leonardo DiCaprio) in Clint Eastwood's upcoming remake of A Star Is Born on Good Morning America last week. She'll be playing Esther Blodgett/Vicki Lester, naturally, the role Janet Gaynor, Judy Garland and Barbra Streisand made famous. Tough acts to follow, even for Queen B who happens to have a few films under her belt—most notably 2006's Dreamgirls, in which she was deservedly overlooked in lieu of Jennifer Hudson, as well as Cadillac Records, Pink Panther, The Fighting Temptations, and, uh Austin Powers in Goldmember.
But she's not the only musician in contention for juicy acting roles. Andre 3000 is reportedly in the running to play Jimi Hendrix in an upcoming biopic. (If that surprises you, the other artists considered included...Jason Derulo?) While both Beyoncé and Andre have made their big screen debuts before, to diverging results, there still are some challenges (namely rooted in the public's expectations) that come with performers transitioning to the silver screen. B should be in good hands with Eastwood and DiCaprio, however a pair like that could make her supbar acting even more apparent. Before we get ahead of ourselves with premature critiques (we really hope she's great) let's at least point to those who have come and gone before her. As long as she delivers a decent performance in a film that is slightly better than the ones below, she'll maintain her royal crown, right? Right?!
Luckily, the bar has already been set pretty low for musicians who cross over to film in the last 10 years alone. A sampling:
Mariah Carey, Glitter (2001)
What came first: Glitter or the alleged breakdown? The alleged breakdown or Glitter? 2001 was a rough one for the diva all around, made worse by the thankless response from fans and critics her first starring role gave her. Of course, Mariah redeemed herself in the eyes of Hollywood with a supporting part in 2009's Oscar-nominated film Precious, regaining the love of those cruel critics with her performance as compassionate yet tough social worker Ms. Weiss (if you managed to look past the infamous moustache).
Britney Spears, Crossroads (2002)
Your favorite pop star starring in a girls road trip film that takes place after high school graduation was, like, totally the best thing to ever happen to a middle schooler. But then the actual movie came out and we had to sit through the whole thing. (Yep, all of it.) Brit got her requisite performance scene, a good girl goes bad rendition of "I Love Rock N Roll," but aside from that, it was clear the acting lessons had stopped shortly after she left the Mousketeers. Looking at those vacant eyes even back then seems like way too much foreshadowing of what was to come.
Jessica Simpson, Blonde Ambition (2007)
Apparently having your marriage chronicled for MTV cameras (and branding a series of your own "dumb blonde" jokes) does not an actress make. After starring alongside the likes of Johnny Knoxville and Seann William Scott in The Dukes of Hazzard remake (in which the only muscles she needed to flex were her glutes), Simpson's attempt to helm a movie on her own completely flopped. After Blonde Ambition made a reported $1190 in its opening night, Major Movie Star went straight to DVD in 2008, with her return to reality television arriving shortly thereafter.  
Taylor Swift, Valentine's Day (2010)
Before you accuse us of hating babies and teddy bears, we'll say that Swift was hardly the worst thing about this project (there were plenty of other problems). But even playing a bubbly, hormonal high schooler seemed a bit difficult for the 21-year-old, as she simply couldn't resist the allure of overselling (and over enunciating) ever line she was given.
Christina Aguilera, Burlesque (2010)
It's not the biggest flop on the list (they'll always have that Golden Globe award), but it was certainly not the best role to help launch Xtina's comeback. (Thank goodness for The Voice.) We understand the appeal of starring in a movie musical, but singers may want to get second opinions on the scripts before signing on to romp like this one.
Of course, it works both ways: actors can't always hack it as singers, either. (Or, more often, we simply don't want them to.) Despite shaky beginnings, plenty of musicians have spent years honing their acting chops, only to gone on to become bankable movie stars, or even in some cases—if your name is Cher, Will Smith or Mark Wahlberg—Oscar nominees. Musicians turned actors have come a long way. Remember this vintage Justin Timberlake piece circa 2000? (Probably not.) People can change! But that doesn't mean we want you to go the way of JT, Beyoncé.
Think you can name some better examples of bad singers turned actors, or better yet, some good ones? Let us know in the comments.