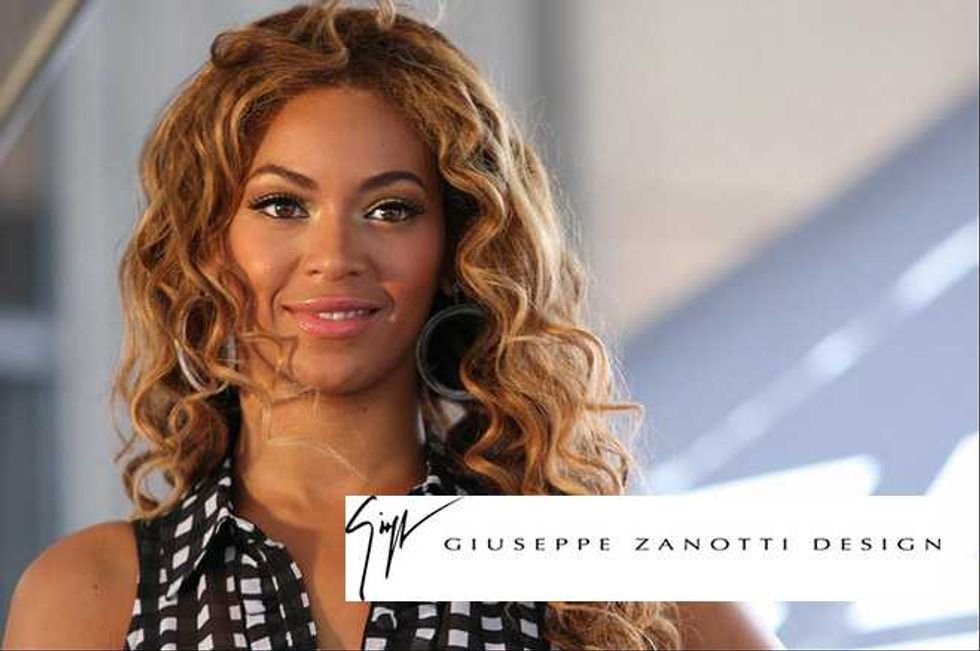 Beyonce has collaborated with high end shoe designer Giuseppe Zanotti to create a platform shoe that will go on sale within the next two weeks..
Zanotti revealed to Vogue magazine that the shoe will be an "ultra-thick platform" with a stiletto heel. Sounds comfy.
Zanotti gushed to Forbes:
The thing which she then also has over other celebrities, is that she has an amazing voice. She's incredibly talented and she's an amazing dancer - she's complete. Few are like Beyoncé. I'm working on finalising the shoe with her stylist right now. And Beyoncé will then say what she likes and what she doesn't like. It will be one shoe only.
Zanotti is no newcomer to celebrity collaborations. Three years ago he released the notorious 'Cruel Summer' sandals in collaboration with Kanye West, worth nearly $6000 (according to Forbes.) More recently, Zanotti released a shoe inspired by rapper Kid Cudi, which turned out to be a huge hit. Clearly, Zanotti embraces his association with hip-hop.
Anyone who recalls the shoes produced by House of Deréon , Bey's former fashion line, will pray that the new shoes are good enough to eradicate those awful memories. If you're sensitive, look away!

Zanotti seems to know how to please his audience, just like Bey. The new shoes are bound to be winners.
Beyhive, get your credit cards ready.