Frontpage Popular News
They say the camera never lies......hmmmmm....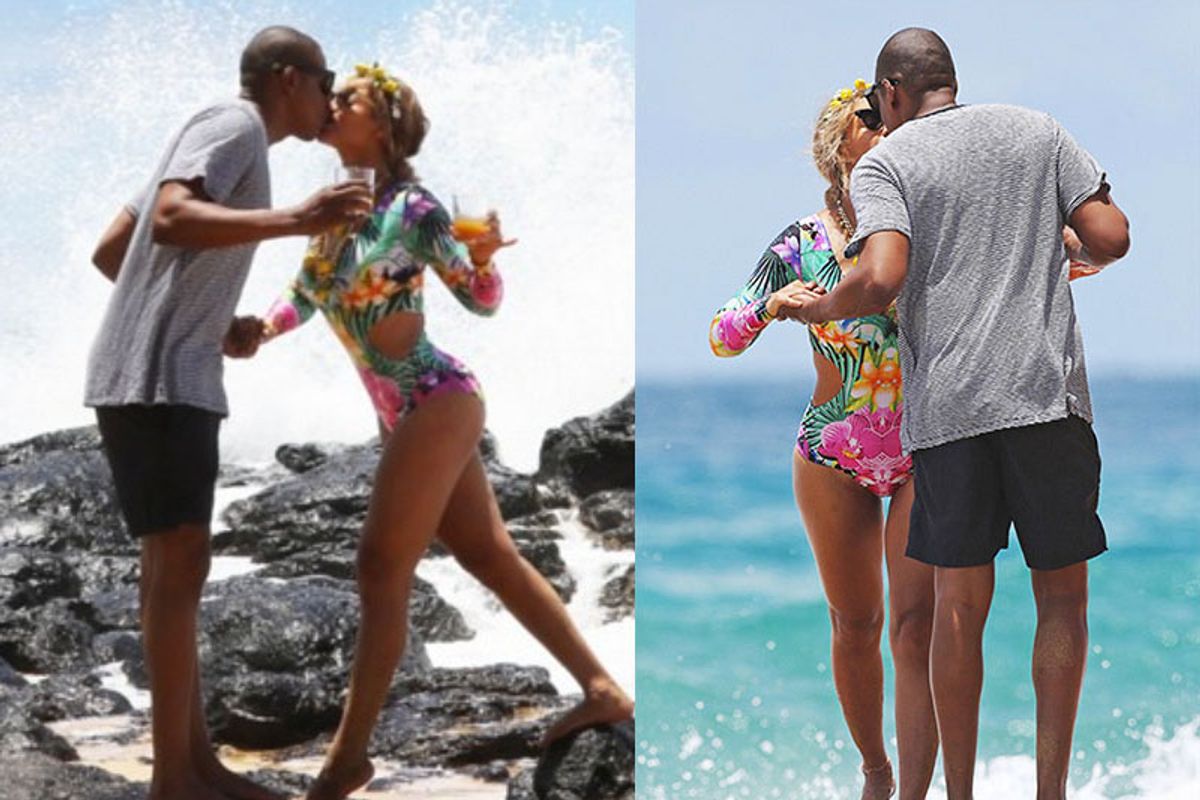 Beyonce Jay Z marriage problems…what marriage problems?!!
Rumors of Beyonce Jay Z marriage problems have been swirling pretty much since they tied the knot.
However, if Beyonce's holiday snaps are to be believed, Jay Z's got 99 problems but his marriage ain't one.
The couple were on vacation recently and Beyonce posted a ton of super cute and candid family snaps on her website.
There's pics of Bey and Jay making out, sitting on the sand watching the ocean, and cuddling on a rock.
There's pics of the couple riding bikes, hiking, hanging out and enjoying some chill time.
But, it's the pics of little Blue Ivy that really steal the show.
She is so damn cute!
And, clearly a daddy's girl, as she plays around with her famous father in the sun.
Can we just say adorable?
---
Read more....
All Hail Queen Bey! Beyonce's Sexy, Steamy And Nearly Naked Photos!
Conspiracy Theory Thursday—Beyonce And The Illuminati
Beyonce's Ivy Park 'Sweatshop Slaves' Paid Just 63¢ An Hour Apparently
---
As Popdust previously reported, rumors of the couple's imminent split have been fueled by various reports.
Last year, Jay-Z was sued by a woman claiming the rapper is the father of her son, Rymir Satterthwaite, according to TMZ.
Jay-Z refused to take a paternity test, and Satterthwaite is trying to force the issue via the Federal court.
Then there's the ongoing and never-ending cheating accusations.
If reports are to be believed, Jay-Z's been bangin' pretty much every female in the music industry and beyond.
He's been linked to Rihanna, Rita Ora, Belgian beauty queen named Claudia Scheelen, rapper Liv and Rachel Roy, the ex-wife of his ex-business partner and best friend, Damon Dash.
Jeeze, where would he get the time—let alone the energy?!!
The cheating reports mill went into overdrive once again following the release of Beyonce's new album Lemonade.
Courtesy tracks such as Pray You Catch Me, which calls out a dude for cheating with "side-chicks" and claims:
You can taste the dishonesty It's all over your breath as you pass it off so cavalier
And, Sorry, where she sings, "he better call Becky with the good hair."
Well, one thing's for sure, if they're heading to Splitsville they certainly put on a good show.
Scroll down to check out Popdust's gallery of the family's Hawaiian getaway
For more entertainment, music and pop culture updates and news, follow Max Page on Twitter