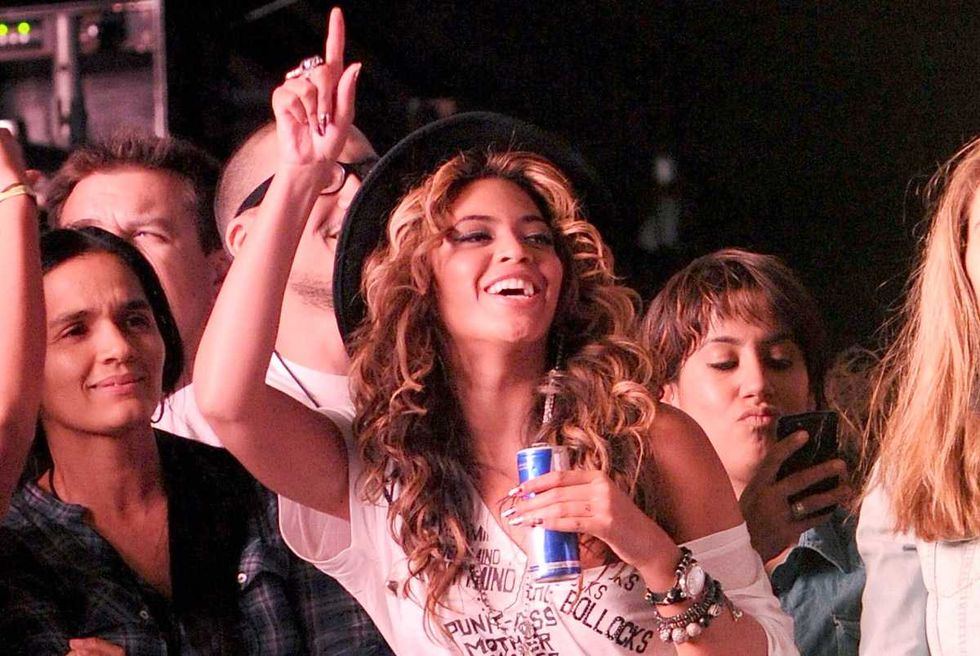 In a rare piece of non-Britney-related news today, details leaked over the weekend about an upcoming release from the other Queen B of pop music. Oh No They Didn't got a look at rehearsals for "Girl," the upcoming Beyoncé video directed by Francis Lawrence, and describes the new song as "a female empowerment/girl power type of song that is a definite club banger with Top 40/Worldly appeal." More intriguingly, ONTD hints at the song's beat being sampled from "a popular club song that a lot of you will probably recognize." ("Cotton Eye'd Joe"? It's "Cotton Eye'd Joe," isn't it? We just knew the Rednex revival was around the corner.)
ONTD goes on to dish about the video, which apparently is going to be quite the production:
Bey will have an army of like 100 or more girls. 20 of them will be doing the choreography with her and there will be like 100 of them behind her carrying sticks and marching. Men will be used as props and actors with the girls coming all in their faces and intimidating them...It definitely looks like Bey will have an army or lesion of girls for one of the scenes that is presumably being shot on the 13th. Expect a full out dance number with lots of choreography.
That Beyoncé, she ain't much for half-stepping, is she? In the meantime, fans were also treated over the weekend to a listen to a new BK song, the Swizz Beats collaboration "Move Your Body." The song was released along with a video featuring a group of kids dancing to the song, as part of Beyoncé's collaboration with Let's Move!, the Michelle Obama-started campaign to battle childhood obesity in the U.S. The song is definitely of a piece with Swizz-Bee productions "Check On It" and "Ring The Alarm," fun, loose and mildly frenetic, with Swizz even taking breaks from the song's tambourine-and-handclap-heavy beat to break into latin and dancehall beats, among others. We have a feeling that the "Girl" video will be a little better-coordinated with the choreography, though.
For lots more pics, videos and up-to-the-second dish on Beyonce, check out her Popdust Artist Page.