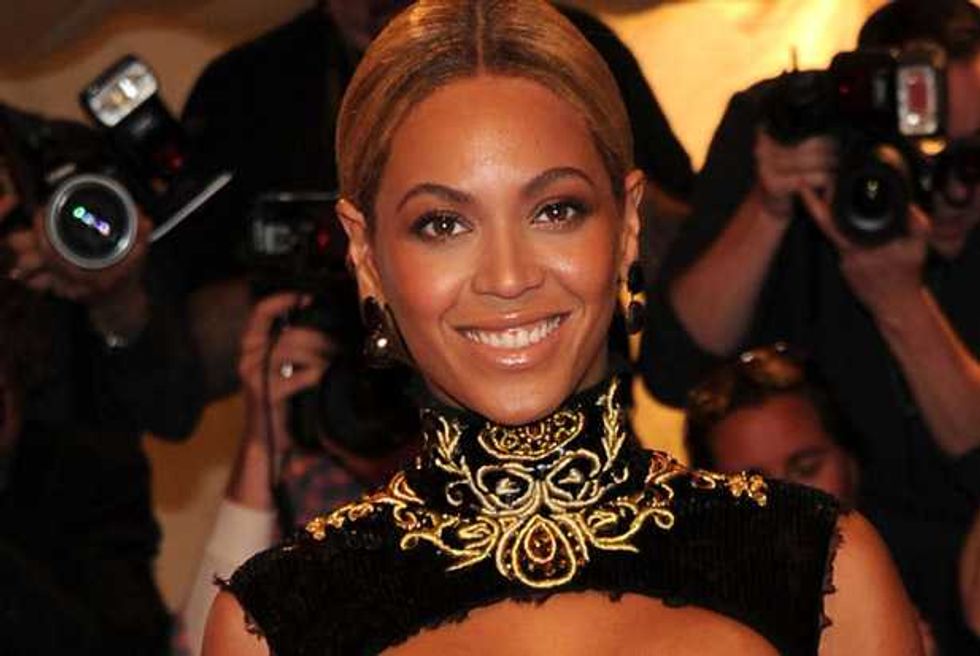 A banner day for fans of the Queen B—shortly after receiving 38 more seconds of her much-anticipated (well...somebody's probably still anticipating it, right?) "Run the World (Girls)" video, Beyoncé has also announced the title of the new album they will undoubtedly be spending the majority of their conscious hours listening to in the second half of 2011. The pop diva's fourth album will be entitled, simply, 4—as in, this is the fourth Beyoncé solo album. But there's more to it than that, as she explains to Billboard: "We all have special numbers in our lives, and 4 is that for me...it's the day I was born. My mother's birthday, and a lot of my friends' birthdays, are on the fourth; April 4 is my wedding date."
Of course, there's a reason unmentioned as to why Beyoncé would want to name her album 4—its history of resounding success as an album title throughout the rock era. Nobody knows about the importance of associating herself with greatness like Beyoncé—hey, it was no accident that she ended up marrying Stringer Bell in Obsessed, or Jay-Z in, uh, real life—and so we don't doubt that she knew exactly what she was doing by titling her album as such. Look at some of the legendary names whose ranks she now joins:
Led Zeppelin - IV (1971)
Officially untitled, Led Zeppelin's fourth album has picked up countless unofficial titles over the years—Zoso, The Runes, Four Symbols—but it's still known to most as Led Zeppelin IV. Since its release in 1971, IV has become one of the best-selling and most universally-beloved rock LPs in the genre's history, shifting 32 million units worldwide and spawning classic rock perennials like "Black Dog," "Rock and Roll," and of course, "Stairway to Heaven." 40 years later, Led Zeppelin IV is still fairly unassailable in its status as the gold standard of albums called "4."
Foreigner - 4 (1981)
With smash hits like "Double Vision" and "Hot Blooded," Foreigner was already one of the biggest rock bands in the world by the time of their 1981 album 4. However, their senior release took them to an even higher plane of rock royalty, becoming their first chart-topping LP and spinning off four top 40 hits, including crossover ballad "Waiting for a Girl Like You," which spent a record-setting ten weeks at #2 on the Hot 100. (Damn you, Olivia Newton-John!) Accusations of going soft for commercial success would eventually catch up with the band, but with sales of six million, none of them were complaining at the time.
Toto - Toto IV (1982)
Led Zeppelin IV might continue to hold more sway with Tolkein-obsessed 16-year-olds who aspire to one day be able to have sex with groupies via mud shark, but as sure as Kilimanjaro rises like Olympus above the Serengeti, only one album titled IV ever won the Grammy for Album of the Year. Toto's fourth release owned the 1982 Grammys like Jose Bautista owns American League pitching, winning six trophies including Album and Record of the year (for lead single "Rosanna"), and also spawned three top ten hits in "Rosanna," "I Won't Hold Back" and the chart-topping soft-rock standard-bearer "Africa." Toto never even came close to repeating the album's success, but considering that they made the impossibly stupid choice to title their next album Isolation instead of Toto V, they really have no one but themselves to blame.
Blues Traveler - four (1994)
Blues Traveler's harmonica-soaked moment in the mid-90s sun was not a particularly long one, but it lasted for at least one album's worth: four, the six-times platinum (!!!!) LP which spawned the band's only two top 40 hits, "Run-Around" and "Hook." (And don't forget about "The Mountains Win Again," that song was pretty cool too). Yes, kids, for a time our country was absolutely enraptured by a fat man strapped Rambo-style with mouth harps with a penchant for mid-song scat-raps—please don't tell anyone. At least the problem was corrected quickly (follow-up Straight on Till Morning flopped, if you want to believe that anyone ever assumed success for Blues Traveler) and we got a couple fun songs for 90s karaoke night out of the process.
Stone Temple Pilots - No. 4 (1999)
The first album STP released after singer Scott Weiland's incarceration for heroin possession, No. 4 debuted at #6 on the charts and eventually went platinum. OK, so maybe it wasn't quite as enormous a success as the other albums on this list, but that "Sour Girl" sure was a good song (Sarah Michelle Gellar was in the video!), and it was probably better than 2003's Shangri-La Dee Da, anyway. If anything, it shows what a dearth there's been of quality 4-titled albums over the last 15 years—if Queen B can't come to the rescue and re-establish the numerical's proud place in rock history, we don't know who could.
For lots more pics, videos and up-to-the-second dish on Beyoncé, be sure to check out her Popdust Artist Page.