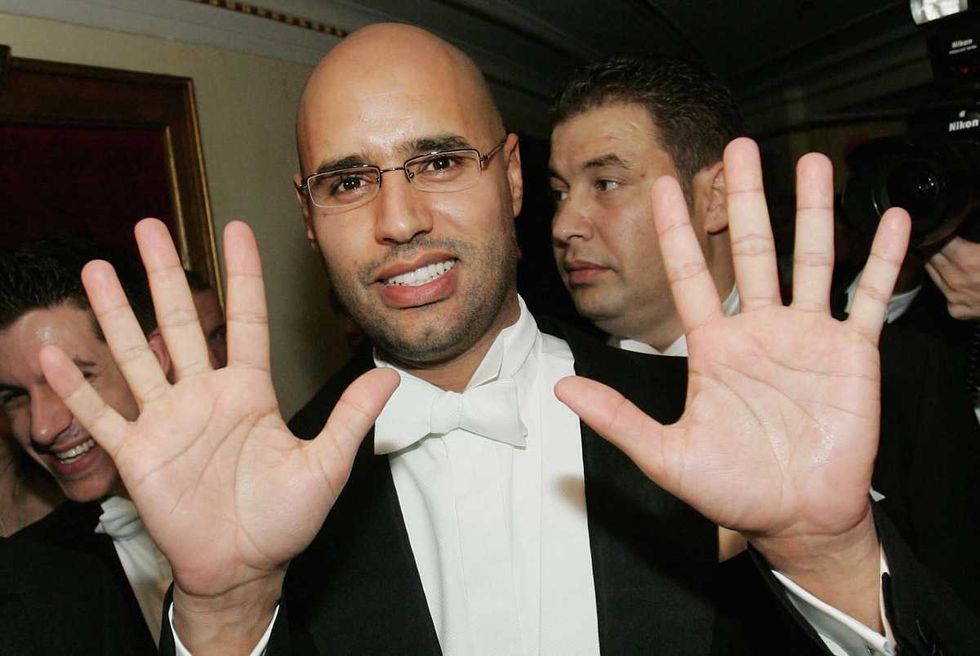 As Libyan protesters close in on Tripoli, the nation's capital and dictator Muammar al-Qaddafi's seat of power, a number of pop stars, including Lionel Richie and, according to WikiLeaks documents, Mariah Carey, Beyoncé and Usher, may be regretting the lucrative private concerts they performed for members of the Qaddafi family.
As reported in today's New York Times, Muammar Qaddafi's son Muatassim, Libya's national security adviser, hired Beyoncé and Usher to entertain at his New Year's Eve party held at the palatial Qaddafi estate in Gustavia, the capital of the Caribbean island of St. Barts. According to one of the many cables obtained by WikiLeaks, the American Embassy in Tripoli informed the State Department in February 2010 of the New Year's Eve bash "reportedly featuring copious amounts of alcohol and a million-dollar personal concert courtesy of Beyonce [sic], Usher, and other musicians."
Money Monday—How Much Is Kevin Federline Really Worth?
A year earlier, another Qaddafi son, Seif al-Islam el-Qaddafi, had used his role as the head of Libyan newspaper Oea to deny reports that he had paid Mariah Carey $1 million to perform four songs at a New Year's party at St. Barts. Sound familiar? He'd been mistaken by the Western media for Muatassim, according to an earlier cable (hosted on Wikileaks partially redacted but available in full elsewhere under its reference ID 09TRIPOLI208). Supposed confirmation of Carey's appearance came from "A well-informed contact, who helped bring Lionel Ritchie [sic] to Libya several years ago to sing at [Qaddafi's daughter] Aicha's [sic] al-Qadhafi's birthday party"—only, Richie's performance was at her wedding party. So much for being well-informed.
The fils Qaddafi would be a laughable bunch of feckless Richie Riches if they weren't so, well, evil. Seif el-Qaddafi went on Libyan TV on Monday to declare that the country would face "rivers of blood" if its people did not cease protesting. "All of the Qaddafi children and favorites are supposed to have income streams from the National Oil Company and oil service subsidiaries," read one cable from 2006. A "local political observer" in Tripoli told U.S. diplomats that Muatassim's "carousing and extravagance angered some locals, who viewed his activities as impious and embarrassing to the nation." The cable also stated that, in 2008, Muatassim demanded $1.2 billion in 2008 from the chairman of Libya's national oil corporation, reportedly to establish his own militia. And we haven't even mentioned special-forces commander Khamis and accused wife-beater Hannibal.
Well, at least they appreciate high-quality uptempo R&B....
Long subject to United States sanctions, the Qaddafi regime was welcomed, albeit uneasily, as an ally in the "war on terror" by George W. Bush's administration in 2003. (Negotiations followed that would result in a public apology and billions of dollars in reparations paid to the families of victims of the hijacking of Pan Am Flight 73 in 1986.)
With implicit American permission in place, the doors were opened for the Qaddafi family to hire American pop stars. The first was Lionel Richie, a widely popular musician in North Africa and the Middle East. Shortly after he caught minor flak in 2006 for performing in Libya, he told ABC News, in an interview about his popularity with Iraqis, "I'm huge, huge in the Arab world. The answer as to why is, I don't have the slightest idea." This popularity allowed him to serve as a character witness for Dallas Austin when the producer was jailed for cocaine possession in Dubai later that year.
Should these performers be condemned for their ignorance, intentional or otherwise, of their patrons' dealings? Certainly other performers have come under fire for performing private concerts for wealthy hosts with checkered reputations. Elton John reportedly received $1 million last year to play at the wedding of outspoken anti-gay conservative Rush Limbaugh. And in 2005, defense contractor David H. Brooks spent $10 million to bring 50 Cent, Aerosmith, Tom Petty, Ciara, Don Henley, Joe Walsh, Stevie Nicks, the late DJ AM and Kenny G to the Rainbow Room for his daughter's Bat Mitzvah; Brooks was later convicted both of embezzling company funds for private use and of insider trading.
As the record industry collapses into financial near-obsolescence, corporate and private gigs have become an important part of major artists' revenue streams. But Project Pat playing a Memphis wedding, say, is different in both scale and kind from Beyoncé allegedly performing for a cool million of Muatassim al-Qaddafi's oil money while the Libyan people suffer massive unemployment, stark poverty and inadequate housing.
Are the payments allegedly received by Mariah, Usher and Beyoncé "blood money?" Should they return the money to the Libyan people? Tell us what you think in the comments.