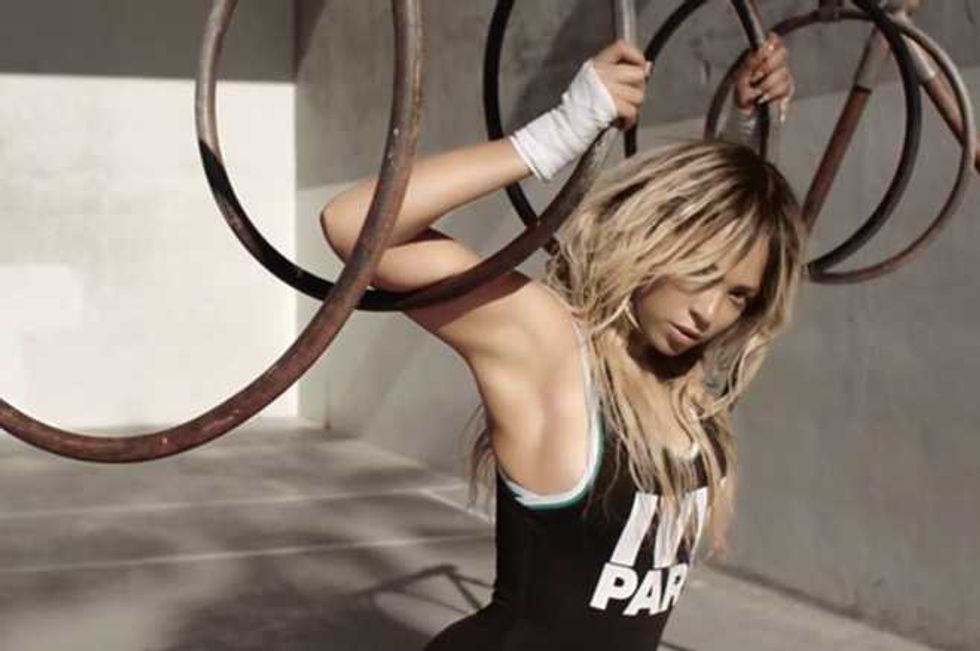 Beyonce has unveiled her new activewear line of clothing called Ivy Park, inspired by her 'old playing ground' in Houston, Texas. The line will launch April 14, online and in stores worldwide including Nordstrom and Topshop.
Bey has launched a video to promote the line, in which she intones some boring crap intimate memories of her childhood while modeling the fitness wear and pretending to work out. The idea is, buy the leggings, sports bra and headband, and you will transform into a shapely blond superstar married to Jay Z.
For some, wearing the clothes will inspire a tougher workout, and for others, it will simply make them feel closer to their Queen. For everybody, it will make their bank accounts a lot emptier, but that's what loving Beyonce is all about.
The line will include tracksuits, t-shirts and accessories but unfortunately the price range remains a mystery as of this writing.
A collaboration with Topshop's Sir Phillip Green, Ivy Park is perfectly positioned in the burgeoning 'athleisure' market, one of the fastest growing categories in consumer goods.
Ivy Park has launched its own Instagram account, with just three posts and already more than 60,000 followers.
An appearance of Blue Ivy in the video, wearing an Ivy Park get-up, suggests there will be a children's line as well.
Here is Bey's statement about her latest enterprise:
Sir Phillip has created some amazing collaborations but I wanted a partnership and a stand-alone brand.

 

When I'm working and rehearsing I live in my workout clothes but I didn't feel there was an athletic brand that spoke to me. My goal with Ivy Park is to push the boundaries of athletic wear and to support and inspire women who understand that beauty is more than your physical appearance. True beauty is in the health of our minds, hearts and bodies. I know that when I feel physically strong I am mentally strong and I wanted to create a brand that made other women feel the same way.
Okay, revved up, ladies?
Mark your calendars for April 14 and dust off your credit cards.