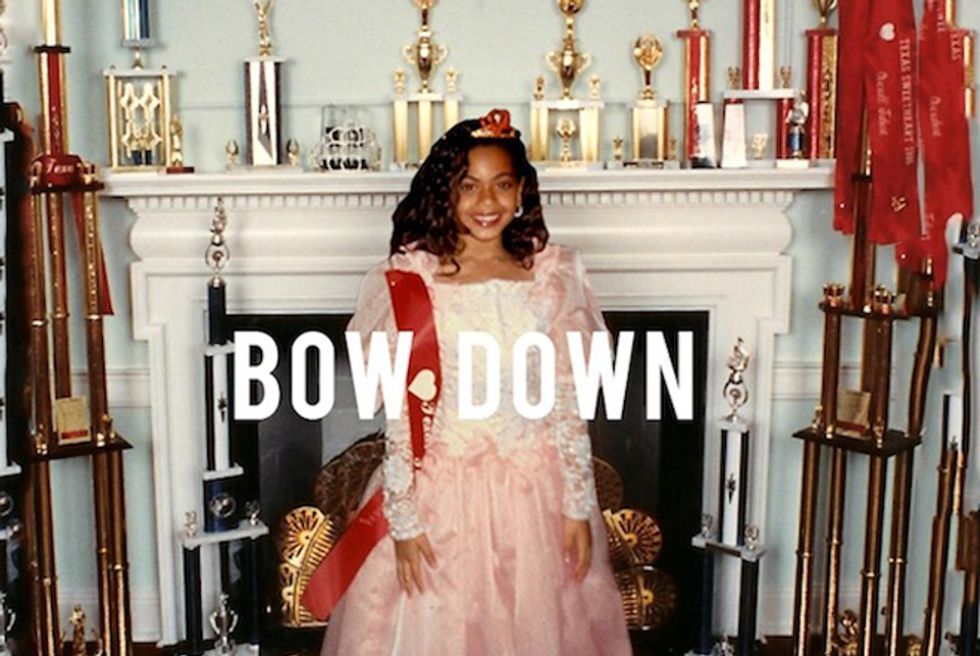 It's been a strange few months for Beyonce. She began 2013 occupying the same place the pop-star firmament she had for years: the most unanimously adored star in pop culture, one of the few people in the world able to hang comfortably with both Michelle Obama and Kim Kardashian. Then came the Inauguration lip-syncing scandal, which though only a minor hassle compared to what other stars went through was remarkable for the fact that, for the first time, people felt comfortable expressing negative thoughts about Beyonce out loud. After that, Bey saw her publicist's attempt to scrub the Internet of unflattering pictures of the pop star roundly mocked and her HBO documentary open to (gasp!) negative reviews.
This wouldn't be a bad month for Justin Bieber (and it would be a great one for Lindsay Lohan) but for Beyonce, it was unprecedented. Beyonce, like her husband, has predicated her star image on being an hegemonic power; perfection is her brand. So what happens to Queen B when she looks down at her kingdom and sees the peasants spreading around She-Hulk memes? Songs like "Bow Down/I Been On" happen.
Beyonce released the track (or tracks—it's unclear whether they're meant as one multi-part suite or as two linked songs) on her tumblr this week and promptly took the web by storm. Gone is the Beyonce who wants "all the single ladies" to band together; now the Queen is castigating her subjects for not showing the proper respect. Check out the first verse, one of the few places where Beyonce sings in her familiar vocal register. She's singing like a diva, but the message is far more scorched-earth than up-with-people:
I know when you were little girls

You dreamt of being in my world

Don't forget it, don't forget it

Respect that, bow down bitches
Beyonce feels like she's been disrespected, and is aggressively reasserting her dominance. Not only does she need to remind you that she's on top, she also emphasizes that she's been there for a long while. All of those Internet snarkers? They were in elementary school when Beyonce first made it big. Their opinions mean nothing, and they need to remember that.
I took some time to live my life

But don't think I'm just his little wife

Don't get it twisted, get it twisted

This my shit, bow down bitches
And if you wanted to take Beyonce embracing her "Mrs. Carter" identity as an excuse to write blog posts questioning her feminist credentials, Bey's got a message for you, too: Go fuck yourself. Keep the thinkpieces to positive stuff, like the way Beyonce is so awesome she maybe upstaged the First Lady of the United States.
Rolling high, leather and wood

Keep it trill, that's what's good

Kiss my momma, show them love

Pop them bottles in the club

I heard your boo was talking lip

Told my crew to smack that trick

Smack that trick, smack that trick

Guess what they did, smack that trick
A few minutes into the song, though, the track moves from "Bow Down" to "I Been On," and B replaces the haughty diva arrogance of the first section with something much stranger: a down-shifted version of her voice that sounds almost exactly like James Franco in Spring Breakers. It's a masculine mask, in a way, and when Beyonce puts it on she's transformed. She doesn't sing now, she raps—and when she raps it's in the stereotypical bitches-and-hoes language of every suburban parent's nightmares.
Gold everything: gold-ass chain

Gold ass rings, gold-ass fangs

You can see me stunt when you turn on your screen

You can see me stunt when you turn on your screen

I'm bigger than life, the name in the lights

The number-one chick, I don't need no hype

Capital B means I'm 'bout that life

The capital B means I'm 'bout that life
Why is she doing this? There are a couple of reasons we can think of:
1) It's a brand-safety issue. Beyonce wants to get her id out, but unleashing the full fury of it might be too much for her fans to handle. By separating it into a second version of herself, a male alter-ego, Beyonce can distance her "real" self from the sentiments she wants to express.
2) It's a fantasy. Beyonce's been called "powerful" too many times to count, but it's always been a feminine power: one that survives hardship, rises above it, helps lift others up out of it. In these verses, Beyonce's working with a different kind of power, one that's generally been coded male: the power to inflict hardship on other people. But you can't wield this power if you're a woman; you need to put on your rap-guy mask to make it worse. (That also explains why the lyrics in this section are so much more cliched than in the rest of Beyonce's catalogue; B's essentially dressing up as a mediocre rapper.)
I remember my baby hair with my dookie braids

Frenchy's, Boudin in the parking lot

Shout-out to Willie D

I was in that Willie D video when I was about 14

Lookin' crazy

Shout out to Pimp C

You know, we used to sneak and listen to that UGK

"Didn't do your girl, but your sister was alright, damn

In your homeboy's Caddy last night, damn"

Hold up, Texas trill

H-town, going down man
The song ends with this bizarre spoken-word section, in which Beyonce reminisces about her adolescence in '90s Houston. (Here's more speculation on exactly which Willie D video she's referring to.) It's an odd jump straight from violent posturing to girlhood memories, all in that same imitation-masculine voice. But while the earlier verses were a pose, here we're getting what seems to be a genuine look at the "real" Beyonce. (Pop stars, like politicians, only embellish their pasts to make themselves seem poorer; everything name-dropped here is solidly middle-class.) After all the scorn, it's a concession to the people down below: B's going to give everyone the candid glimpse of Beyonce they clamored for, but only on her very exact terms.
Read the full lyrics below. You can listen to the song at the bottom of the post!
I'm on that H-town, coming coming down
I'm coming down, trick, get it on the ground
H-town, coming down
I'm coming down, trick, get it on the ground
I know when you were little girls
You dreamt of being in my world
Don't forget it, don't forget it
Respect that, bow down bitches
I took some time to live my life
But don't think I'm just his little wife
Don't get it twisted, get it twisted
This my shit, bow down bitches
Bow down bitches
Bow, bow down bitches
Bow down bitches
Bow, bow down bitches
H-town bishes, H- H-town bishes
I'm so crowned, bow, bow down bitches
I'm on that H-Bomb, coming coming down
Coming down, trick, get it on the ground
H- H-Bomb, coming coming down
Coming down, trick, get it on the ground
I been on, I been on, I been on
Tell me who gon' take me off
Take me me off, take me off, take me off
'Cause I been on, I been on, I been on
Tell me who gon' take me off
Take me me off, take me off, take me off
Rolling high, leather and wood
Keep it trill, that's what's good
Kiss my momma, show them love
Pop them bottles in the club
I heard your boo was talking lip
Told my crew to smack that trick
Smack that trick, smack that trick
Guess what they did, smack that trick
Gold everything: gold-ass chain
Gold ass rings, gold-ass fangs
You can see me stunt when you turn on your screen
You can see me stunt when you turn on your screen
I'm bigger than life, the name in the lights
The number-one chick, I don't need no hype
Capital B means I'm 'bout that life
The capital B means I'm 'bout that life
I been on, I been on, I been on
Tell me who gon' take me off
Take me me off, take me off, take me off
'Cause I been on
I remember my baby hair with my dookie braids
Frenchy's, Boudin in the parking lot
Shout-out to Willie D
I was in that Willie D video when I was about 14
Lookin' crazy
Shout out to Pimp C
You know, we used to sneak, and listen to that UGK
Didn't do your girl, but your sister was alright, damn
In your homeboy's Caddy last night, damn
Hold up, Texas trill
H-town, going down man