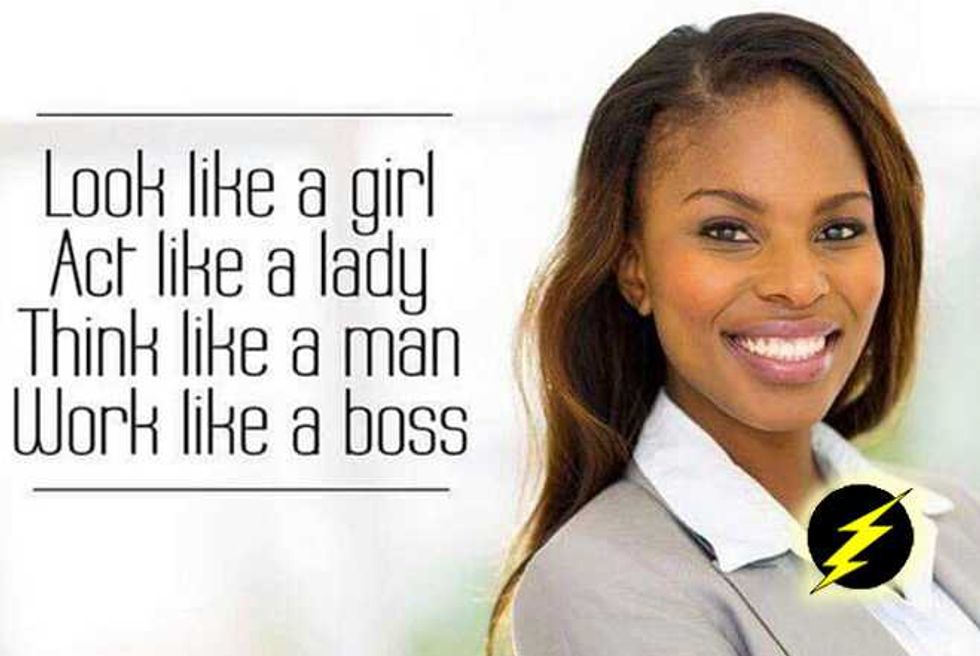 It was an ad straight out of the 1950s and caused quite considerable outrage throughout social media.
Bic South Africa came up with the genius idea to jump on the trending #WomensDay celebrations with an ad "empowering" message for women—clearly written by a really clueless man.
Kristen Stewart Talks Feminism—Dreams For The Future
Showing a smiling woman in a suit with arms folded, the message, which was posted on their Facebook page, read: "Look like a girl, act like a lady, think like a man, work like a boss #HappyWomensDay."
I mean, where to start?!!!!
Look like a girl, act like a lady?!!!
Think like a man, work like a boss?!!!"
Taylor Swift Explains Misogyny Is Ingrained At Birth
Happy women's day indeed—and can you go finish that washing up please girls, because your husband's going to be home from his boss job soon and will need his dinner ready….
Not surprisingly, the ill-feted message was met with scorn and anger by many, with a slew of comments ripping apart the sentiment on Facebook.
Chill With The Free Bleeding Bullshit—It's All About Mind Not Menses
"Look like a girl?' Because the infantilization of women and the sexualization of children is exactly the kind of blurred line we need!", read one.
"Why am I expected to look like a child? Why am I expected to see the world through a masculine lens? Why am I expected to 'think like a man' but not expected to 'act like a man' on my so-called manly thoughts?" read another.
"What fresh hell is this...srsly, 'think like a man'...*stabs eyes out with bic pen*" tweeted feminist activist Caroline Criado-Perez
Spice Girl Mel B Says She Wouldn't Call Herself A Feminist
"How do men think? Is it different to women? Maybe if I use a Bic product I'll find the answer," snarked @Ellen27
"*facepalm* @Bic_SA #youredoingitwrong " wrote @DarkHelmet46
"Why can't I look like a girl act like a lady think like a woman and work like a boss? I'm confused @bic_sa?" asked @jadeinthecity
Shaileene Woodley Doesn't Know What Feminism Means
"@Bic_SA That sexist image should have never gone out. #NotBuyingIt " vowed @RepresentPledge
"Look like a girl, act like a lady, think like a man, work like a boss. Advertise like a sexist - #HappyWomensDay to you too @Bic_SA" wrote @StephMoor
YouTube Pulls Little Girls' F-Bombs For Feminism Ad
"Dear @Bic_SA please help. My little girl fingers can't handle your man pens. What should I do?" Quipped @Anne-Hirch
And so on and so on….
Bic SA eventually took down the offensive ad, and issued an apology:
Let's start out by saying we're incredibly sorry for offending everybody—that was never our intention, but we completely understand where we've gone wrong. This post should never have gone out. The feedback you have given us will help us ensure that something like this will never happen again, and we appreciate that
Hang on a sec…. sorry for offending "everybody" was the intention to only offend "some people"?!!!!!
Annie Lennox Says Beyonce Isn't A Feminist, Doesn't Know What It Means
Anyway, let's take a second to appreciate some girls and women, who look like girls and women, act like girls and women, who are capable of thinking like girls and women and of being the goddamn boss all at the same time…and all without a penis.
Almost unfathomable, yeah?