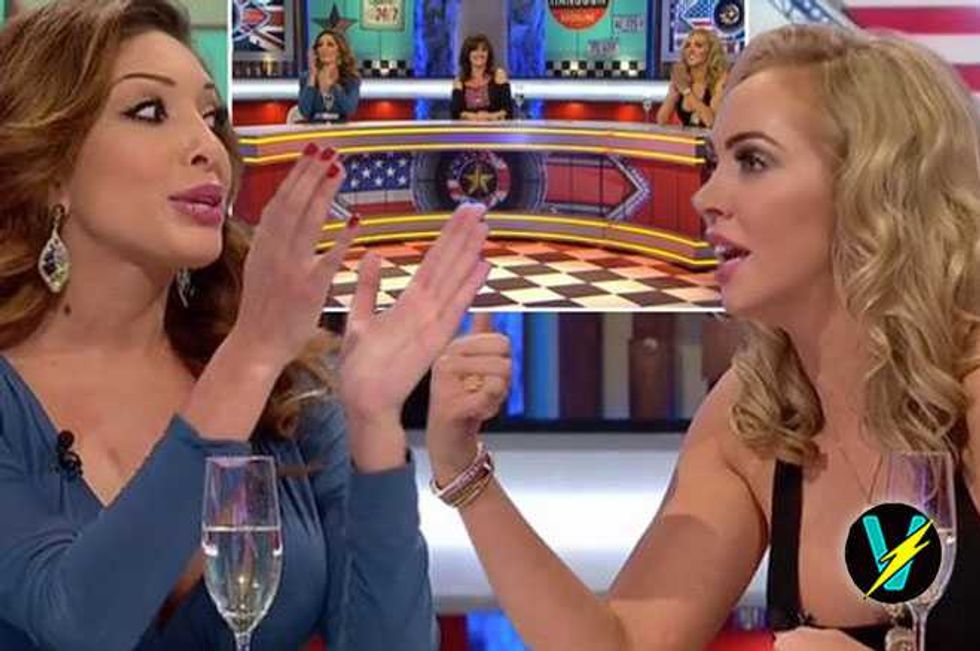 Wow.  Just WOW!
As previously reported by Popdust, Farrah Abraham has been in the UK taking part in Celebrity Big Brother, flying the flag for the US team.  She's been a, shall we say, controversial housemate.  When we say controversial, we mean fucking obnoxious, argumentative and a total and utter bitch.
Well she got hers on Friday night and was evicted from the house. Her grand exit was greeted by boos, and she then appeared on the spin off show Celebrity Big Brother's Bit On The Side (CBBBOTS) where she came up against outspoken Nicola McLean.  They ended up having a verbal slanging match, which had to be refereed by host Rylan Clark (the utterly fantastic, hilariously talented presenter).
Scroll down for video
Fast forward to last night, and the latest evictees from the show were Farrah's BFF, Jenna Jameson (#Jarrah (ugh)), and Janice Dickinson, who the UK can't decide whether she is plain bat shit crazy or the most skilled reality show player ever.
CBBBOTS always have panel and audience discussion and on the panel to discuss the latest events were one Farrah Abraham, an actress and ex CBB contestant Vicki Michelle and former regular Big Brother housemate Aisleyne Horgan-Wallace, who just coincidentally happens to be best mates with Nicola McLean and so went into the show with an agenda.  Are you keeping up?
CBB—Jenna Jameson And Farrah Abraham Simulated Sex Show Is Suitably Revolting
You knew it was all going to kick off from the beginning, when Rylan asked Aisleyne whether she'll miss Farrah being in the house.  The blonde bombshell didn't mince her words, saying; "She was just horrible.  She never took accountability for anything she did. She's a silly little girl, it's just pathetic. She's just nasty."
She continued, "It's one thing standing up for yourself and being a strong woman and it's one thing being a nasty horrible bitch.  You've got your cheque, you've had your cheque now get on the plane and fuck off."
Sex Tape Star Farrah Abraham Is Too Demure To Actually Say The Word 'Sex'
Take that Teen Mom!  Farrah was, for once, on the verbal back foot and was left trying to get a word in edgewise, but Horgan-Wallace was on a roll;  "Get on the plane and fuck off, no-one likes you.  We don't want you here.  Go on!"
True to form, Farrah responded in a totally deluded fashion, claiming; "I am a responsible young, wonderful woman."
Yeah ok Farrah.
Tila Tequila Wins AVN Award For Best Celebrity Sex Tape Over Farrah Abraham And Mimi Faust
Cut back to Rylan looking a little shell shocked to introduce and interview the latest two housemates to be evicted, Jenna and Janice.  After a little chat they joined the panel which is where the whole show fell completely to pieces.
Rylan asked Farrah about Austin Armacost, (who is still in the house) and his anger issues (he had previously ranted at Janice, calling her a "fucking cunt" and "a disgrace of a mother").  Farrah commended him for his subsequent apology and for recognizing that he is working through some issues.
Aisleyne could be heard in the background saying "shame you didn't".  Farrah tried to dismiss her by saying "hag be quiet, hag be quiet" and the next thing we saw was Aisleyne shouting "sorry?" and reaching for her glass of champagne with Rylan desparately trying to calm them down.
Steven Tyler Gets a Boob Job…Oh, Wait, That's Janice Dickinson
The slightly delayed live feed then cut to the CBB logo before a clearly shocked Rylan appeared saying; "Hi guys, unfortunately we did have to pop that [logo] up there due to a matter that happened.  Unfortunately we have lost our panel for the evening because we are going to carry on."  He then interviewed a few audience members before the show ended 12 minutes early.
Details of the fracas have subsequently emerged; audience members claim that Aisleyne threw her glass at Farrah, Janice threw a chair and Vicki Michelle was rushed to hospital after being glassed....(Dickinson's rep later claimed that the former supermodel stopped Michelle being hurt more by throwing herself in front of her!)
Celebrity Big Brother – Outrageous Rape Threat By Perez Hilton
A source told The Sun;
"It was absolute chaos.  Glasses and then a chair went flying and Vicki ended up injured in the process.  Everyone was screaming and sobbing, and it was very shocking. Vicki, who hadn't caused anything herself, was caught in the crossfire and ended up being glassed."
Vicki Michelle commented that the fight "bloody hurt" and Horgan-Wallace tweeted;  "...There seems to be a lot of misconstrued stories I will set the record straight I'm tired now."
Police have this morning confirmed that they are "making inquiries to establish the exact circumstances " of last night's event.
Phew!  We're exhausted!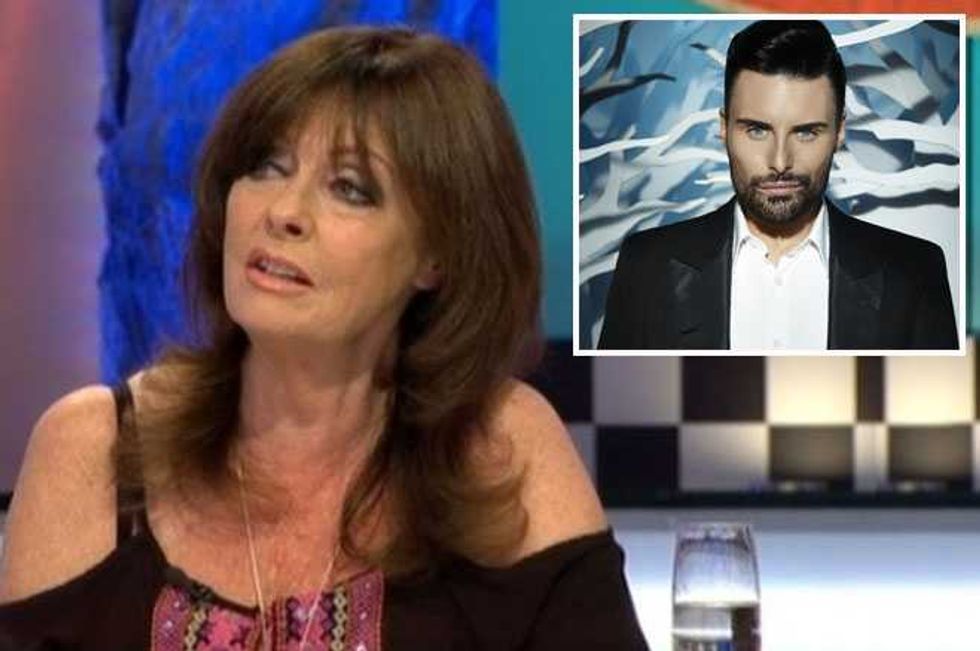 Glass victim Vicki Michelle and host Rylan Clark