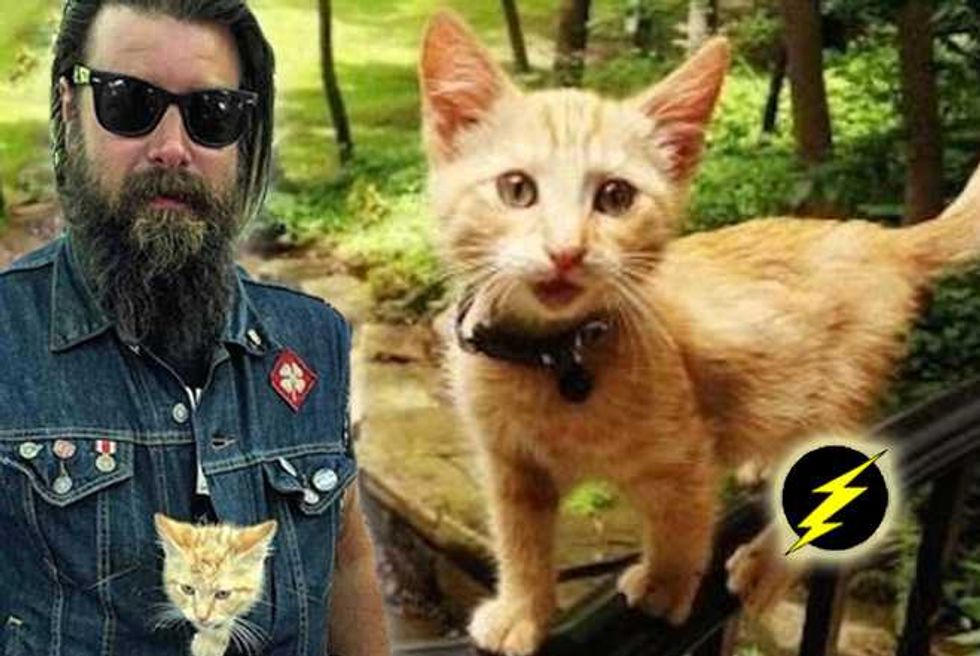 Pat Doody looks like someone you would not necessarily want to run in to while walking down a dark alley alone at night.
He's got all the markings of a big, burly, badass biker—the bushy beard, a shit ton of tattoos, the patched-up denim vest that IDs him as a member of a motorcycle gang.
France Changes Laws To Give  Animals Rights
But, turns out that he was exactly who Party Cat needed to run in to on the day their paths crossed at a Nevada gas station, where Doody had stopped off as he rode home to New Jersey from the Born Free Motorcycle Show in California
"I was at this truck stop getting gas, and this little guy just needed help," Doody tells Revzilla.  "He was pretty badly burned, so I picked him up and tucked him inside my vest. We're feeding him regularly now, so he's doing better, even though he's sort of living on the road until we get home."
21 Of The World's Hands Down Very Ugliest Animals
"He is the most friendly, chill cat I have ever seen," he continues. "At every rest stop he would just hang with us, never tried to run away, and generally seemed to be happy we found him."
Doody nursed the injured little kitten back to full health, keeping him tucked tightly in his jacket as they rode together back to New Jersey, enjoying plenty of road trip adventures on the way.
Wanna Bag Yourself A Dead Elephant? Inside African Hunting Safaris
The unconventional-looking kitty rescuer fed Party Cat tuna and tended to his burns with Neosporin—he documented their healing road trip with a series of photos, posted on Instagram.
"He's been eating tuna fish out of those dry-foil packs you can buy, and his burns are pretty much all healed up except for the little spot on his lip," Doody says. "He's so chill. He just hangs out in my vest when we get on the road. I've never met a cat so calm."
Jay-Z And Kanye West's Relationship As Seen Through The Eyes Of Cute Animals
As soon as they got home, Doody took his new BFF to the vets, for a full check-up—resulting in ear-drops for a mild case of mites and a round of vaccination shots.
And, the best news of all is that Party Cat now has a new, loving forever home, courtesy his knight in denim biker jacket, and we're pretty sure he'll repay Doody for his kindness in true feline style—with bountiful dead mice and bird offerings.
Rescuers Risk Their Lives To Save Animals —This Will Brighten Your Day