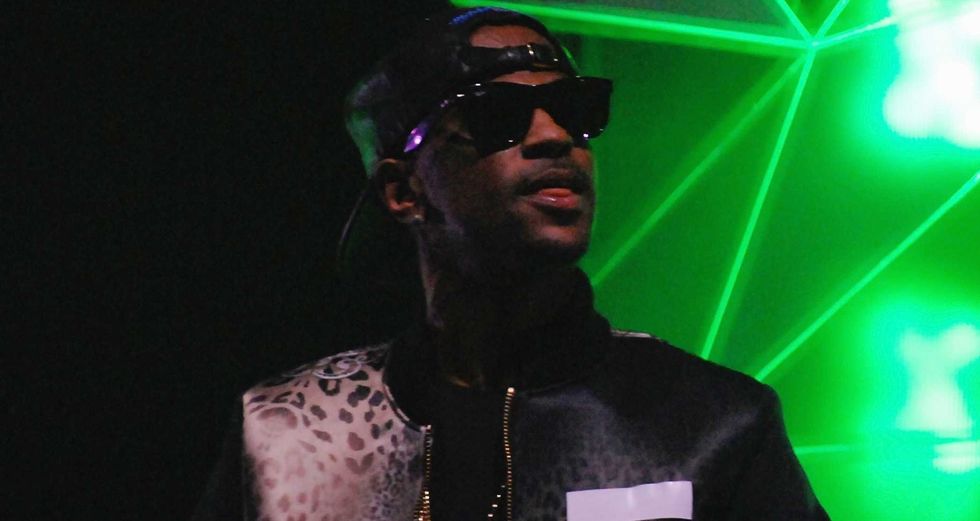 Big Sean has quickly adopted the breakneck work practices of Rihanna and Katy Perry, promising a new album less than a year after his major label debut, along with his G.O.O.D. Music responsibilities and feature credits. While Sean told Power 106 that another track with Nicki Minaj is in the works, that will be burdened with the difficult task of topping their modern day ode to derrieries, he also revealed that he's planning an upcoming collaboration with none other than Justin Bieber:
Shout-out to Justin Bieber. That's my homie, too. We got something in the works. You're gonna see it sooner or later. Either my album or his album.
Isn't Justin Bieber everybody's homie by now? To recap, your pseudo-boyfriend has snagged the following for his upcoming album, Believe:
- Usher
- Drake
- Big Sean
And not One Direction. If it's because the boys are too busy, Bieber ain't too proud to beg—or rearrange some studio sessions. Congrats on no longer being a punchline, Shawty Mane. We hope Lil Wayne sees this in a timely manner.
Desperate fans can see pre-empted 'Housewives' Saturday.
Messenger-Inquirer (Owensboro, KY) April 5, 2006 Byline: Suzi Bartholomy Apr. 5--Sunday evening WEHT-TV meteorologist Wayne Hart had a tough job. He not only had to keep viewers abreast of potentially dangerous weather, but he had to keep apologizing for his ABC affiliate's decision to pre-empt "Desperate Housewives" that is shown at 8 p.m. each Sunday on Owensboro cable channel 11.
After assuring viewers that the worst of the storm was over, WEHT resumed regular programming at 9 p.m. in time for "Grey's Anatomy." The station got so many calls after 8 p.m. that it quit counting. But WEHT is making good by showing the pre-empted episode of "Desperate Housewives" at 10:45 p.m. Saturday. site court of two sisters
MANHATTAN MUTTON FRAUD: Unless it involves jail time, any mention in the New York Times is a good thing. An article in the March 29 Times' food section listed Owensboro as being the barbecued mutton stronghold of the Christian world. The article also said that other Owensboro attractions are General Electric and the Ohio River. The writer admitted that he had never been to Owensboro and never tasted its world famous mutton. But his "pal" who had been here once told him the dish, made from mature sheep, was "not bad at all." At least mutton from the Big O is honest meat. The article said Keens Steakhouse in Manhattan serves "mutton." But not really. The Brobdingnagian chop "... is actually just an outsize (if invariably delicious) hunk of lamb." PIPEFITTER BUILDS LOG CABINS: John Lloyd Wright, son of famed architect Frank Lloyd Wright, created Lincoln Logs in 1916. Since then millions of kids have played with the logs, building cabins and farm houses on their living room floors.
Fred W. Watts, of Philpot, has created another type of cabin.
"When the grandkids are here, the cabin comes down and before long they have a farm built around it," Watts said.
Watts, a woodworker, recently started making houses from logs he's made from walnut, cherry, pecan and sassafras woods. He planes the wood to the size log he needs and notches them so they interlock.
The cabin the kids play with is 14 by 24 inches with a shake roof. He made the windows and doors big enough to place play things inside.
"The cabins look real good the way the corners come together," Watts said. "Every log locks in place and the shake roof really sets it off." The retired pipe fitter also makes custom cabins from drawings or pictures. One of his log houses is on display at Ole South Barbecue, 3523 Kentucky 54 East.
OLD FOES DUEL AT MOUNT: Two long-time adversaries -- University of Kentucky and University of Louisiville -- will be dueling April 29 at Mount St. Joseph, but not before sharing a sumptuous New Orleans feast.
The contest will be held at Celebrating New Orleans, a fundraiser to benefit The Mount, the New Orleans Ursuline Sisters and Sisters of the Holy Family.
The menu was created from recipes from famous New Orleans restaurants. The salads are from the Commander's Palace.
The main courses are shrimp Creole over long grain rice from Court of Two Sisters; crawfish etoufee from the Commander's Palace; or prime rib from Chef Merritt's Kitchen.
Dessert samples are Louisiana Bread Pudding with bourbon sauce from le Ruth's Restaurant; crepes from Broussard's Restaurant; chocolate caramel cheesecake from Ursulines of New Orleans Cook Book; Italian cream cake from le Ruth's; and sugar-free fruit pies from Chef Merritt's Kitchen. here court of two sisters
"We will auction off Brennan's Bananas Foster for eight, which will be flamed at the table," Sister Amelia Stenger, director of the retreat center at Maple Mount, said.
The duel begins when memorabilia from both schools will be auctioned at the same time. "Whoever bids the most gets a special prize," Sister Amelia said. She won't say what the prize is but, "There is not another one like it in the world." There also will be live and silent auctions during the event.
Celebrating New Orleans begins at 6 p.m. at the Mount St. Joseph Conference and Retreat Center, 8001 Cummings Road, Maple Mount.
Cost is $50 per person or $400 for a table of eight. For a reservation call Sister Amelia at 229-0200 or go to www.msjcenter.org and click on Celebrating New Orleans at the top of the page.
Distributed by Knight Ridder/Tribune Business News.
For information on republishing this content, contact us at (800) 661-2511 (U.S.),