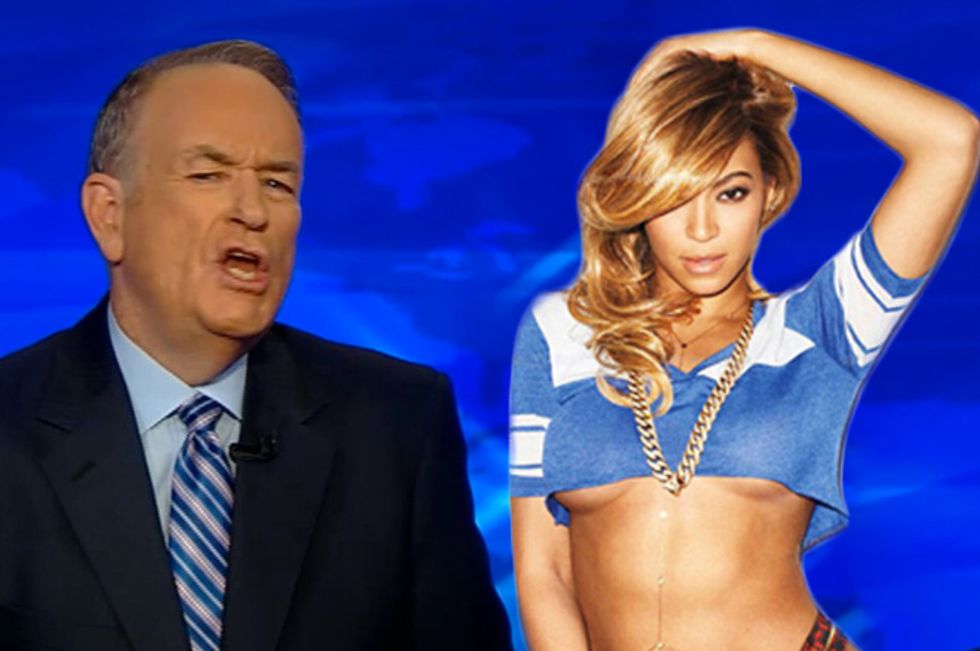 Bill O'Reilly is slamming Beyonce—once again—over her "too sexy" videos and performances.
The 64-year-old is also showing off his thinly veiled racism (and his penchant for referring to himself in the third person) during his Queen Bey takedown on David Letterman's Late Show Friday night—Popdust has video.
"It's very hard to criticize someone like that.. she's very talented…and we like Beyonce," O'Reilly tells Letterman. "But her new recordings and video is pretty raunchy and a lot of young girls who don't have responsible parents idolize her."
Letterman points out that she's not the only sexed-up performer out there—citing Miley Cyrus' Wrecking Ball video as an example—which, amazingly O'Reilly claims to know nothing about.
Really?!!
"Here's my question for Beyonce if she ever came on my program…and if she comes here you should ask her," O'Reilly continues. "She's got 350 million bucks according to Forbes right, she doesn't have to do this. I mean, some of these thugs… that's all they can do."
Some of these THUGS?!!!! Seriously?!!!
Letterman is quick to interject, "Well, first of all, we don't go calling people thugs," he says…. but, well, O'Reilly does….
The ultra-conservative then goes on to equate Beyonce's sexed-up image with the rise in unmarried mothers in the African American community, before going on to offer up a little career advice.
"Right now in the African American community 72 percent of babies are born out of wedlock," he says. "Back when Motown was hot in the '60s it was like 10 or 12 percent so what we're seeing then is a deleterious affect on American society and what I'm saying to somebody like Beyonce is look these girls love you… they idolize you…you have all the money you need…you are very talented….do some uplifting stuff and you'll sell as many records."
Guess the fact that Beyonce is a happily married mother herself doesn't factor into O'Reilly's equation…