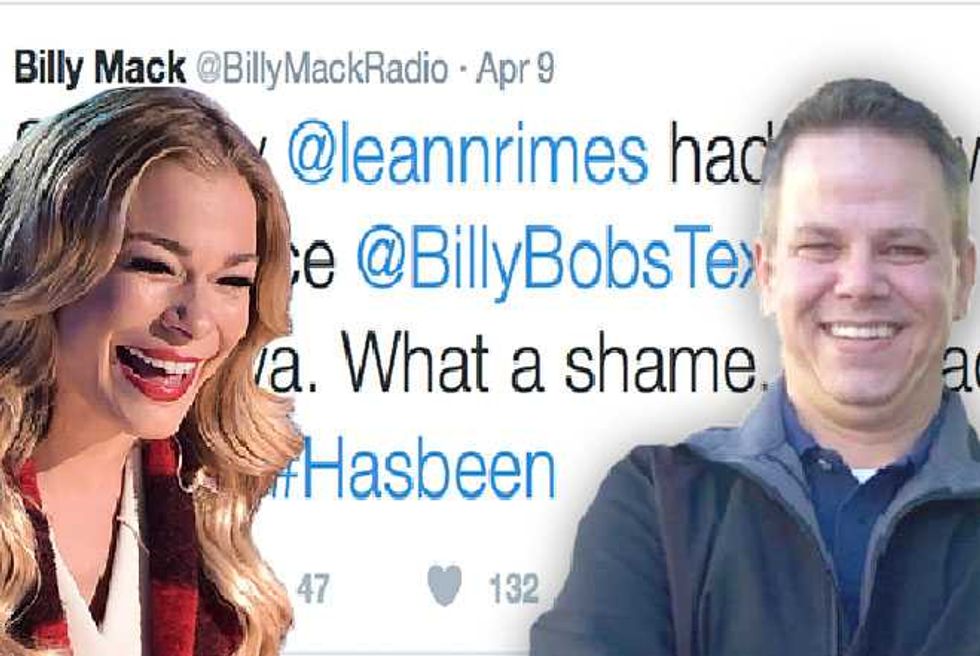 billy mack leann rimes diva
Well, it's fair to say Billy Mack Jr. is NOT a LeAnn Rimes fan.
The Texas DJ and radio personality slammed Rimes over the weekend, branding her a "diva" and a "hasbeen" with a "Kardashian attitude".
LeAnn Rimes Taunts Brandi Glanville Yet Again Because, LeAnn Rimes
Kicked to the sidelines
billy mack leann rimes diva
Billy's father, country great Bill Mack, was one of the driving forces behind Rimes' success, having written her breakout hit, Blue.
But, it appears LeAnn relegated the award winning singer/songwriter to the sidelines once her career took off, and that's something that does not sit well with his son.
LeAnn Rimes' Ever Changing Appearance—Plastic Fantastic Or Au Natural?
Billy Mack Jr. called Rimes out on Twitter, Friday :
So funny @leannrimes had the lowest attendance @BillyBobsTexas and still acts like a Diva. What a shame. Go back to LA. #Sellout #Hasbeen
Ouch!
Almost comical
billy mack leann rimes diva
LeAnn Rimes REALLY Doesn't Want Her Ex To Spill Any Dirty Secrets
In case anyone was left in doubt about Mack's opinion of Rimes, he clarified further in a Facebook post:
Almost comical,

My dad and I go to Billy Bob's Texas (Which is a whole other story) to see LeAnn Rimes and wish her the best (which by the way the lowest attendance I've seen there in a long time)

No need to wonder why she is a has been in this industry. Her lack of humility, to her fans, my dad, Curb Records, or anyone else who has ever been in her corner in the early part of her career is hard, but a lil cute to watch.

Sometimes it's best to stay in LA. Don't crawl back to Texas with a Kardashian attitude, expecting a Texas size applause.

I wish her the best, but you can't fool the fans. I speak only for me, and nobody else on this matter.
You know what Billy? Why don't you tell us how you REALLY feel!
Not meant for everyone
billy mack leann rimes diva
Once You See LeAnn Rimes And Eddie Cibrian Twerking You Can't Unsee It
Rimes seems to have responded in her usual tried and tested passive aggressive way.
Posting another of her chalkboard inspirational quotes on Instagram Saturday, captioned:
Happy Saturday! You aren't meant for everyone. Don't let those who don't understand you or your journey make you believe you are less than.

Find your worth, believe it, hold it in your heart. There are plenty of people out there who won't believe in you, don't be one of them!!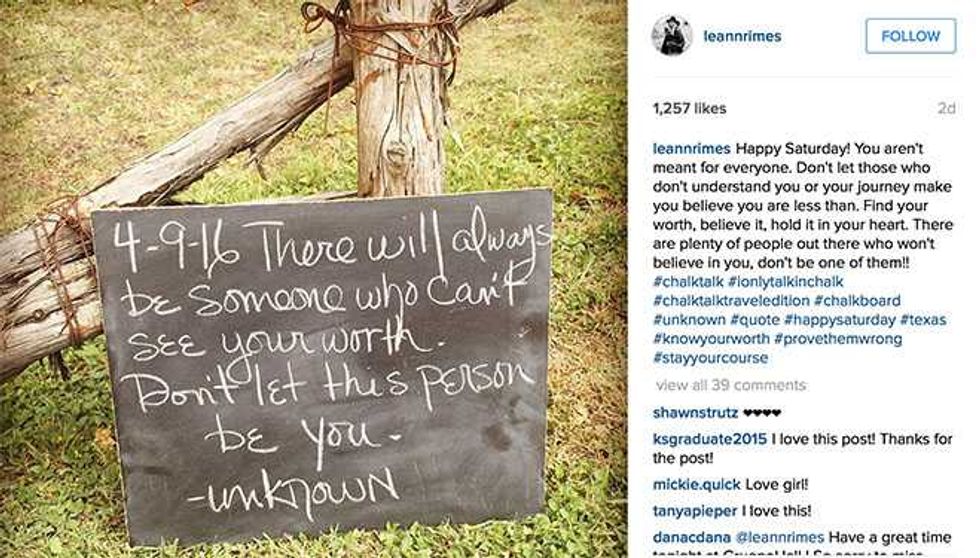 Well, if there's one thing we all know only too well by now, it's that LeAnn Rimes certainly believes in herself.
For more entertainment, music and pop culture updates and news, follow Max Page on Twitter
"The easiest way for you to lose 10lbs is just to take off you wig." Madonna to Elton John
"Michael Jackson's album was called Bad because there wasn't enough room on the sleeve for Pathetic." Guess we know what Prince thought of the album then.
"She speaks five languages and can't act in any of them." Sir John Gielgud was scathing about Casablanca star Ingric Bergman.
"She can't even chew gum and walk in a straight line at the same time, let alone write a book." Liam Gallagher doesn't think much of Victoria Beckham's autogiography clearly.
"I can't wait for her career to be over so she can serve me coffee at a 7-11. She's such white trash." Queen of the put down - Joan Rivers on Britney Spears.
"You can put lipstick on a pig...it's still a pig." President Obama about Sarah Palin. Nice!
"He's pathetic. It's like a monkey with arthritis trying to go on stage and look young." Sir Elton John isn't a fan of Keith Richards strutting his stuff on stage.
"I'd rather be onstage with a pig—a duet with Jennifer Lopez and me just ain't going to happen." Tell us what you really thing about JLo, Mariah!
"Oh Lord, I didn't realise it was still Halloween." Christina Aguilera didn't approved of Kelly Osbourne's 2003 MTV Music Awards outfit.