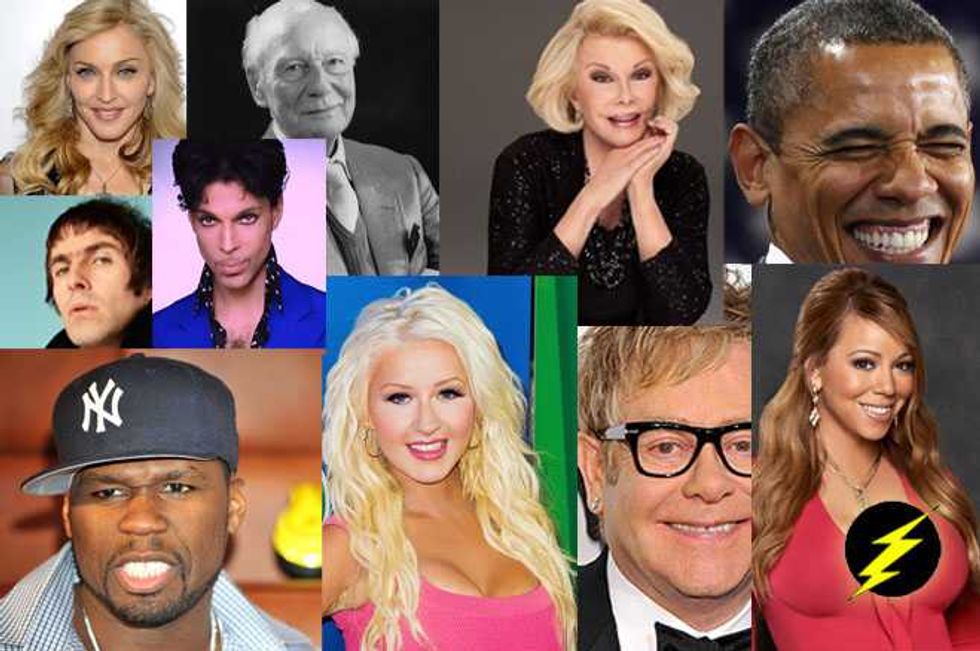 There's nothing better than a good put down.
When someone has pissed you off, oh the satisfaction of coming up with a witheringly clever sentence that stops the offender in their tracks and leaves them open mouthed as you glide off.
Hollywood's Basic Bitches—Man Edition
Most of us think of a suitably clever snub several hours after the opportunity to voice them has passed, and we're left kicking ourselves that we didn't think of it at the time.
Hollywood's Top Ten Bad Boss Bitches—Ranked In Order Of Bad-Assness
Not so some of our celebrities, they seem to take the opportunity to cast aspersion on their fellow stars with alacrity.  From President Obama to the late, great Joan Rivers, they've all given us a little snigger with an eloquent, bitchy aside.
Here are our 10 favorites...
"The easiest way for you to lose 10lbs is just to take off you wig." Madonna to Elton John
"Michael Jackson's album was called Bad because there wasn't enough room on the sleeve for Pathetic." Guess we know what Prince thought of the album then.
"She speaks five languages and can't act in any of them." Sir John Gielgud was scathing about Casablanca star Ingric Bergman.
"She can't even chew gum and walk in a straight line at the same time, let alone write a book." Liam Gallagher doesn't think much of Victoria Beckham's autogiography clearly.
"I can't wait for her career to be over so she can serve me coffee at a 7-11. She's such white trash." Queen of the put down - Joan Rivers on Britney Spears.
"You can put lipstick on a pig...it's still a pig." President Obama about Sarah Palin. Nice!
"He's pathetic. It's like a monkey with arthritis trying to go on stage and look young." Sir Elton John isn't a fan of Keith Richards strutting his stuff on stage.
"I'd rather be onstage with a pig—a duet with Jennifer Lopez and me just ain't going to happen." Tell us what you really thing about JLo, Mariah!
"Oh Lord, I didn't realise it was still Halloween." Christina Aguilera didn't approved of Kelly Osbourne's 2003 MTV Music Awards outfit.

The last words definitely have to go to legendary war time Prime Minister of England, Sir Winston Churchill who was master of the put down...
"Tell him I can only deal with one shit at a time" —on being disturbed in his toilet by a call from the Lord Privy Seal.
Lady Astor said to Churchill: "Winston, if you were my husband I would flavor your coffee with poison.  To which he famously replied; "Madam, if I were your husband, I should drink it."
Fellow politician Bessie Braddock to Churchill: "Winston, you're drunk!"
His response?  "Bessie, you're ugly, and tomorrow morning I shall be sober."