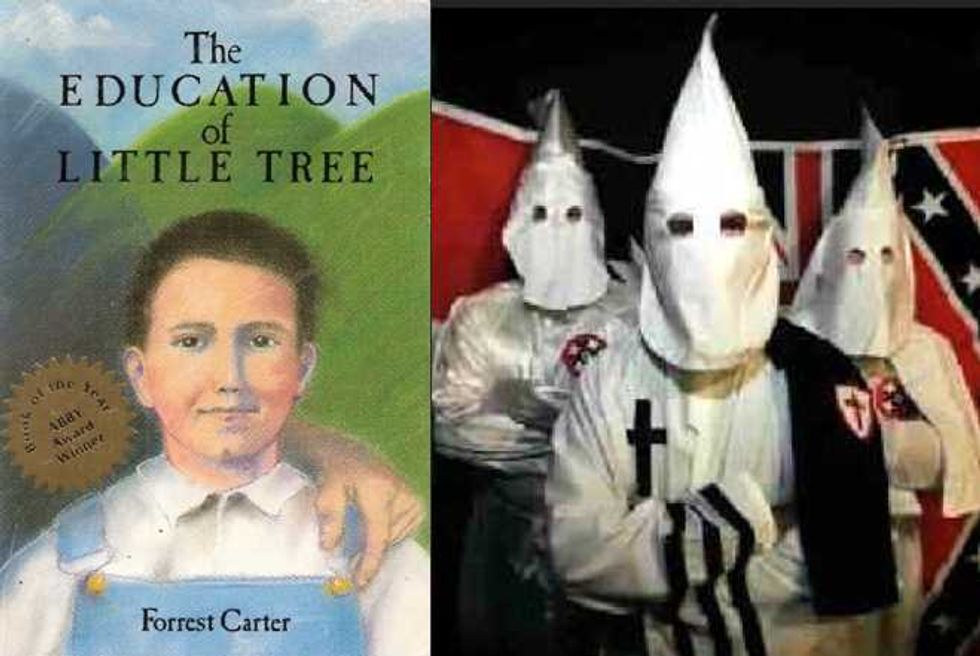 "Segregation today, segregation tomorrow and segregation forever."
Do those sound like the words of an orphaned Cherokee boy who talks to trees? Nope. It's because they aren't… well, sort of.
The Education of Little Tree was a novel published back in 1976 by the author Forrest Carter—purporting to be a non-fictional memoir. The heartwarming, tear jerking read followed Carter's experience living the simple life with his Cherokee grandparents in the Appalachian Mountains.
So it caught readers off guard when it came out that Forrest Carter was actually a pseudonym for Asa Earl Carter. And the similarities between the two personas pretty much end there.
Because it turns out that Asa Earl Carter was actually a spirited white supremacist from good ol' Alabama. The guy managed to dip his toe into the political world, writing speeches for pro-segregation governor, George Wallace. Carter even founded the KKK splinter group, "Original Ku Klux Klan of the Confederacy."
Yikes.
Some assert that Carter even chose his writing pseudonym honor of Nathan Bedford Forrest, KKK's first grand wizard.
While that gig may have worked for him for a while, Carter's political career was halted after he was arrested for a suspected KKK-related shooting against police officers. He was later acquitted of all charges for lack of evidence, but the damage was done. No sensible politician, after all, wants to be formally linked to a guy who shoots at the police.
And so, the world has a way of moving on, and Carter found himself on the sidelines, no longer relevant to the Alabama political sphere, where he had once found so much support and success. So he did what any sensible racist would do.
He moved to Texas and forged a whole new identity. As Forrest Carter, lone cowboy of Cherokee decent. Oh, and novelist.
Carter had actually already written a pretty successful book under his pseudonym before the move. It was called The Outlaw Josey Wales, and even went on to become a film by the same title…. starring a very young (and very gorgeous) Clint Eastwood.
And so he settled into his new role and persona. Of course, he was no longer the Alabama-family-man-racist. After the move, his wife became his acquaintance, his children became his nephews, and a few other twists his new Texas neighbors thought to be true. A lone soldier in this life, always leaving a trail of mystery behind him.
After settling into life as Forrest full-time, he did pretty well for himself. So long as you consider having a New York Times article written about you and being interviewed by one Barbara Walters an impressive feat.
Meanwhile, The Education of Little Tree was being taught in Native American studies classes; there was talk of turning it into a musical, a ballet… the works.
But we can't ever truly hide who we are, can we? Our secrets always come back to haunt us. And what to do when death finds us? The dead, after all, can't concoct stories to conceal the past.
So when Asa, or Forrest, or whomever you want to call him, did pass, things started to unravel. The rumor goes that the guy had two separate funeral services, one for Forrest, with Cherokee spirit guides, fans, coworkers, people from the publishing industry all in attendance, and one for Asa, a lonelier service, with just his close family by his graveside.
So, when it's all said and done, one question remains: how could such a notorious racist write such a beautiful book promoting peace and stability? And, when did he change? Or rather, did he ever change?
Was he tired of his racist roots? Or was he just searching for a new platform to soak up the spotlight? Was it all just one big insider joke, a hoax? These are the questions we're left with, and the questions we won't have the privilege of getting answered.
All we can do is digest the legacy the man left behind. But there is something that can leave even the cynics with a bit of hope. In the documentary The Reconstruction Of Asa Carter, a friend tells the story of when Asa, who had at that point been living as Forrest for sometime, was asked to give a keynote address at a big racist convention in Jackson, MI. as his old self, Asa. While Forrest wrote the rousing racist, white supremacist speech, for obvious reasons he didn't want to appear in person, so he asked his friend Ray Burges to deliver it.
The speech left the "good ol' boys" standing on their chairs, whistling and hollering in support of what they had just heard. So Ray turned to Asa and said, "Ace, I don't understand you, if I could write a speech that good, I wouldn't give it to anybody else, I'd give it myself."
And Ace turned and said, "Ray, to really give a speech like that, you got to believe that shit."