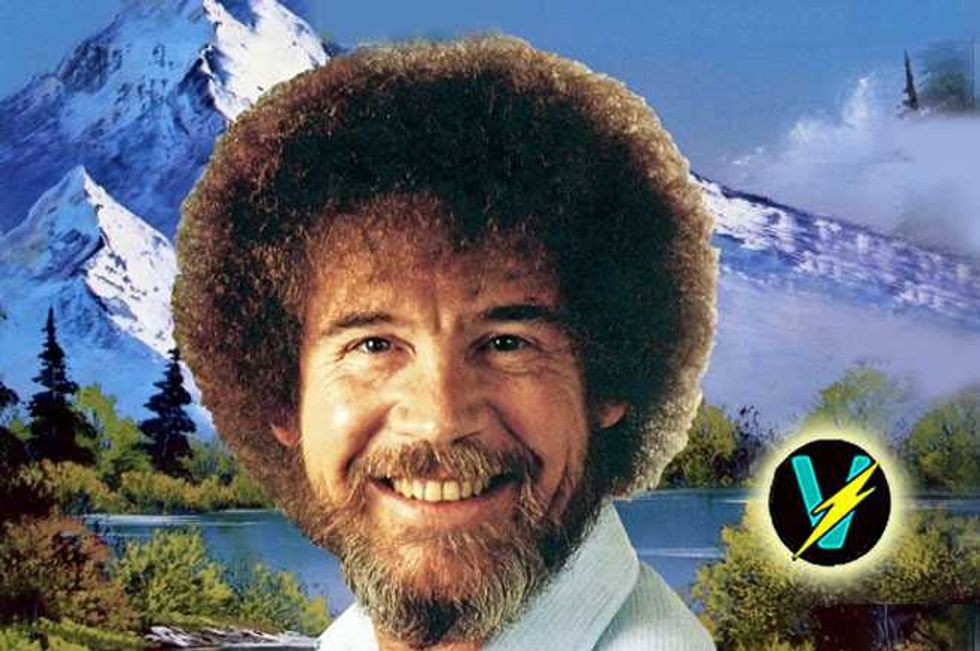 Believe it or not there's a slew of folks out there in this big, bizarre world, who get tingly "head orgasms" from watching tedium porn.
If you haven't heard of ASMR, you're in the company of a lot of others (myself included up until a few weeks ago).
ASMR stands for Autonomous Sensory Meridian Response, and it refers to a phenomenon that very few experience. It usually presents itself in the form of a tingling in the scalp or the back of your neck (which some describe as a pleasurable headache), and can extend throughout the rest of the body. While the sensation isn't necessarily sexual in nature, some have compared it to an orgasm.
Taiwanese NGO Gives Disabled Men Hand Jobs
What makes this "tingling" unique is how it is triggered—listening to the crinkling of a bag, a soothing whisper, a gentle knocking, watching QVC with the volume turned down low, and Bob Ross, that "happy tree" dude from PBS.
And, just because ASMR isn't tangible in nature doesn't mean it hasn't found a very real place to take hold…. Online.
Maria, AKA GentleWhispering, has uploaded hundreds of ASMR related videos to YouTube over the past three years—some lasting up to 45 minutes. While her claim-to-fame is her "whispering" videos, she's also been known to branch out from time to time and get a little experimental (page turning, chewing gum and the like).
Bizarre World Of Dogging—Like Swinging On Steroids, Outdoors And Masked
Although you may think there can't be a huge market when it comes to watching completely weird, boring shit—the 34,000 ASMR subjects  who subscribe to Maria's channel—which has racked up over 12 million views—would seem to prove otherwise. The tag "ASMR" alone has 125,000 views and more than 800 likes. Those are some pretty hefty numbers for such a little-known phenomenon
In a 2012 interview with VICE, Maria described ASMR as feeling like "bubbles in your head." She went on to compare it to a scalp massage, but with the sensation coming from inside your head.
"It's like a little explosion, and then just little sparkles and little stars going down [your back]," she explained. "Depending on the strength of the trigger, it might just go into the top of the spine of your shoulders, but sometimes it goes down to your arms and legs and other parts. Mostly, if you get it in your leg, it's really exciting."
Not Sure What Career Path To Take? Why Not Give Pro-Cuddling A Shot!
Maria also offered an interesting insight as to why there aren't nearly as many male "whisperers" as there are female ones on YouTube.
"If a guy is in front of the camera and whispering there aren't many things he can do that won't seem creepy," she said. Point taken, Maria.
Still, ASMR is hard to define, and even harder to research due to the fact that there have been zero scientific studies on the perceptual phenomenon. And it's unclear whether or not this will change any time soon. ASMR research would not only be costly, but tough to organize, given the fact that the ASMR community is spread out all over the world.
The Bizarre Brotherly Love Story That's Got Germany Rethinking Incest Laws
Neuroscientist Steven Novella wrote about the sensation back in March, "It's similar to migraine headaches – we know they exist as a syndrome primarily because many different people report the same constellation of symptoms and natural history."
As is the case with migraines, ASMR is a very real thing that comes in a very ambiguous form, but is still experienced by a significant amount of individuals.
Jenn Allen runs a research site and is the person who actually coined the ASMR acronym. She told VICE that "Autonomous" refers to the "individualistic nature of the triggers, and the capacity in many to facilitate or completely create the sensation at will." "Sensory" and "Response" are obvious, while "Meridian" is used as a more polite term for "orgasm."
A Bunch Of Things UK Politicians Consider Less 'Luxurious' Than Tampons
It's likely that ASMR will remain a vague topic that's hard to define. But that doesn't mean it isn't a welcome experience for those who are susceptible to it.
Latasha Bynum did a segment on the condition for her public access show in Inland Empire, California, and referred to ASMR as a kind of all-natural high, a method of relaxation that helped her deal with insomnia and can help others, like a homeopathic medicine would. "That's what I really want to get across to everyone. You don't have to take pills," she said.
Maybe you're born with it. Maybe you learn it. Maybe it only exists within those who have been gifted from some omnipresent, all-powerful entity. Ok, that last one is a bit of a stretch—but, whatever ASMR actually is, knowing about it brings us a step closer to creating the vocabulary needed to discuss it.