B.J. Novak and Mindy Kaling are one time lovers, best friends, and just perfect for one another.
Case in point - B.J.'s reaction to Mindy's Nationwide Insurance ad, which aired during the second quarter of the Super Bowl yesterday.
In the commercial, Mindy is convinced she is invisible so she does all sorts of silly things like naked yoga in the park, stealing food, walking through a car wash an attempting to kiss Matt Damon.
"Mindy was actually not invisible," Julia Roberts said in a voiceover. "She had just always been treated that way."
Adorable ad - but not as adorable as B.J.'s Twitter response to his former The Office co-star: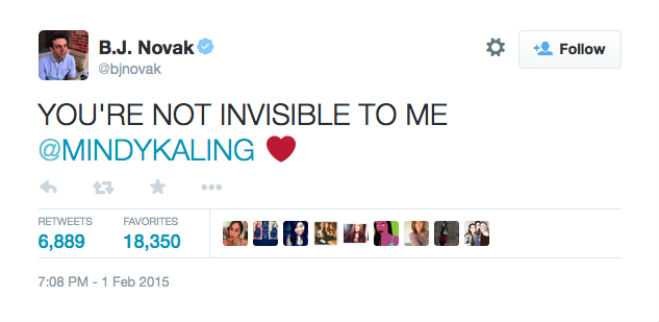 SWOOOOOOOOOON!