Frontpage Popular News
The Detroit native sat down with us to discuss their latest record, favorite NYC spots + more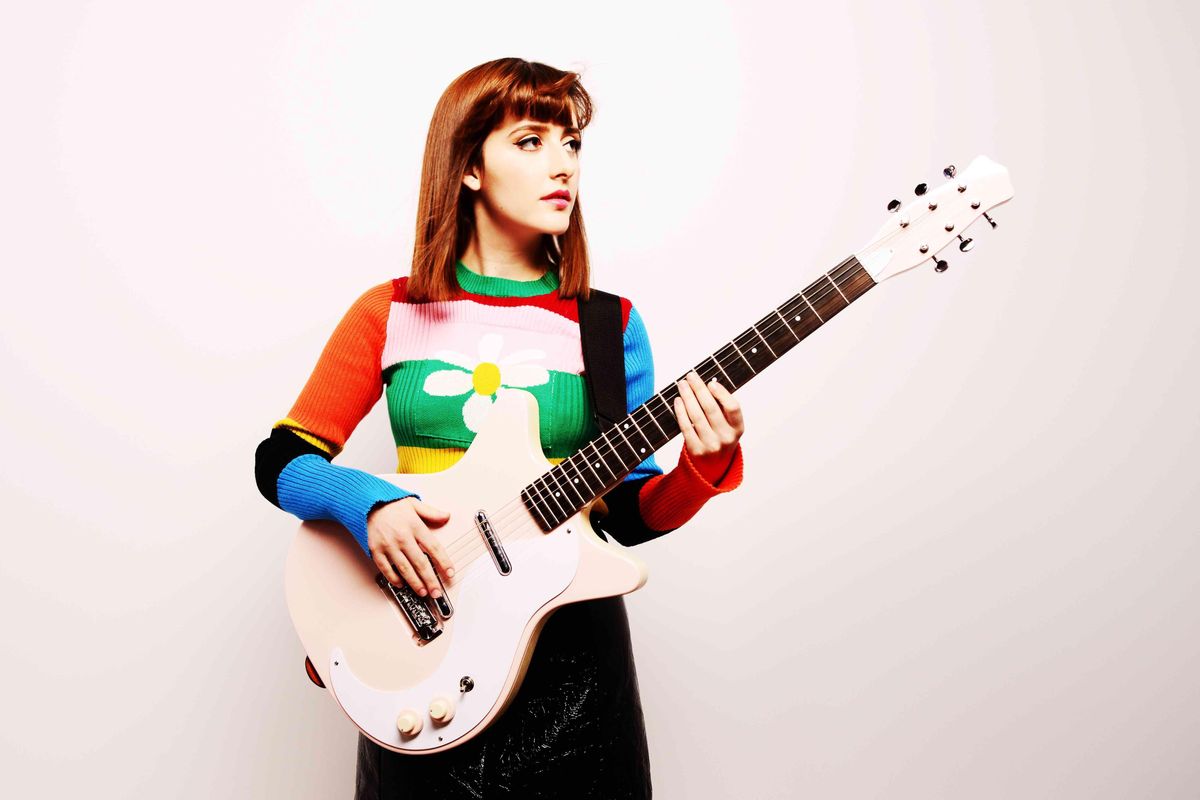 Shervin Lainez
You can say Blaire Alise knows what she wants to sound like - she's been writing since she was fifteen. The Detroit native started her own band, the Bombshells, as soon as she realized what she wanted to do. My Eye, their latest record out now via Carlin Nashville, is a sweet and summer-y return to the days of yesteryear. It is a record of "self-discovery and growing up recorded over the past 2 years" - more importantly, it is a record that captures Blaire Alise to the fullest.
Over the span of a ten-song tracklist, Alise uses vocal layers of harmonies that call back the sounds of Beach Boys past. It's easy to tell who she aspires to recall, but it's not playing it safe and staying in the shadows of those who've done it before her. Instead, she combines various melodies to capture a feeling that's distinctly her own.
Popdust was curious about the influences behind such a new yet old-school sound, so we sat down with Alise to find out more.
Read on to our interview where we discuss Alise's influences, favorite New York spots and the inspiration behind "Rolleiflex" - watch the video below:

"My Eye" has such an impressive array of sounds, from early 60's rock to bubblegum pop. What can you tell me about the writing process behind it?
I wrote the songs on the album over the period of a year and a half, so it kind of started as I got out of high school as well as transitioning to New York and living on my own. I think I just grew as I wrote the songs and I think that's kind of interesting because it really reflects who I am at different points and there's been a lot of change in the past couple years. We would just go into the studio every couple of months and record so it was a few songs that grew into many over the course of a year and a half.
That's interesting - I also just moved to New York a few months ago so I know what you mean. Does it remind you of that period of time where you just got here and you were figuring everything out?
Yeah, definitely. There's definitely a lot about the anticipation of going - like the initial excitement - and starting to record the album and all of that. You know, there's a harshness to it too, like loneliness and confronting that.
How did the Bombshells come together?
I started the band five years ago, actually, when I was 15. I had just been writing these songs and getting more confident so i got these guys to be the Bombshells. Over the course of five years, I've had a lot of different Bombshells come and go - some from Detroit, some from Nashville, some from New York - so it's been a lot of fun working with a lot of great musicians and traveling. It's like... as long as I'm in the band, it's still my project [laugh]. We started in Detroit, so it grew from there. I was really influenced by the Detroit music scene so that all played a huge part in forming the band.
You began writing music at 15. Was there a song that made you go, "this is what I want to do"?
I'm a huge Beatles fan, since I was in diapers! That was really the first music that I remember loving. My parents would always play "Here Comes the Sun" for me when I was a child and I loved it. At my fifth grade talent show, I played "Let It Be" on the piano - i was obsessed. But when I was starting high school, I started to learn more about Lesley Gore, that was a huge one for me. I learned more about Motown music and early soul stuff and from there I sort of took it and ran.
What was the inspiration behind "Rolleiflex"?
I was reading about different cameras and I just loved the word - Rolleiflex. It's just such a fun-sounding word. I had written another song three years ago called "Rolleiflex" and it wasn't really working, but last year I was just playing the melody and thinking about different memories and the practice of capturing them. I feel I try to document everything around me all the time - I'm always taking pictures on my phone.
Who are some of your biggest influences?
Beatles, Leslie Gore - I'm also a huge Monkees nerd. I love the Monkees. Beach Boys with all the harmonies... but you know, as I kept discovering new music and going deeper and deeper I started loving the Velvet Underground and Wire and Television, all that kind of stuff. A lot of Detroit rock.
What have you been listening to lately?
I love the Lemon Twigs album that came out last year. I think that album is so fun and it's crazy that they're just teenagers! I've been listening to the new Whitney album a lot. i love the new Father John Misty. I've been learning a lot about more recent music, because lately I just want to take everything in. There's so many good albums coming out.
I know you're based in New York, so I figured I'd ask you some of your favorite spots… favorite record store?
I've been working at Rough Trade, so of course i'd say Rough Trade! I've been helping out with events, so it's been really cool. You can find anything you want - including awesome shows. I love Rebel Records, they have a lot of cool 45's.
Favorite venue?
I love hanging out at Baby's All Right, I always have such a fun night when I go there.
Favorite thrift store?
I'm not as much of a thrifter as I am into going through more curated vintage stuff. I love Screaming Mimi's - I found this bright orange velvet romper, it was the find.
What's next for Blaire Alise & the Bombshells?
We're doing one of the Wild Honey Pie showcases. I have a new music video coming out for "Telemono", the first track off the album, and I'm really excited about it. We're also having a really big record release show May 4th at Trans-Pecos in Bushwick, so it should be a lot of fun! It'll be a great night.
My Eye is out now.