Jack Antonoff has had a hell of a time since I last remembered him, circa-freshman year when the music video for "Some Nights" blasted every morning in the corner of my eye in the cafeteria on constant rotation on MTVU and Mr. Antonoff was engaged in the consistent pounding of a Civil War-era drum, as if it had hurt him personally; a scene that was soon followed, in real life, with some broad- shouldered jock telling me that fun.'s best material was really on Aim and Ignite. Since then, he started dating Lena Dunham, who said she would marry him when they gays could do the same. She didn't, but he did go on to release two records under the moniker Bleachers, the second of which, Gone Now, came out on Friday and, as our Rachel Gillman observed, "does tell a story of sorts."

Last Friday, Mr. Antonoff kicked off the telling of that story off--beginning with a slot at New York's Governors ball, a festival with such an eagerness to be sincerely loved by its patrons that even the mud clinging to your boots from the random and unexpected rainfall tastes sticky-sweet. Dad jokes riff on the jumbotron like the omnipresent moaning of a retirement home. Even the evening's headliners, even plucky-and-beloved-by-all Chance the Rapper swoops in on his motorcycle like he owns the place and rightfully so, because he does. But, damn. This brother, noted hitmaker Mr. Antonoff, was a whole 'nother level. Mr. Antonoff may have co-written hits for Taylor Swift, Sara Bareilles and, hell, an entire album with Lorde but, this weekend, for an hour, he was man who had come to the Governors Ball to do his thing, strut his respective stuff.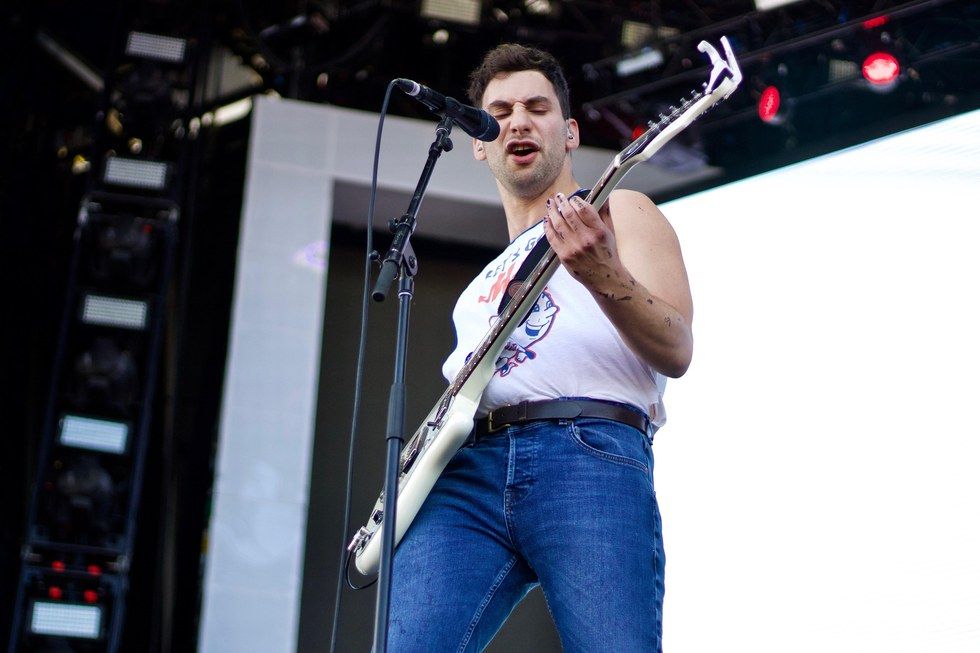 Andrew Karpan
Few people come to festivals with this kind or any kind of eagerness; fewer still, people who came to the festival way back in 2014 looking like a backup guitarist in a poorman's Devo cover band, struggling to find an audience for what old man Joe Coscarelli called "anthemic, life-affirming pop-rock." Now, decked in naught but a pair of very tight jeans and a Mets 'beater--who else but the Mets, those lovable losers, that uncool sibling of this fair city—he came in like Matt Harvey strutting on the pitch with something to prove. It was barely five in the afternoon and Mr. Antonoff was grabbing onto his guitar like a strobelight at a rager.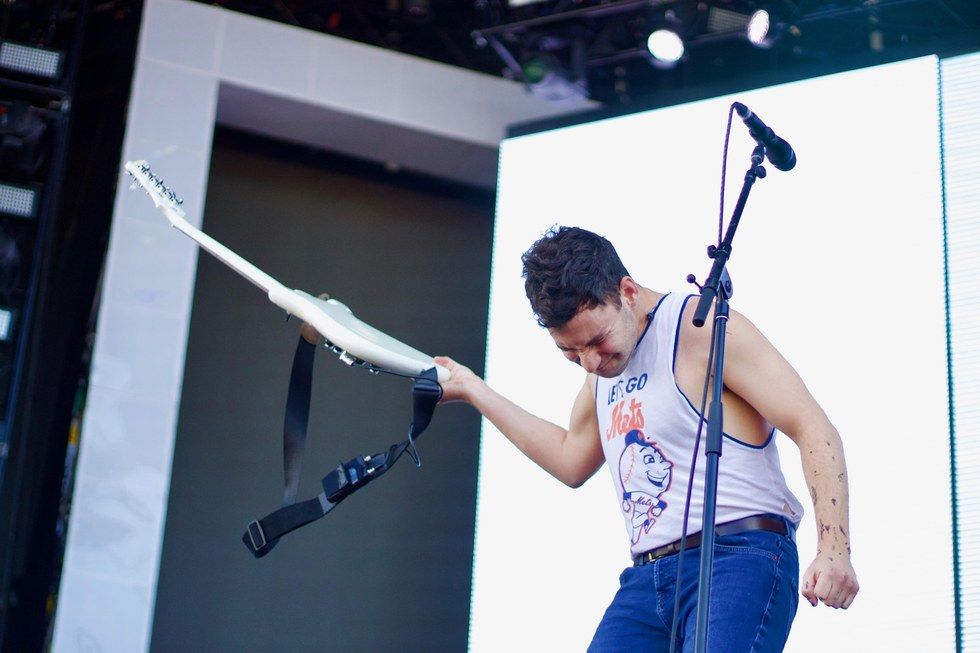 Andrew Karpan
Joined by a well-tattooed guitarist, himself dressed in naught but workingman's overalls and a keyboardist-slash-saxophonist in similar wear, Mr. Antonoff performed a kind of rock and roll glibly aware of its own penchant for nostalgia, interested in finding the powerhouse Steve Perry-performance inside lyrics like "I think pain is waiting alone at the corner," from Gone Now's "Everybody Lost Somebody." Much has been written about Mr. Antonoff's grin; it has been called both "big" and painted "broadly," a striking Cheshire cat thing that hardly seems possible night after night, year after year of playing the drags of the indie pop rawk scene. Will Gone Now validate his happiness and bring him the chart-topping success he has been able to provide other artists with more conventionally attractive mugs? Mr. Antonoff followed a cover of Fleetwood Mac's breakthrough hit "Go Your Own Way" with another cut from his sophomore effort, "Hate That You Know Me." The recorded version features Bieber-esque pop singer-turned-indie-starlet Carly Rae Jepsen, a singer whose career trajectory has gone the opposite path of Mr. Antonoff: from "Call Me Maybe"-ubiquity to Pitchfork Festival-playing cult devotion.
Some critics, including our aforementioned Ms. Gillman, have observed a Springsteen-ish bent in the new recordings, sax placement that was more the late Clarence Clemons than "Midnight City." Flexing his showman chops, Mr. Antonoff only performed two songs, total, from the new record but eagerly courted the comparison to his home state's rock icon. His wobbly frame, most often complimented by the thick-frame glasses of Buddy Holly's estimation, had gyrated itself into a version of the working man's fantasy whose ass we are now so used to seeing on t-shirts. Needless to say, Mr. Antonoff had disposed of his glasses.
Indeed, to leave Mr. Antonoff's set, as a photographer like I am wont to do, whist the blaring hope and feeling of being urged to go my own way can be heard chanted by happy people everywhere, was to realize that my own hopes and dreams, the ones I kept for myself, safely encumbered in the back of my skull, would never be accomplished because Jack Antonoff already accomplished all of them at the Governors Ball Music Festival.
Catch some more shots of how good a time Jack Antonoff is able to have at a music festival:

Bleachers' latest, Gone Now, is out now on RCA. You can catch him on tour, also.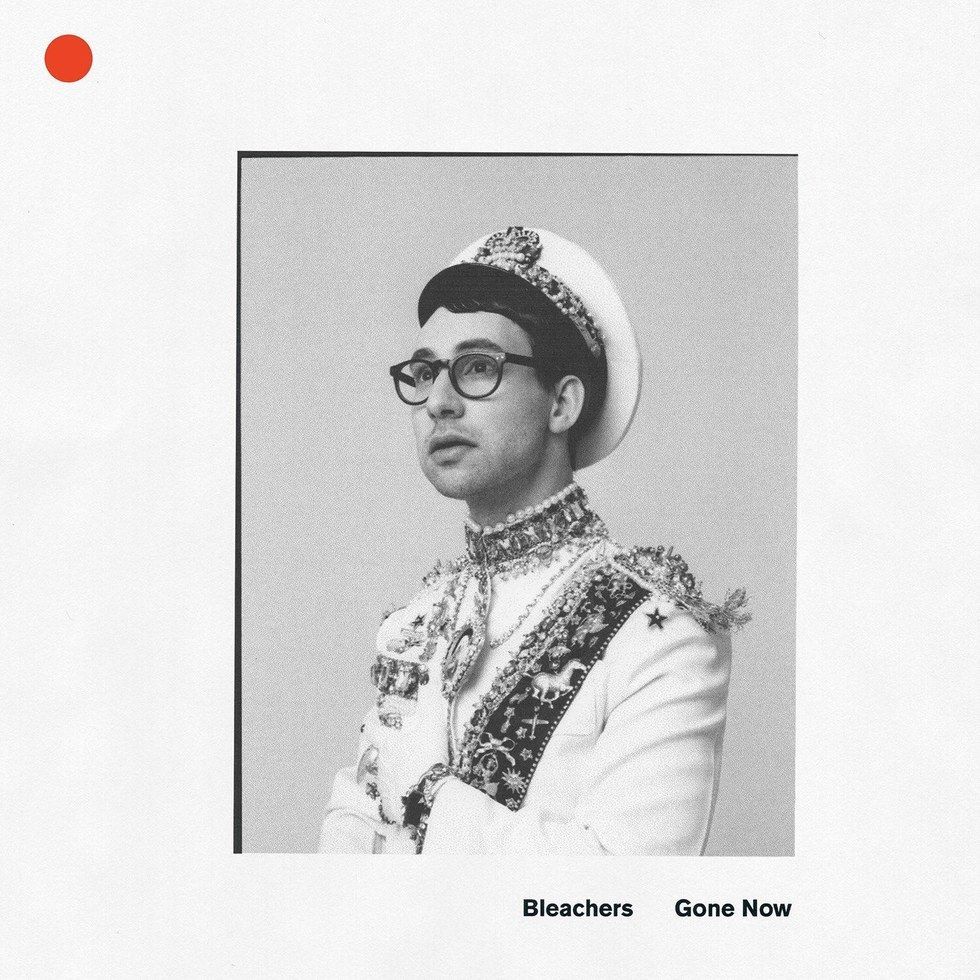 ---
Like Mr. Antonoff, Andrew Karpan is very concerned about what it means to be a famous person. To help him become more famous, follow him on Twitter.
More Gov Ball Coverage:
GOV BALL | TOVE LO is our poet of imperfection
GOV BALL | Is WELLES the last rocker left?
GOV BALL | MICHAEL BLUME is loud, proud & ready to freak you out