Blonde Redhead Lay (Le) Poisson Rouge To Waste
The millennials lingered in the shadows cast by dim red lights. (Le) Poisson Rouge, over in the Village, was packed this weekend for Blonde Redhead, a '90s avant-noise trio that reached its stride in 2004 with the release of Misery Is A Butterfly, an ornately cast meld of puckish shoegaze trip with dreamy and cabaret antecedents proudly woven along the edges, territory explored since by occasional festival headliners like Beach House or Grizzly Bear. But we shivered here, frigid, to hear precisely that: the trio filled the Rouge's dark and sometimes steaming depths to play Misery Is A Butterfly, in the spirit of bands like the Pixies or Dinosaur Jr. that have taken to giving fans old and young a taste of exactly what they want. "Thurston Moore, you know him, of Sonic Youth, I knew him back then," a bearded filmmaker who now creates content for a coding academy told me recently at a party that his twenty-three-year-old girlfriend invited me to, "Played all of the underground clubs, never even heard of the Strokes." I wonder what he would have thought of Blonde Redhead, a band that takes their name from an old school No Wave deep cut and whose audience had been clawed together in far smaller clubs that are now office space and wine bars, with nine full-lengths to their name.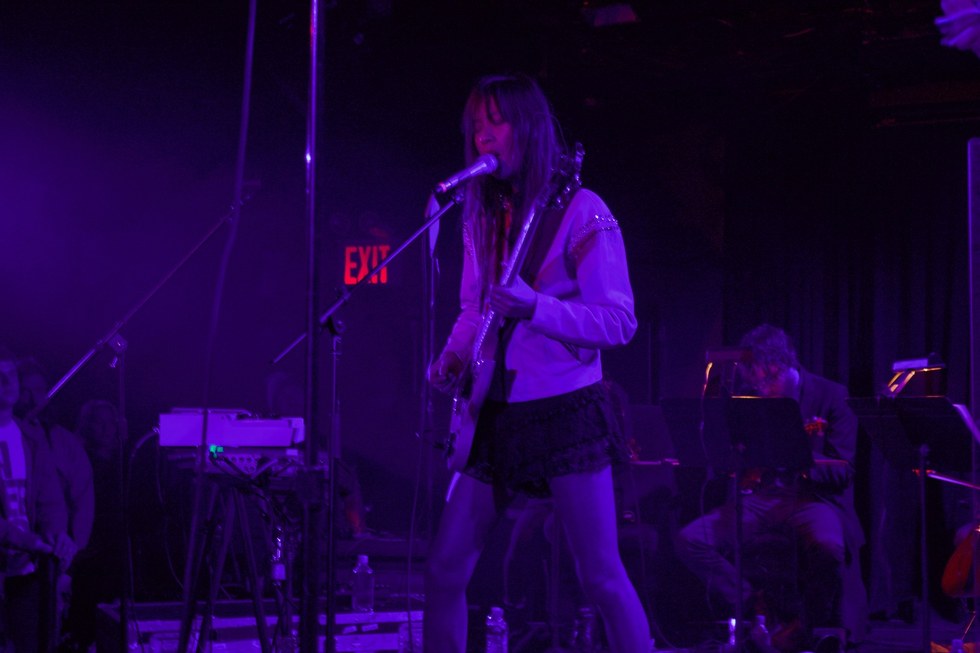 Karpan.
They came out carrying violins and cellos, not Blonde Redhead but four members of ACME, short for the American Contemporary Music Ensemble, an orchestral group who accompanied the band most of the night and whose website notes their dedication to "masterworks from the 20th and 21st centuries, primarily the work of American composers." They opened, as well, a choice the one young professional in the crowd called "some dynamic choices, eccentric." Two flutes of champagne were placed on the largest guitar amplifier. Kazu Makino, the Japanese-born rock goddess, then strutted to the stage in shorts and a studded white jacket looking like a cowboy taken to holing up in the Chelsea Hotel. I suddenly felt freezing.

Three songs into both their set and the track list for Misery Is A Butterfly, "Melody," a song whose title and breathily aired verses always reminded me vaguely of something from Serge Gainsbourg's Histoire de Melody Nelson, ACME's contribution began to suddenly feel meaningful. Ben Russel, a founding member of the Bryant Park Quartet and Arcade Fire-collaborator, suddenly begun violently plucking his violin, evoking the colloquialism, "as if he was trying to skin a cat." Makino navigated the space of this arrant noise with ease, her thin arms owning the surrounding mile, hissing the staged melancholy theatrics she wrote over a decade ago. Every so often she picked up a guitar and produced a diced up chord progression before calmly setting it down.
Amedeo Pace, Blonde Redhead's guitarist and co-vocalist, fared less well. His voice ran out, ironically, shortly after giving the nervous falsettos of "Falling Man" a try. No matter, a blonde woman passed along to me a cup of tea to deliver to the weary shoegazer who attended to his maze of pedals like an ironworker plowing ahead on his last shift of the night. In the song's place, Makino dished a particularly tender version of "Defeatist Anthem" from their last album, 2014's Barragán.
Behind me, as we waited for the band to reappear for their encore, a loud bro could be heard yelling into the black of excited voices talking about the last time they saw the Dandy Warhols, remember them, a voice gnawed at my ear, in a VIP room in 2002? Makino and her ambling cohort returned to the stage as tightly-wound trio, having shaken off ACME and cracked some new tunes from 3 O'Clock, an upcoming EP they're putting out later this year. After a solid fifteen minutes of some real intense shredding, Makino set her guitar down and thanked us effusively while her band walked off, ill.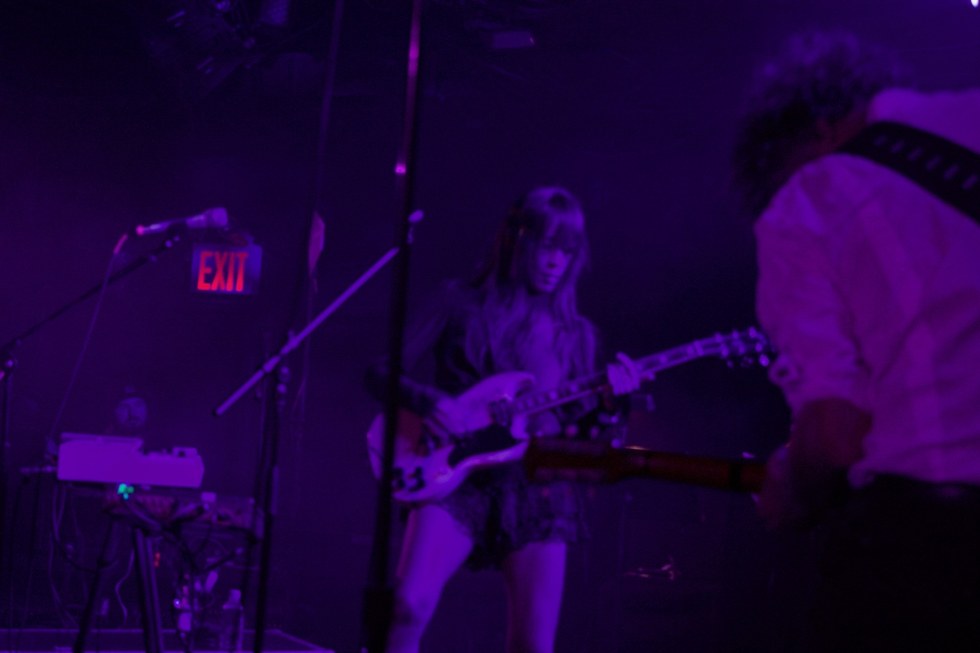 Karpan.