"Magicians, circus acts, all that. Coming on stage with us... "
If you were like me, which you weren't because I will always be alone in my misery, you spent a godawful amount of time reading NME in your youth (or, rather, their website, which everyone will tell you is no longer cool and covers all the wrong things). While the kids were discovering Skrillex and Rolling Stone was still anointing Bruce Springsteen another five-star review, the world of the New Musical Express was, briefly, liberating. In this world, oh, Pete Doherty, Noel Gallagher and some strange band of brothers called The Cribs were gods among men and Damon Albarn was remembered as the guy behind "Country House" and not "Clint Eastwood." What a time to have been alive at some other time and place.
And every so often, certain bands would be anointed champions of these scene. They would be put on the cover of the physical mag, which I have yet to ever touch despite living in London for quite some time, and were an eclectic bunch with strangely pedestrian names. Razorlight. The Courteeners. Brother (who were later renamed Viva Brother, but I swear that's all I know about them). Even a strange American band called Howler got caught up in this mess shortly before being forgotten. But for every ten or twenty Pigeon Detectives, there's an Arctic Monkeys in the rough and every so often one of those becomes, well, The 1975, a band I remember playing an afternoon Gov Ball slot so few years ago and currently are Madison Square Garden-headlining material.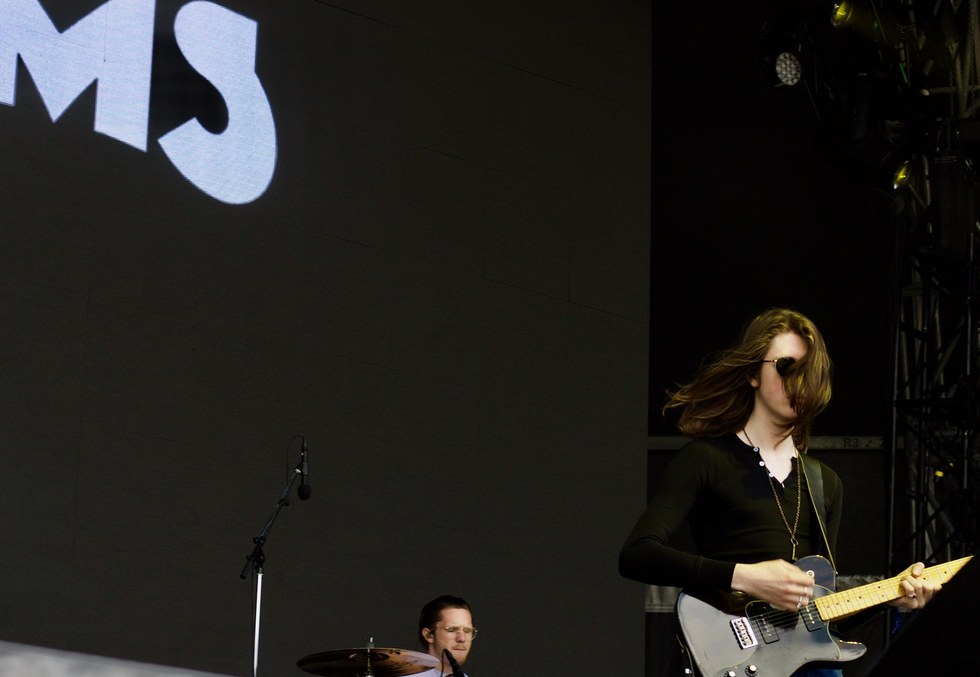 (Andrew Karpan)
Blossoms, on the other hand, have just played their first afternoon Gov Ball slot. Tom Ogden, the very lean 23-year-old frontman with hair that flows like the world's sexiest floor mop and shades that come straight from whatever Manchester factory they mind out the Liam Gallaghers, tells me he would like very much to net that headlining slot at Madison Square Garden. "The goal," he tells me, "is headlining with Dynamo and David Blaine."
"Magicians, circus acts, all that. Coming on stage with us, " chimes in Joe Donovan, the band's drummer in a sea-matey's uniform.
They're fucking with me, of course. In the parlance, I'm just a cunt, here to size something up before it either floats up to the top or down to the bottom of the dollar CD bin.
But they're also not. In the UK they are "a band on an unstoppable rise," per NME, coming in fourth on last year's Sound Of…BBC poll, an annual survey of what acts critics think will be the next big thing. "It was nice for us to be one of them bands," he tells me when I bring up the accomplishment. "And if you look at all the acts that were in the list that year, we were the most successful out of all of them." Other names on last year's list include NAO, Alessia Cara and Jack Garratt, who's just nabbed a first production credit on a Katy Perry record.
"It's just us, getting up there and singing, delivering the songs with passion and having a laugh because we're all mates and we're delighted to be traveling in a band and making music," Ogden goes on to tell me. "No choreographed dancing, now fancy dancing. its just the way it is, isn't it?"
Odgen and his 'mates' had been in a number bands in and around a town called Stockport, which he tells me is "basically Manchester," the working class hive of karaoke favorites The Smiths and Oasis along with The 1975, a band that Odgen tells me "has some good tunes." "We were in bands before, just to doss it around," he tells me of their origin story. "When we got together it was immediately different than anything else we had been in before," which is how I imagine Nora Ephron would write a rock biopic. The band's first single and music video, "You Pulled a Gun on Me" was a self-directed and produced effort. Odgen, himself, originally thought of himself as a filmmaker and tells me that some of his favorite movies are: Goodfellas, The Wedding Singer and, generally, psychological thrillers.
In their more polished material, the band has forgone the more psychedelic touches of "You Pulled a Gun On Me." This is wise. Another equally-hyped UK group, a set from Worcester called Peace, tried to ride the spacey-psychedelic wave, with a Sound Of... nod to boot. And where are they now? Ditto James Skelly's old band, The Coral, whose debut is touchstone of any dollar bin in the States. Skelly was enlisted to produce Blossoms, which came out late last year on Columbia and hit the top of the charts for two weeks in a row.
Live, one of their biggest highlights is "Getaway," a song that pulses and throbs in the air before turning into an energetic rush that gives "Live Forever" a run for the money. One of their biggest hits, "Charlemagne" presents the band as funky synthpop dance legends, the twinkling syths winking like a cut from a forgotten Franz Ferdinand record. What does Ogden think his band has that will veer him into the vaunted territory of The 1975, the band who's success in the States he told me he aspired to.
"We're a very hard working band. We don't get off our head. We know we need to get up in the morning and do the next show better than the one before," he tells me, sounding like a British indie version of James Brown. He tells me he's already written three songs for their sophomore effort. "As soon as we get back from the States, we're going back to the studio," he tells me.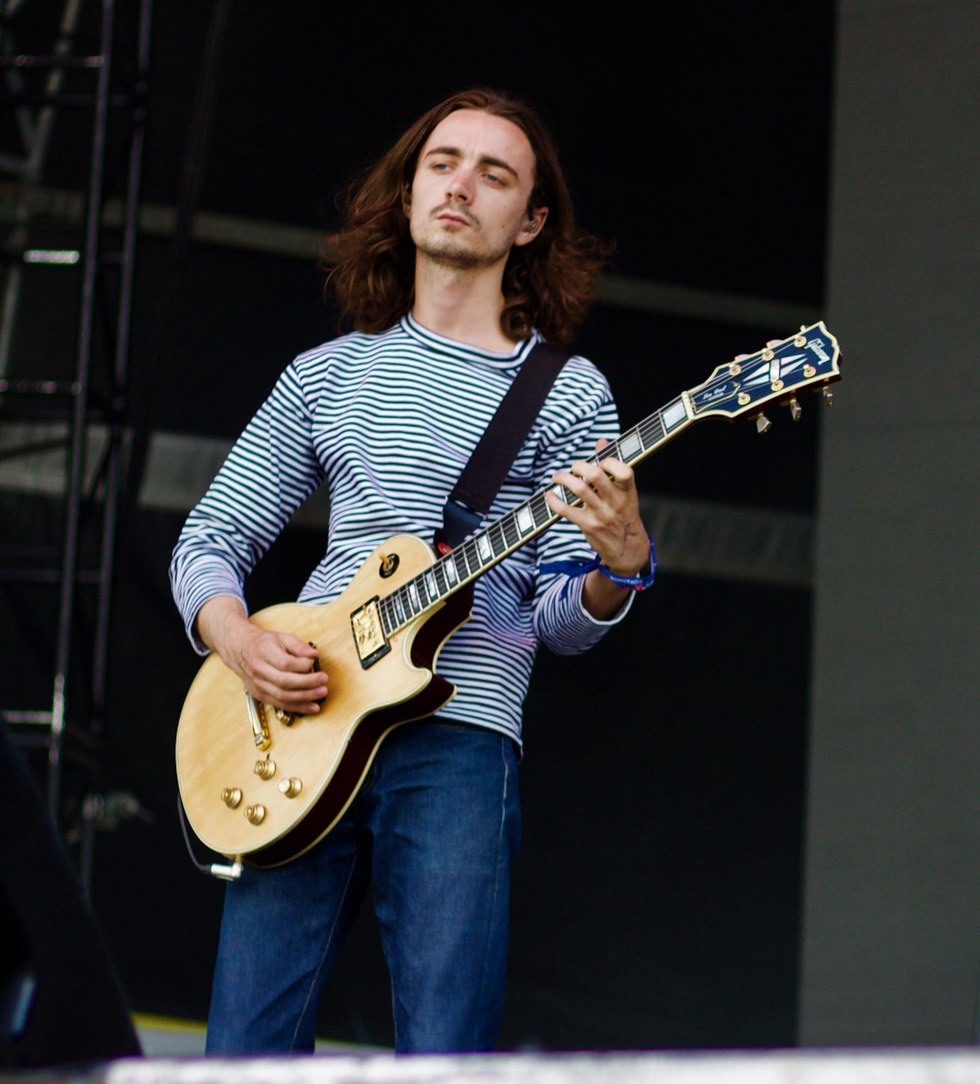 (Andrew Karpan)Josh Dewhurst, Blossoms' guitarist. Odgen explains the band's dynamic like this: "We're all best mates and we're all born in the same hospital in Stockport. We've been best mates since we were twelve and there's not a lot of bands like that these days."
I ask what he's been listening to lately, how is he keeping his sound fresh. The sophomore slump is not unknown to many a British buzz band, few people will tell you they even care to remember Maxïmo Park's second record. We chat a bit about Harry Styles, the One Direction member who's gone rocker in his first solo outing. "I think he's a cool guy. He was the coolest one in One Direction, that's right."
Donovan pipes in again, "Fucking video was incredible. Fucking walking on water, that's incredible. That's the level."
Odgen tells me he's also a big fan of American rap, which he listens to for the honest lyrics. "A lot of rappers are straight to the bone," which he finds inspirational as a lyricist. "They use a lot of clever things, where, lyrically, they are, also sub-referencing certain things."
I ask if he's excited to catch Chance the Rapper, the evening's headliner and one of the most acclaimed rappers of our time. "Gonna get some tea at this place, supposed to be the best pizza in New York City, that's more important to us. No offense Chance, but it's supposed to be the best pizza."
Tom Ogden's stage presence is theatrical, yet diligently restrained. He is just playing with his mates, after all.

---
Andrew Karpan could make the NME great again but they won't let him. You can, however and follow him on Twitter.
More rock, more soul:

LIVE | Saying Goodbye to CHILDISH GAMBINO
LIVE | Are ROYAL BLOOD the future of Metal?