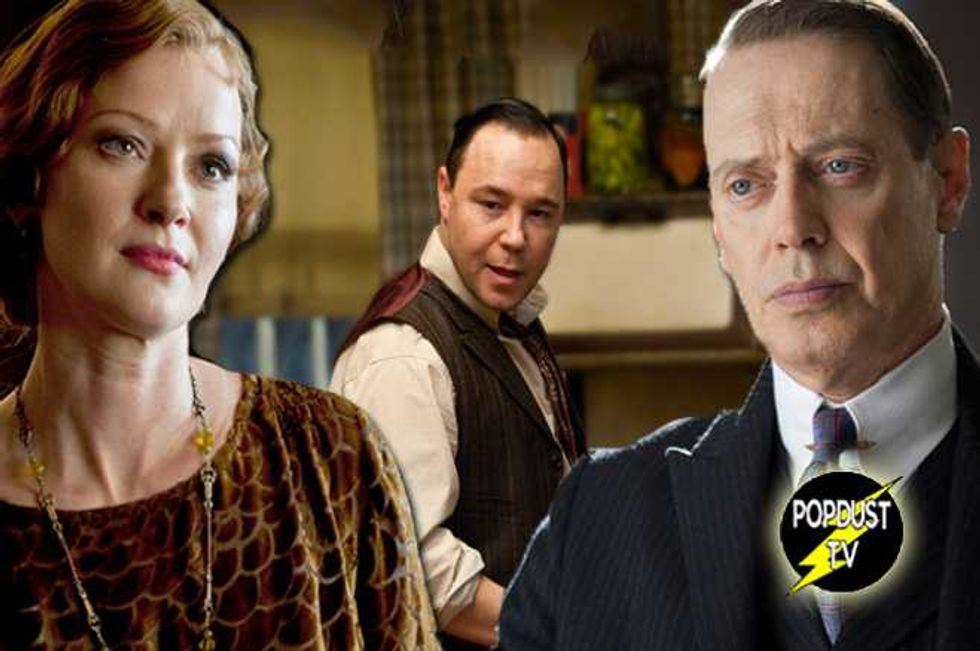 It's a sad, sad night for Boardwalk Empire fans as the series comes to an end, tying up questions we've all had for years and ending in with a very poignant bang.
Nucky, you poor bastard. Nucky spent the majority of the final episode tying up loose ends. He severed ties with Eli, taking him a bag full of money and telling him that he's leaving Atlantic City for good and starting life over somewhere else.
After last week's letter from Gillian Darmody, Nucky finds himself visiting her in the looney bin. She bizarrely plays with a ladybug on her hand while he does all the talking, telling her that he's arranged for her to have a private room there and a trust fund for if she ever got out of that place. He also tells her never to try to contact him again, and with tears in his eyes asks "What do you expect of me?" This is all kind of cryptic, but then we see in his flashbacks and figure out what is happening.
Back in 1897, Nucky is talking to a 13 year old Gillian Darmody on the boardwalk. He's called away to speak with the Commodore on the deck of the hotel and the Commodore fires Nucky as Deputy Sherriff saying that he doesn't need him, never liked him, and doesn't trust him. As Nucky turns to walk away, one of the Commodore's henchmen approaches Nucky and tells him that if he delivers the young girl to the Commodore as an "act of charity" he will be reinstated, this time as Sherriff. In an effort to get ahead, Nucky actually delivers her to that pedophile but promises Gillian that everything will be ok and that he'll always take care of her.
Snap back to Nucky's present day. As he's walking down the boardwalk to leave Atlantic City for good and start a new life, he's approached by the young man who's been hanging around with his crew. The young man starts talking about how his grandma would talk about Nucky, but he never knew if it was with love or hate. When Nucky asks who the young man is, he says he Tommy Darmody!! Then he unloads 2 bullets in Nucky's chest. Presumably one for his grandmother Gillian and one for his father Jimmy. Then for good measure, a final bullet to the face. We all pretty much knew that Nucky would end up being pumped full of lead in the final episode. But Tommy Darmody?!? Talk about full circle.
Funnily enough, we all knew how some of the other story lines ended up because we took high school history. Lucky Luciano succeeds in creating the Seven Families and Capone surrenders to the feds for tax evasion. What a way to go down. Pay your taxes, kids.
What did you think of the final episode of Boardwalk Empire? Sound off in the comments below!
Already suffering Nucky Thompson withdrawal? Take a look back at Boardwalk Empire's five glorious seasons.....