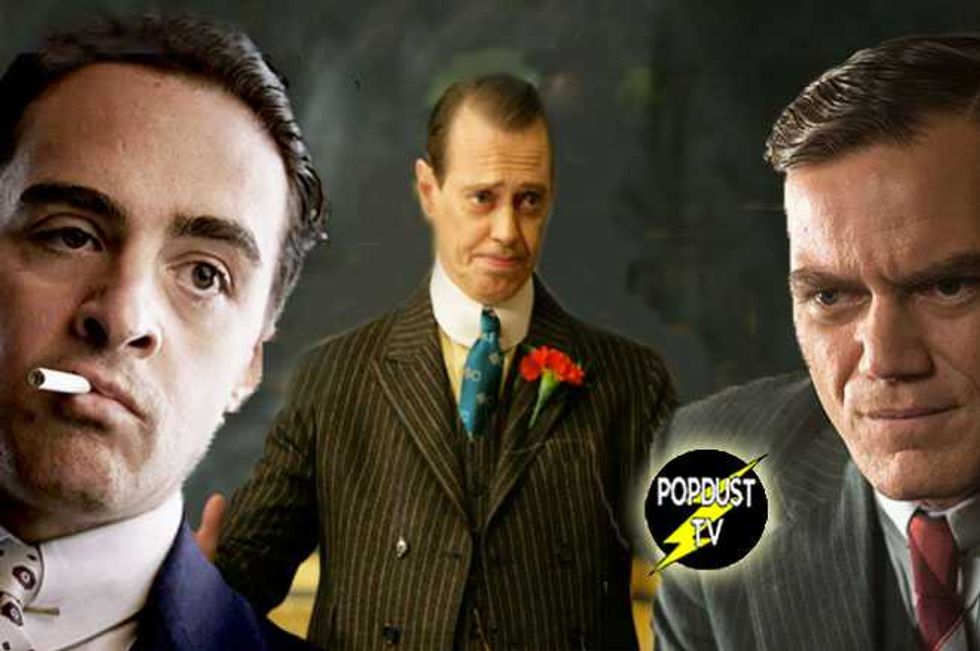 Every season of Boardwalk Empire has been amazing, but this season is taking the cake with all the amazing historical figures that are coming out of the wood work to play ball.
Nucky has just returned to New York after his Bacardi Rum trip to Cuba, and he's more than pissed that someone tried to kill him. He meets with Maranzano and his new little puppy Lucky Luciano. Nucky asks Maranzano straight out if he tried to have him killed and Maranzano swears he didn't. Nucky then looks to Luciano and tells him that he saw his bff Lansky in Cuba and doubts it was a coincidence. Luciano claims that he's no longer friends with Lansky and has no idea what Nucky is talking about.
Well that's a friggin lie because we find out later in the episode that Luciano and Lansky are definitely still friends and are essentially playing all the old bosses, including Nucky and Maranzano, against each other in preparation for a massive takeover. Nucky catches on to what they're doing and sends a little postcard to them mafia style…literally a postcard stabbed in the back of one of their dead henchmen!
Nucky also meets with a boardroom full of very wealthy men in an attempt to get them to finance his deal with Bacardi when prohibition is repealed. They have the money and he has the know-how, but they all dismiss him because they know he's a bootlegger. Well, all of them except a gentleman by the name of Joseph Kennedy, Sr.
Meanwhile Al Capone has become a celebrity in Chicago, making millions and getting interviewed by Variety. He finds out that there was a raid on one of his warehouses by the Feds and he lost $20k plus a shit ton of booze. He also finds out that it's Mueller's territory (AKA Van Alden) and forces Mueller and Eli Thompson to pay the money back somehow. How do they pay him back, you ask? By robbing one of his other speak-easy's and paying him with his own money. Robbing Capone to pay Capone. Brilliant.
In other news, Elliott Ness has vowed to take down Capone. (We all know how this turns out. Pay your taxes, kids.)
Oh, remember Gillian Darmody? Well apparently murdering your son and being a heroin addict lands you in the "booby hatch." At first, we all think she's relaxing in a steam bath at some luxurious spa…until the other batshit crazy women start losing their minds and barking like dogs. Gillian has a moment with the female warden and there is some major sexual innuendo involving a secret deal they have going on. But lez be honest…weren't we all disappointed when all that was exchanged was a fancy ball gown for an "illegal" pen and paper?! Tease.
What did you think of this week's Boardwalk Empire? Sound off in the comments below!